We are excited to invite Arts alumni and graduating students to this presentation from the LinkedIn Guys.
As we begin to emerge from the sudden effects of COVID-19 and the economic shift, we know that there is still so much up in the air and it will take time for us to have a clear picture of the new landscape. We acknowledge that many new grad and alumni job-seekers are facing a challenging road ahead.
Key takeaways:
Understand the immediate and long-term career impacts of the pandemic
Adjust your interviewing strategy to make the most of video interviews
Stand out from the competition with recruiters and hiring managers on LinkedIn
Chart your career course to the industries and firms poised to hire throughout the crisis and beyond
In partnership with alumni UBC, UBC Sauder School of Business and the Centre for Student Involvement & Careers.
About the Facilitators: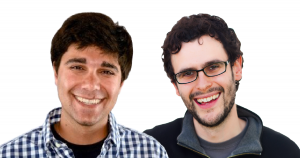 Jeremy Schifeling and Omar Garriott are tech product marketers who led LinkedIn's outreach to colleges, students and alumni for several years—helping millions of people launch and grow their careers on the world's largest professional network. Now, Jeremy and Omar help job-seekers of all ages do the same because finding a great job requires LinkedIn and they've got your back!