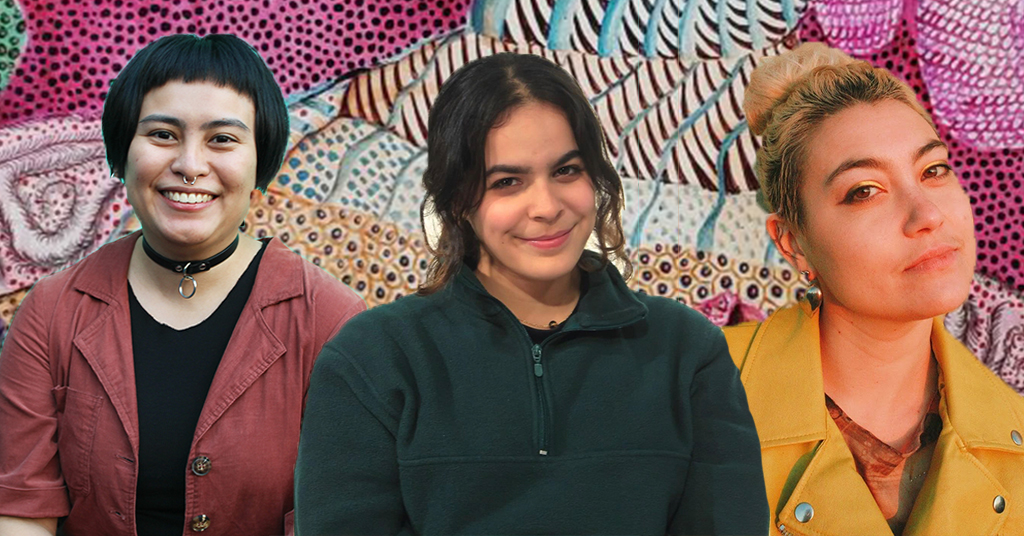 Presented as part of UBC ARTIVISM: Queering the Self, this segment of MOA's Artists Unscripted series features illustrator & comic artist Syan Rose alongside comedian & poet Tin Lorcia in conversation with ARTIVISIM Artistic Director Bianca Santana. Expect the unexpected from these dynamic artists as they take you inside queer artistry and representation, both on stage and in print, as they explore the festival's theme of queer expression in our digital era.
---
Artist – Syan Rose
Syan Rose is an illustrator and comic artist whose work plays with both surrealist and representational imagery to approach topics of personal history, politics, accountability, and healing. Her debut book, Our Work is Everywhere (Arsenal Pulp, 2021) features illustrated interviews, prose, and poetry with Queer and Trans organizers, healers, and artists. Her work has been published in Bitch, Slate, Gay Magazine, Truthout, and Autostraddle, and has self-produced many comics and zines.
Artist – Tin Lorica
Tin Lorica is a comedian and writer based in Vancouver on the unceded territories of the Musqueam, Squamish, and Tsleil-Waututh. Their comedic style has been described as someone who is about to bring you bad news, or the vibe of a sentence without punctuation. In October 2020, Tin's debut chapbook, Soft Armour, was published through Rahila's Ghost Press. Soft Armour is a collection of poems from Tin's pre-pandemic, pre-saturn return moments in their life. Tin has a non-ironic degree in women's studies, and aspires to earn a living wage. They have performed at Just for Laughs Northwest, and their jokes will soon hit the airwaves!
Host – Bianca Santana
Bianca Santana is this year's Artistic Director/Producer of UBC's 4th annual UBC ARTIVISM festival and has themed this year's Queering the Self. She is a Latin American photographer, digital designer, producer and activist born in the Dominican Republic and currently is a 4th-year student at UBC, majoring in Media Studies. In her work, Bianca explores themes of race, gender, sexuality and the media, focusing on the way media shapes our society.