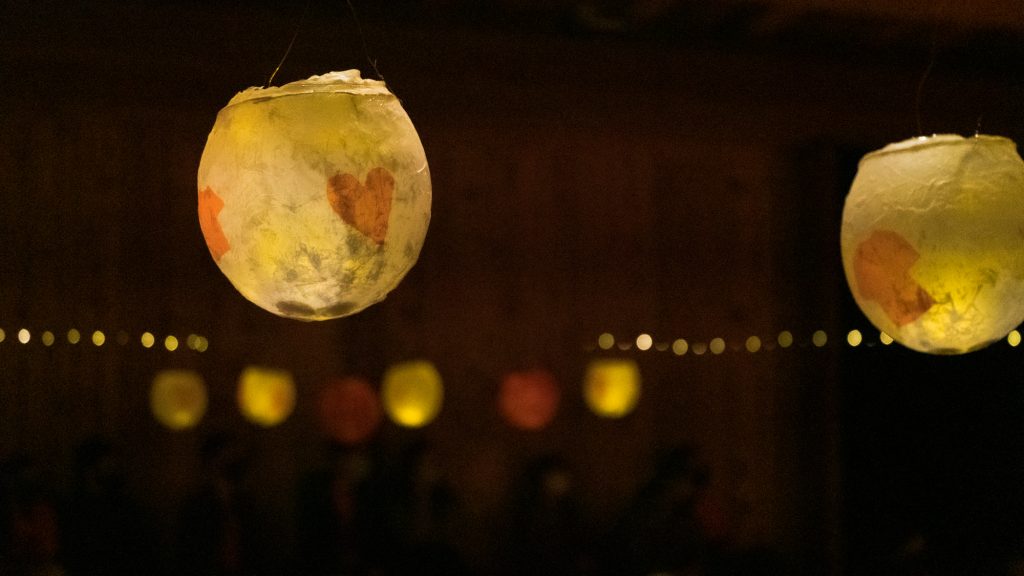 The Museum of Anthropology's Sound House Series returns this fall for its 4th season. Sound House is a celebration of culture and music, set in MOA's Haida House, against a stunning backdrop of Northwest Coast art and architecture. Launching this September, this season will feature diverse lines up of genre-blending bands and musicians, spoken word poets and dancers from the local community and across Turtle Island.
Join us on September 29th in honour of The National Day for Truth and Reconciliation for a night of Indigenous dance and reflection. Come early to join in a commemorative lantern procession and take in the powerful performances by the orange glow in MOA's Haida House.
The evening begins with an orange lantern procession in honour of residential school survivors, and for the children who never made it home. Pick up a lantern when you check in in the lobby, and join the procession to the Haida House at 7 pm.
The evening continues with a powerful showcase of Indigenous Dance by two local groups Tsatu Stalqayu (Coastal Wolf Pack) and Spakwus Stolem. Wearing orange is encouraged. To order an Every Child Matters orange shirt, please visit our shop: https://shop.moa.ubc.ca/products/every-child-matters-orange-t-shirt.
All net proceeds will be donated to the Indian Residential School Survivors Society. In addition, the supplier Native Northwest will donate their proceeds to the Orange Shirt Society and the BC Aboriginal Child Care Association.
Gather around the toasty bonfire outside with friends and drinks, and let the scent of cedar inhabit your senses. Sound House delivers rhythmic delights on the last Thursday of every month, book your calendars for September 29th, October 27th and November 24th.
This event is held as a part of UBC ARTIVISM produced by the Arts & Culture District in partnership with their student club UBC exposure. Through live music, dance, art exhibits, talks, poetry, immersive art and more ARTIVISM: The Politics of the Body will focus on the experiences offered by LGBTQ2SAI+, IBPOC individuals as well as those living with disabilities.
Tickets available at the door or online. Free for Indigenous peoples.