Welcome to a new school year! Don't miss a string of exciting virtual and in-person activities happening this September: from first-week events with your Arts Undergraduate Society, to a new exhibition at the Belkin, student workshops, and musical performances, there's something for everyone.
---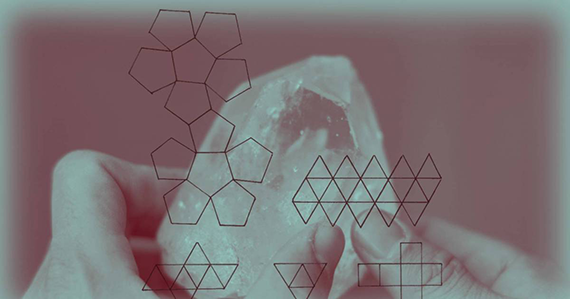 Elemental Cinema: Denise Ferreira da Silva and Arjuna Neuman
Opening Tuesday, September 6 
Opening reception: Saturday, 10 September | 2 – 4 pm | Morris and Helen Belkin Art Gallery
Elemental Cinema brings together the collaborative film works of Arts professor Denise Ferreira da Silva (GRSJ) and artist Arjuna Neuman. In this series of films, the four elements – water, earth, fire, air – inform the artists' considerations of an entangled existence, and of time and value that reimagine knowledge and existence "otherwise."
---
UBC Psychology Reddit "Ask Me Anything" (AMA)
Tuesday, September 6 | 10 am – 12:30 pm | Online
Free
Back by popular demand, UBC Psychology is hosting another "Ask Me Anything" on Reddit as part of their Imagine UBC events and activities. If you are a new or returning student, you'll have the opportunity to ask faculty, students, and staff questions about programs, student resources, research opportunities, life as an RA, student clubs, and much more, in real time. This AMA is open to all Arts students.
---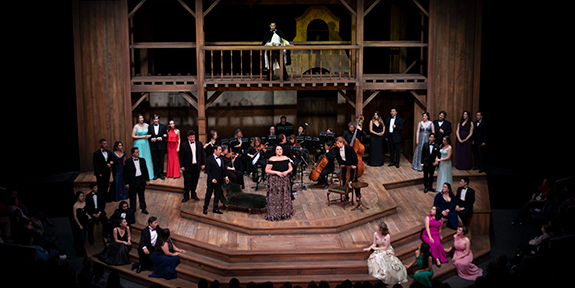 Opera & Arias: A Celebration
September 12 & 13 | 2 pm, 7:30 pm | Vanier Park in Kitsilano
Tickets: $27-$69. Youth pricing available. 
Featuring the gifted singers of the UBC Opera Ensemble and directed by Nancy Hermiston (School of Music), feel the passion, love and joy in selections from Verdi's La Traviata, The Merry Widow (Lehár), Die Fledermaus (Strauss) and more.
---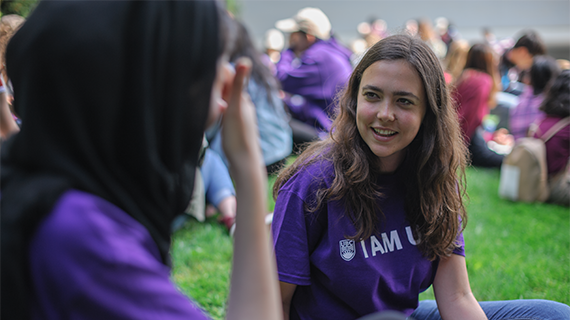 KickstART
September 12-15 | Various times and locations
Free
KickstART is an Arts-centered, four-day orientation program for incoming first- and second-year students! Events will include networking opportunities, wellness workshops, and social events where you will have an opportunity to get to know your fellow Arts classmates.
---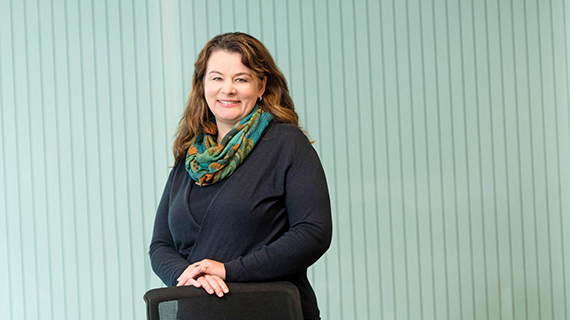 Arts Prof Talks: Making the Most of Your Time at UBC with Professor Laura Moss
Wednesday, September 14 | 12-1 pm | Arts Student Centre, First Floor Lobby
Free
Join English professor and Associate Dean of Students Laura Moss for a casual coffee chat as we kick-off the year. She'll offer some tips for success in the classroom and beyond, advice on how to improve your writing, how to get involved on campus, must-attend events, and where to go for support. Come with questions and we'll be happy to answer them!
---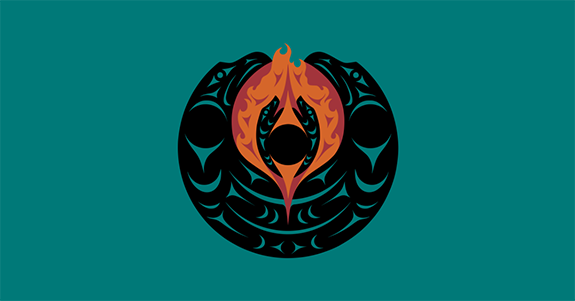 Come Toward the Fire
September 17 – 18 | Various times and locations 
Free and ticketed events
The Chan Centre for the Performing Arts, in collaboration with Musqueam, are thrilled to announce a new two-day festival, ʔəm̓i ce:p xʷiwəl (Come Toward the Fire). The gathering will showcase the voices of Indigenous artists, performers, musicians, speakers, and dance groups from Musqueam and from Indigenous nations across Turtle Island (North America) and includes free, outdoor programming on September 17 and a ticketed concert in the evening that is free to Indigenous peoples. The festival concludes on September 18 with the legendary icon Buffy Sainte-Marie performing in the Chan.
---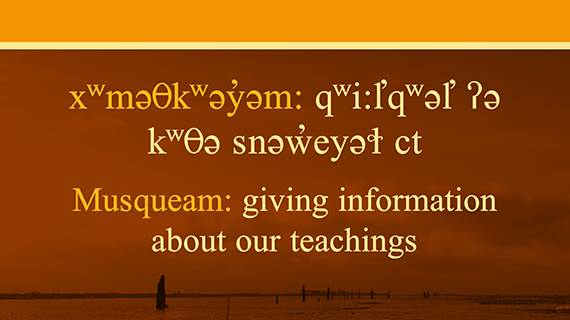 Musqueam Teachings
September 17 – 18 | 11 am – 1:30 pm | Museum of Anthropology
Free with museum admission 
Looking for ways to learn more about Musqueam language, history, territory and culture? Join the Museum of Anthropology for enriching, family-friendly activities from the "xʷməθkʷəy̓əm: qʷi:l̕qʷəl̕ ʔə kʷθə snəw̓eyəɬ ct, Musqueam: giving information about our teachings" kit. Enjoy a selection of hands-on activities from this rich educational resource, facilitated by MOA staff members.
---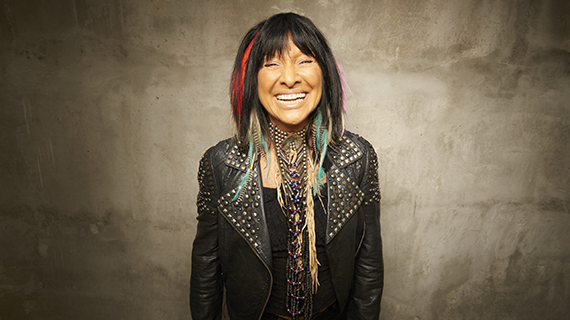 Buffy Sainte-Marie
Sunday, September 18 | 8 pm | Chan Shun Concert Hall
Tickets: $40-$120
Buffy Sainte-Marie has spent her life creating, innovating, and disrupting. Over five decades into an award-winning career, the prolific Cree singer-songwriter has been a musical trailblazer, an environmental activist, a tireless advocate for marginalized peoples, a prolific musician, an actor and a feminist icon. Buffy Sainte-Marie's concert will be presented as part of the Come Toward the Fire festival, presented ahead of this year's National Day for Truth and Reconciliation.
---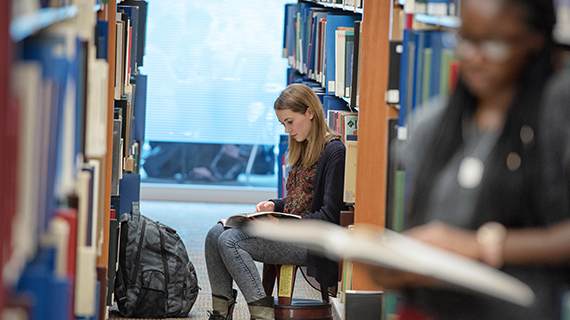 Arts Insider Tips: Accelerate Your Academics with the Library (Humanities Majors Focused)
Tuesday, September 20 | 12-1 pm | Arts Student Centre, First Floor Lobby
Free
Wondering how to take your term papers to the next level? Come and get inside information from UBC Librarians about the resources and tools that will help you strengthen your research. This session will focus on information that is most relevant to students in humanities disciplines, but everyone is welcome!
---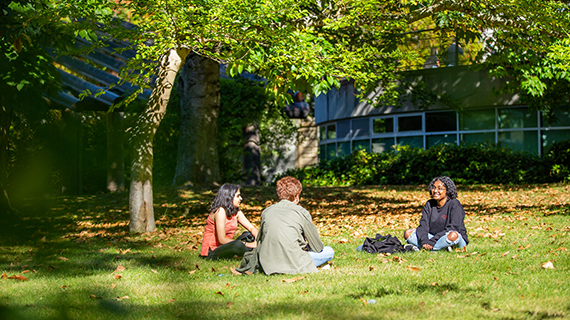 Wellbeing Workshop: How to Get Grounded
Wednesday, September 21 | 12-1 pm | Arts Student Centre, First Floor Lobby
Free
As the term gets underway, feelings of stress can start to build up. Come and try out some grounding strategies that can help you regain a sense of calm so you can sustain your energy and focus throughout the term.
---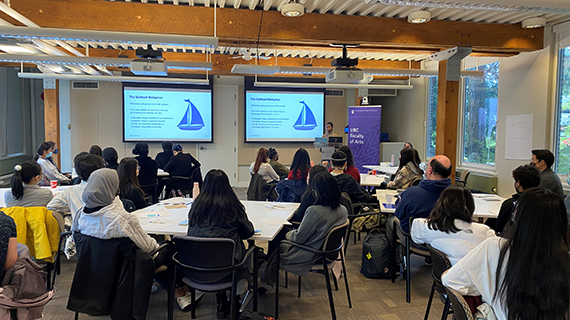 Arts Career Design Studio: Session 1
Wednesday, September 21 | 5-7 pm | Buchanan D217
Free
This workshop, the first in a 4-part series, will explore design thinking as a framework for tackling the 'wicked problem' of life design and creating a well-lived, joyful life. Students will learn what design thinking is, practice applying some of its key concepts, and start to connect the dots between what they want to create in their lives and careers.
---
Sound House: Honouring with Orange
Thursday, September 29 | 7-9 pm | MOA's Haida House 
Tickets: $20 (includes museum admission) | Free for Indigenous Peoples
In honour of the National Day for Truth and Reconciliation and Orange Shirt Day, the first Sound House of the year will begin with an orange lantern procession in honour of residential school survivors and for the children who never made it home. The procession is followed by a powerful showcase of Indigenous dance by two local groups: Tsatu Stalqayu (Coastal Wolf Pack) and Spakwus Stolem. Attendees are invited to wear orange.