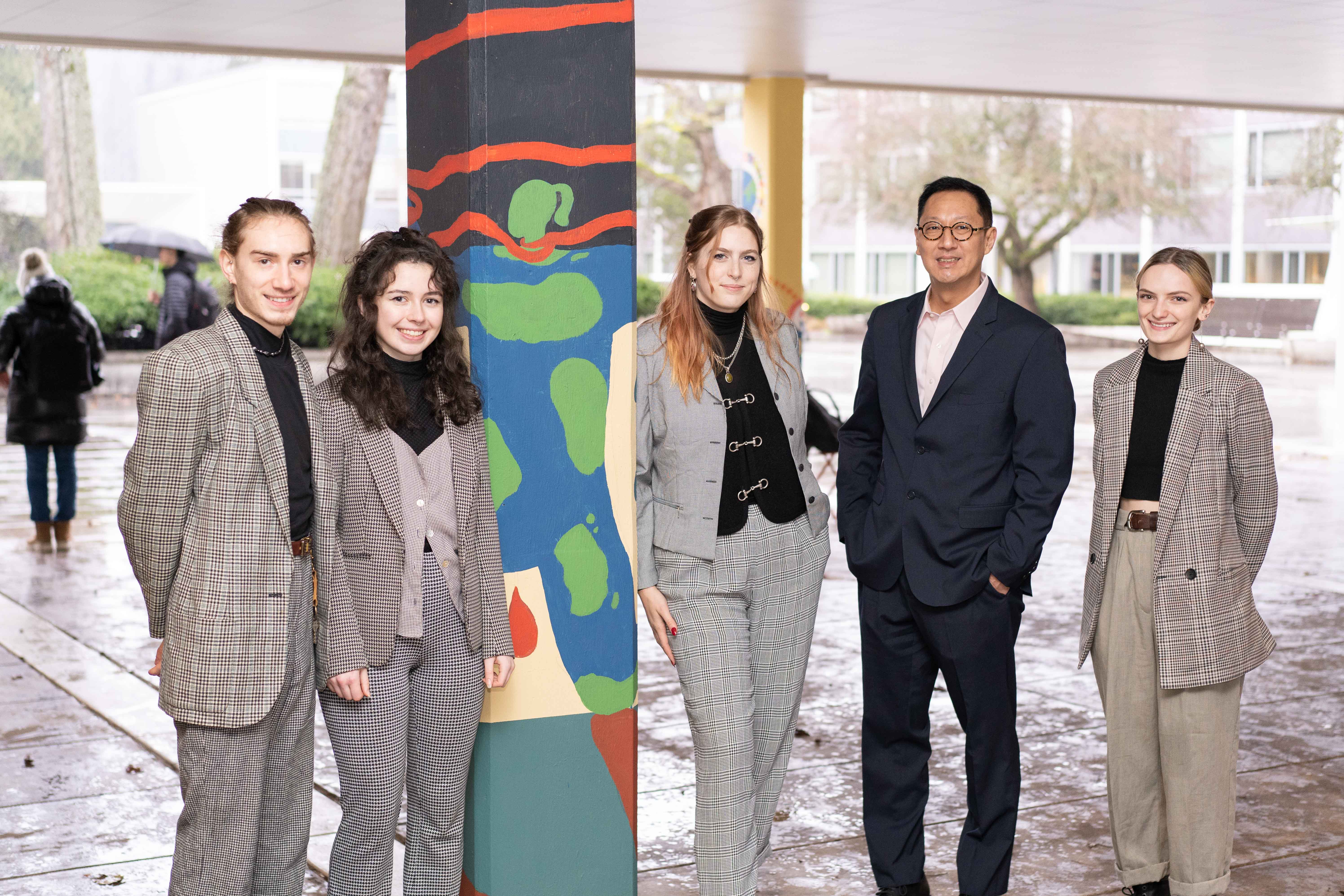 If you've walked through the Buchanan courtyard in recent months, you may have noticed a new splash of colour — several previously grey pillars have been transformed into brightly painted murals. The result of a student-run art contest, each pillar depicts a theme relating to the UN Sustainable Development goals, such as climate change, inequality and social justice.
"We hope this pillar and the other pillars by our peers will inspire the student body to rise up a bit and see climate change as a global issue."
Wendy Hanlon
3rd year Visual Art student
The winning design was created by Arts students Emily Van Ryn, Emily Valine, Jayden Dreher and Wendy Hanlon, who together make up the Houndstooth Art collective.
"We chose to focus on climate justice," says Emily Valine,  who graduates this spring with a major in Gender, Race, Sexuality and Social Justice program. "Our pillar is about climate migration. It focuses on which groups will be most impacted by the climate emergency — women in the Global South and marginalized people."
The group says they initially decided to enter because they thought it would be fun, but became more invested after learning the contest was a response to the UN Sustainable Development Goals. Coming from diverse fields of study including Visual Art, Media Studies, and Social Justice, they were excited about creating a collaborative art project that could amplify the conversation on climate justice.
"We hope this pillar and the other pillars by our peers will inspire the student body to rise up a bit and see climate change as a global issue," says Wendy Hanlon, a 3rd year Visual Art student. "We understand that individual commitments to sustainability — such as using reusable cups or reducing single-use plastics are important — but it's community organizing and political movements that make the most change."
Valine believes these types of community art projects bring visibility to social justice causes at UBC. "There's so much corporate energy and influence on campus, that to have student art that's opposite is vital in going forward in the climate emergency," she says.
The team has donated their $500 prize to Eco Justice Canada — an environmental law charity that works to combat climate change. They plan to continue collaborating on art projects that address global issues.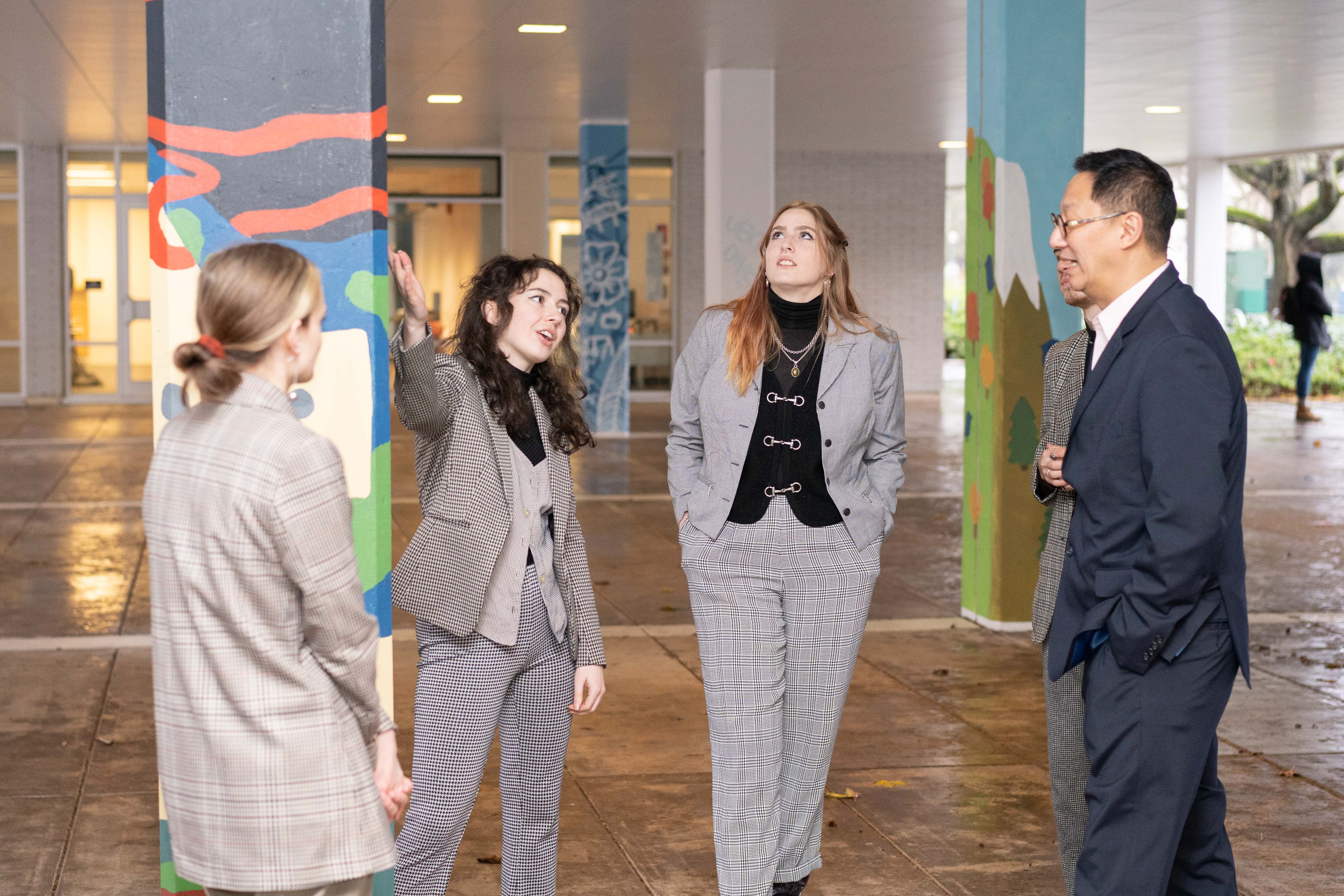 Beautification of Buchanan
The idea of beautifying Buchanan through a community art project was spearheaded by former UBC student Mica Pffefer, who was inspired by the TED Talk "How painting can transform communities." After getting President Santa Ono on board, and joining forces with the Arts Undergraduate Society, Campus & Community Planning, and the Arts & Culture District, the competition was launched.
Casandra Shayne Avanzado, VP of Student Life for the AUS, says that in addition to calling attention to global issues, one of the goals of the Buchanan pillar competition is to enhance mental health and wellbeing.
"To me, the project was an opportunity to beautify a dark and dull space into somewhere students could walk by and stop to ponder the art and look into the meaning of the piece," says Avanzado. "In my years at UBC, I felt isolated and lonely at times and the harsh winter cold seldom helped. I think that if this had existed in my first few years at UBC, it definitely would have made my day a little better. I hope that this is how other students feel as well."
---
The theme of next year's competition will be decided by this year's winning team. The call for submissions will be announced this summer – follow the Arts Undergraduate Society on Facebook to stay informed!