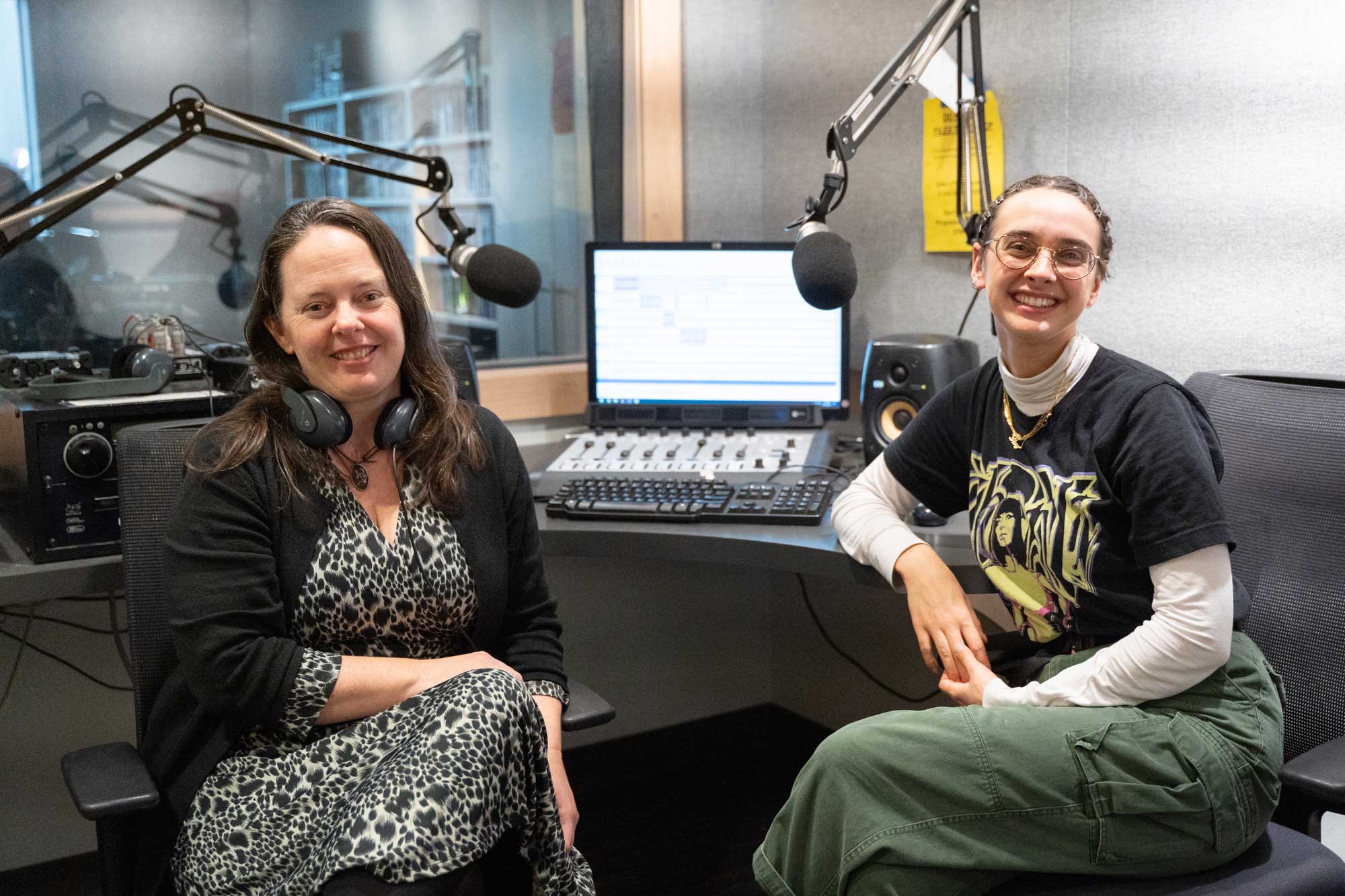 Creative Writing instructor Jennifer Moss connects students to a diversity of digital storytelling work with project-based learning.
Writer and digital storyteller Jennifer Moss teaches a series of popular courses at UBC's Creative Writing Program: New Media, Writing for Podcast, and a brand-new course on Interactive Storytelling.
An award-winning interactive journalist, Moss is passionate about exploring how emerging technologies open new doorways for writers. To give students a taste of what it's like working with community partners on real-world digital projects, Moss has partnered with the Centre for Teaching & Learning Technology (CTLT), the SEEDS Sustainability Program, the Emerging Media Lab, CiTR, and Riipen. Her goal is to help budding writers learn the art of collaboration and digital storytelling, experience the diversity of writing-related work, and make a positive impact.
We spoke to Moss about the benefits of community-based learning and the partners that can facilitate these opportunities.
As an educator, why do you build project-based learning into your courses?
I choose to put these opportunities in front of my students because they reflect the reality of a writer's life. A creative writer might hope to spend a certain portion of their time working on a novel or poem, or other self-guided project.  When we do our own writing, we do it for love, and we are at the height of our powers. And that's great.
But increasingly, writers find themselves in situations where they cannot lock themselves away in attics to create. In video game creation, film and television writers' rooms, interactive digital spaces, it is vital for writers to understand the art of collaboration with multi-skilled teams. Furthermore, many writing jobs (at least the ones that pay the rent) do not give writers carte blanche to do whatever they feel like doing.
So, writers need to learn to express their creativity within parameters, and I can think of no better way to help students do that than to set up opportunities for them to create strong work that takes the goals or values of other organizations or companies into account. That is the creative challenge they will all face, sooner or later. In my view, it might as well be sooner.
What are some examples of project-based learning that your students have participated in?
In a recent podcasting course, students produced a podcast for the Toronto Police and others collaborated on episodes for New View Society — a mental health support organization in the Tri-City area.  The New View Society podcast was initiated and handled through CLTC, while the Toronto Police project was facilitated through Riipen.
In addition, I'm currently working with SEEDS at UBC on their sustainability initiative. For this collaboration, students in my Interactive Storytelling class are given a "sustainability challenge." Should they choose to accept the challenge – they can contribute audio walking tours, or "podplays", as well as VR poems and other creative offerings to an interactive map that's all about trees on campus. Students from other departments are contributing more science-based information about trees, but I think it's great that the Creative Writing students can add content that reflects the emotional value of these greenspaces. Plus, they get to publish their work – so it's a publishing credit too – something every young writer needs.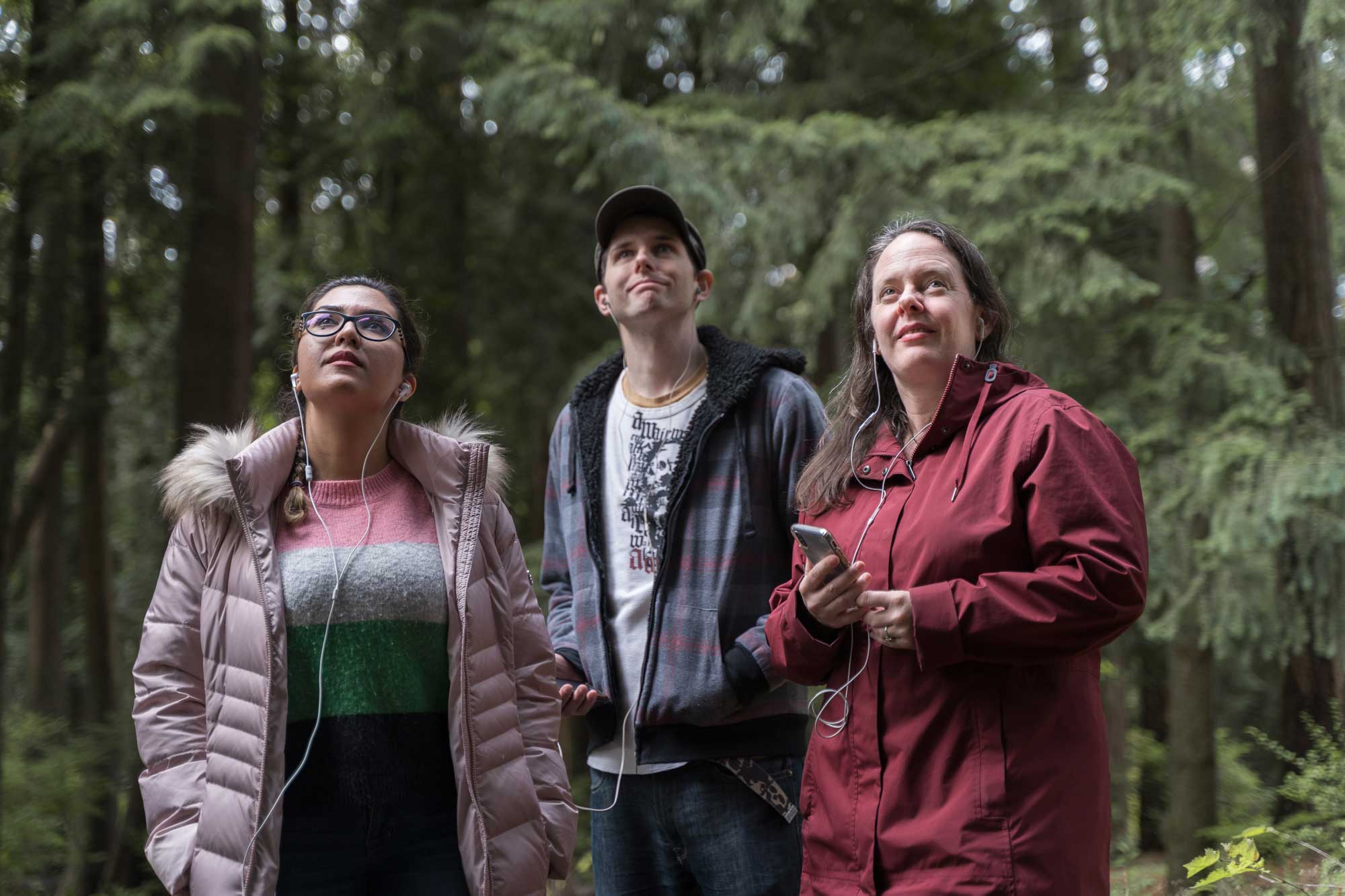 What do you think students take away from these community-engaged experiences?
Students gain real-world experience with meeting serious outside deadlines (as opposed to more flexible academic ones), conducting research, interviewing subjects on sensitive topics for their podcast, collaboration and role division, and of course, writing and editing. One group had to deal with a client/community partner that asked for revisions. I did not require it as part of the assignment due to time constraints, but this group chose to make the revisions anyway, because they wanted the community partner to be satisfied. This shows me that this type of assignment also has the potential to teach students the one thing they really need to learn: accountability.
"We all want to make work that has an impact in the world. I think community-engaged learning experiences let students get a taste of what it feels like to make a difference."
Jennifer Moss
UBC Creative Writing instructor
Would you recommend project-based learning to other faculty members?
Yes, I would. I wish there had been more of these kinds of opportunities when I was a student. By third year, many students are hankering to do something that reaches beyond the bounds of academics, something that helps them understand the relevance of their chosen field. The creative arts are no exception.
We all want to make work that has an impact in the world.  I think community-engaged learning experiences let students get a taste of what it feels like to make a difference, as they develop the so-called "soft skills" (should be renamed "extremely relevant skills") needed to survive in the contemporary work environment.
---
Are you a faculty member who wants to build project-based learning into your curriculum? Start here:
Are you a student who wants to participate in project-based learning? Start here: