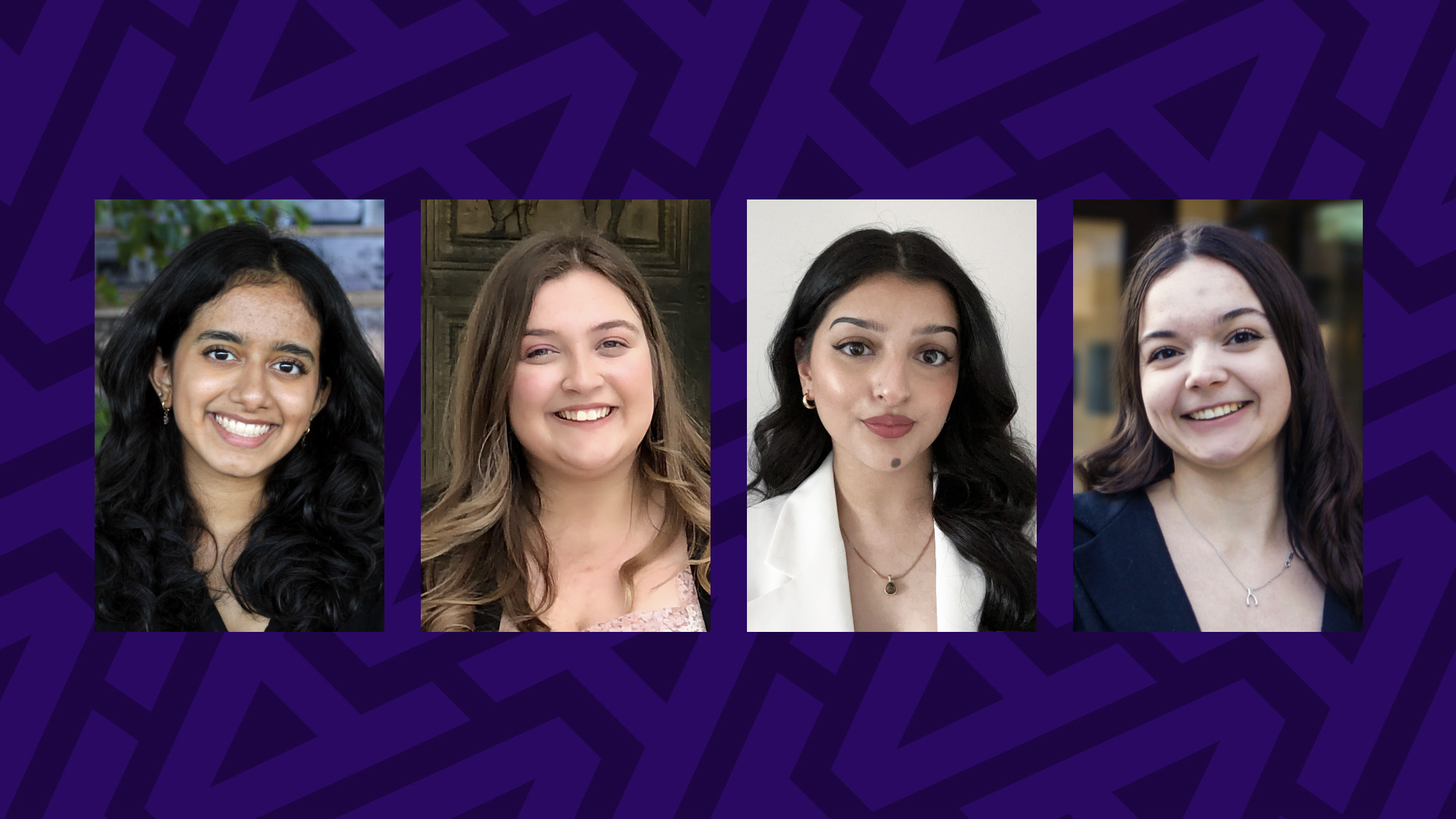 As the Winter session kicks off, your Arts Undergraduate Society (AUS) is excited to welcome you back to UBC!
We spoke with AUS members and UBC Arts students Emma, Aakriti, Ashley, and Ayesha to highlight what the AUS has in store for this fall, and how members of the Arts undergraduate community can get involved.
---
What is the Arts Undergraduate Society?
Best described as UBC Arts' student government, the Arts Undergraduate Society (AUS) consists of 200+ student leaders, working towards a common goal of bettering the social, academic and professional lives of UBC Arts students. The AUS consists of nine portfolios that each play a unique role in improving the Arts student experience through large social events, professional development workshops, academic advocacy, Arts student grants, and more. 
Academic: addresses Arts student academic life, including academic support, research opportunities, mental health advocacy, and student well-being
Administration: manages day-to-day operations of the AUS, including maintaining the Arts Student Centre (ASC), facilitating AUS Council, running the Food Hub, and supporting AUS clubs
Arts Caucus: creates a bridge between Arts student voices and the Alma Mater Society (AMS) through elected AMS and Year Representatives.
Engagement: organizes the AUS brand through marketing, merchandise, analytics, and media departments
External: maintains and expands relationships with external organizations, as well as launching philanthropy and sponsorship opportunities
Finance: responsible for allocation of funds, including distributing AUS grants and guiding the AUS's annual budget
Internal: fosters a proactive working environment for AUS members, overseeing elections/hiring, internal development and human resources.
Student Life: designated to create and promote a sense of Arts spirit and community through social events
Presidential: oversees the Equity & Inclusion Department.

All portfolios are run by undergraduate students, including one elected 'Vice President' and several volunteer positions, recruited in summer and fall.
---
"The AUS has become my community at UBC over the past two years and has been such an integral part in making our large faculty feel just a bit smaller. I feel so grateful to be your AUS President this year, and I can't wait to help pass on this sense of community to other students!"
Emma Martin-Rousselle (she/her)
AUS President, third-year Sociology major & Master of Management student
---
Major upcoming initiatives
AUS members have been working all summer to plan a variety of events and initiatives, aimed at benefiting all Arts students, both incoming and returning!
---
KickstART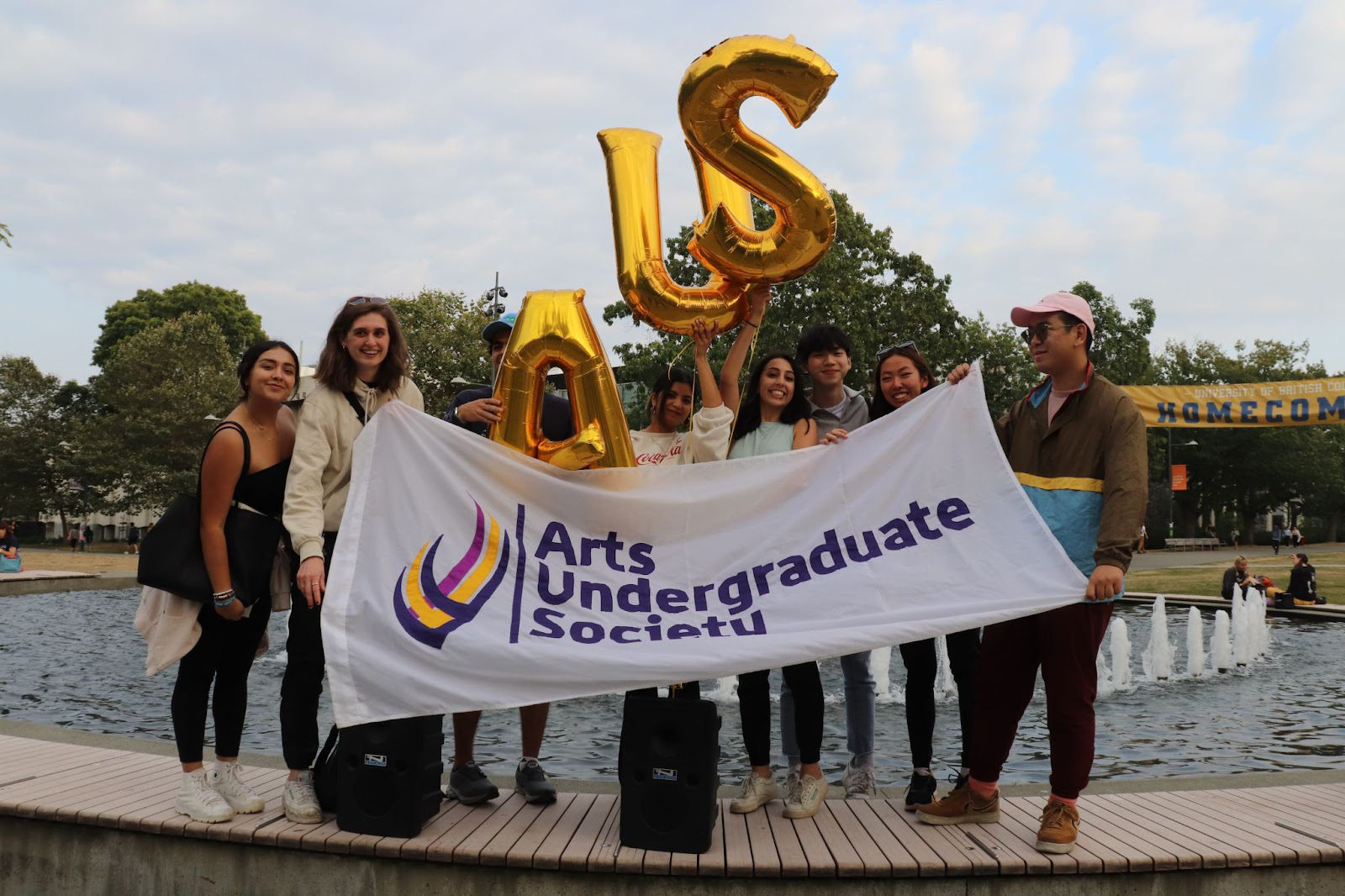 KickstART is the AUS's very own welcome week, hosting events for incoming Arts students. KickstART is an annual tradition, and a great way for newcomers to kick off their Arts experience. This year, come to events such as an interfaculty sports day, AUS Trivia Palooza, and Brunch with (A)US! Save September 11–15 in your calendars, and follow the AUS on Instagram for the most up-to-date information.
---
Purple Card Program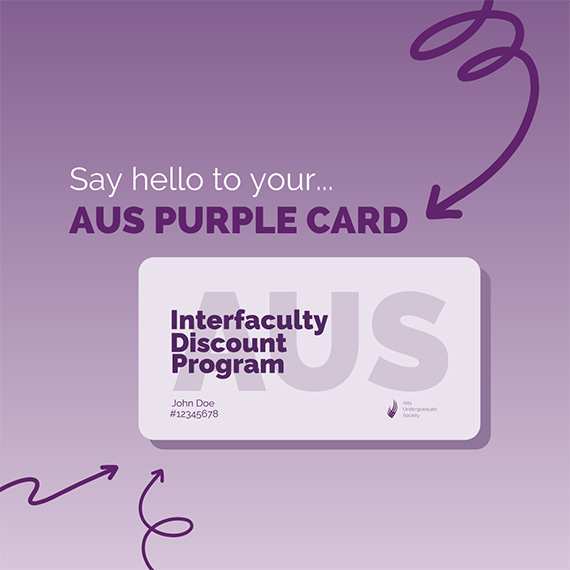 The Purple Card is a discount program that provides Arts students with savings on food, recreation, well-being, and shopping at local businesses in order to address affordability challenges. Registration for the program will resume around the mid-point of Term 1, and multiple opportunities for picking up your new Purple Card will become available throughout the year.
---
"Being a part of the AUS has not only given me lasting community and some of my best friends for life, but seeing the impact these resources, events, and programs have on students has been incredibly rewarding."
Ashley Haines (she/her)
VP External, fifth-year International Relations major & Sociology minor
---
Arts Student Centre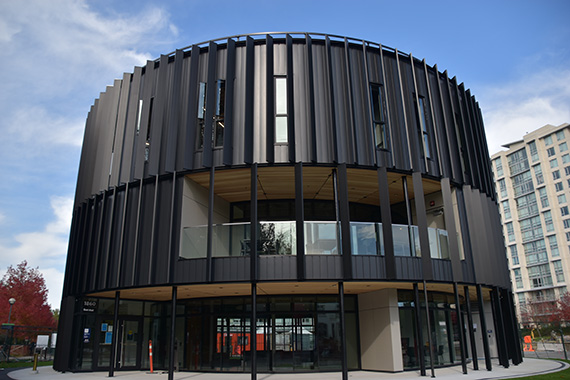 Located at the corner of East Mall and Walter Gage Road, the Arts Student Centre (ASC) supports the academic, social, personal, and professional needs of the diverse Arts student body.
Students can visit the ASC for a variety of events, amenities like study spaces and meeting rooms, and initiatives like the Food Hub, which consists of a community pantry, monthly community meals, and the Food Fund program.  
There's always something fun going on at the Arts Student Centre. Check out the ASC Events Calendar to find out more.
---
Philanthropy Grant Program
The Philanthropy Grant program allows students to connect with local organizations doing important work to address various community challenges and ultimately fulfills the AUS pillar of giving back to the community. 
---
Get involved with the AUS
The great thing about the AUS is how easy it is to get involved! To keep up to date with opportunities, follow the AUS on Instagram and Facebook, and check out their website. If you're interested in being a part of the team, keep reading for more ways to get involved. 
---
AUS Fall Recruitment
Until September 13th, the AUS is accepting applications for new volunteer positions in every AUS portfolio and for a variety of skill sets and experience levels. Interested? Check out the AUS's Instagram for the most up to date information on which positions are available, and how you can apply.
---
"Joining the AUS in my first year provided me with a safe, friendly space to meet people and learn about UBC Arts, all while gaining transferable skills that have allowed me to grow so much as an individual."
Aakriti Kallianpur (she/her)
VP Engagement, third-year Visual Arts & Psychology student
---
Equity and Inclusion Department
This year, the AUS Equity & Inclusion Department's work is focused under a new executive-level position: the Equity Commissioner. This newly-recruited role serves to embed equity, diversity and inclusion in all AUS initiatives, while sitting on the AUS Executive, providing updates to AUS Council, and leading the activities of the Equity and Inclusion Department. The department will host its first event, 'Toteful Thoughts' on September 8th. 
---
Arts Caucus
The Arts Caucus Portfolio serves as a bridge between student voices and bodies of student governance such as the Alma Mater Society (AMS) and AUS through their elected representatives. This year, the portfolio is focused on reaching out to student clubs and collectives on campus through community based events to ensure our advocacy is centred on Arts students.
---
"I joined the AUS in my first year, and it's safe to say it was the best decision I made in my entire first year at UBC. By serving my Arts community, I was able to gain a deeper understanding of how our work is enriching the experiences of Arts students and the gaps that we need to build on."
Ayesha Irfan (she/her)
VP Arts Caucus, second-year Political Science major & Gender, Race, Sexuality and Social Justice minor
---
We hope this post has given you some insight on ways to connect with your Arts community. The Arts Undergraduate Society is dedicated to providing an enriching student experience and is ready to welcome you at UBC.