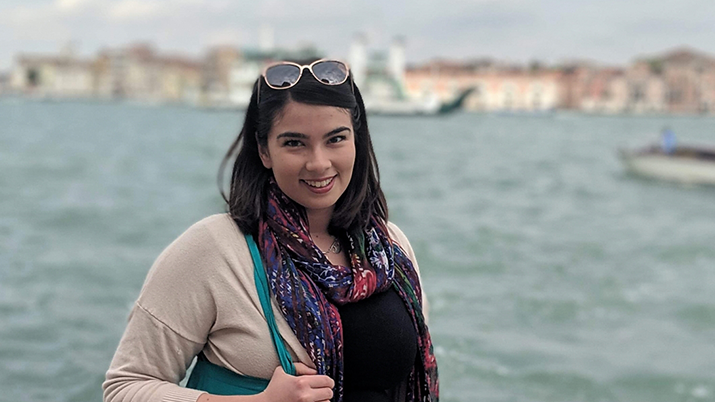 Story produced by Aboriginal Student Affairs Peer Advisor, Tiana Bone
Emily Henderson is a Greenlandic Inuk Anthropology major at the University of British Columbia and she grew up in the Okanagan Valley in British Columbia. Emily has completed her degree in Anthropology as of December 2019!
You are involved with Indigenous Leadership Collective, what has been your experience? (Favourite memories, events, activities, etc)
The best things about the Indigenous Leadership Collective (ILC) have been finding a sense of community when previously I had felt very disconnected in the university environment. I think my favourite memory besides the potlucks was when we were able to produce a podcast together and then go to Salmon and Bannock to celebrate later. The potlucks were really valuable to me because that was the first time I really felt a sense of belonging in the UBC community, because it was a chance to come together with people I had a lot of shared experiences with over food and good conversation.
Carving Space Podcast can be listened to here.
Currently, you are an editor for two separate journals, what has it been like to be an editor and still be in school full-time?
I edited the Ethnograph: Journal of Anthropological Studies for 2019 and I am also a staff writer and editor at the Inuit Art Quarterly since January 2019. To have done that and also be in school at the same time mostly just means I spend a lot of time on the computer and writing significantly more than I would normally! It has been amazing though, and my job with the Inuit Art Quarterly (IAQ) has taken me to Toronto, Montreal and even Venice to cover the Canadian-based Isuma artist collective installation at the Biennale. It's busy, but it was great to get my foot in the door while I was still a student. Currently, I've been bridged into a full time position after finishing up my formal coursework at UBC and I am the first full-length, time Inuk editor in a more than 30 year publishing history of the IAQ. It has been a lot of learning, but I'm really honoured to have come to this work where I get to work with community every day and continually improve the way Inuit are represented in the media.
You participated in the First Nations and Indigenous studies (FNIS360L) Go Global seminar that went to London, would you like to share your experience?
It was definitely an eye-opening and confronting experience to be at the "heart of Empire". The trip really left me with so much to keep thinking about well after I came home, and has affected the way I understand art, architecture, power and mobility. I was there with an absolutely fantastic group of people, and to have that network to sit with at the end of the day and digest and debate everything we had encountered during our sessions made the experience that much more enriching. I still have the journal that I kept during that time – as both English and Indigenous the trip was as much academic in nature as it was intimately about my own identity and understanding my own perspective.
You also participated in the last Indigenous Undergraduate Research Mentorship Program, what were the highlights? From an Arts student point of view, how was your experience?
The Indigenous Undergraduate research mentorship was a fantastic "peek behind the curtain" and I would really recommend it to any Indigenous undergrad who knows what their area of interest might be, but isn't sure what a career might look like for them. During the program, I was able to meet regularly with Prof. Jennifer Kramer of the Department of Anthropology as well as several other curators and professors she introduced me to. It really opened my eyes to possibilities in curation, museum anthropology and cultural work. This experience also gave me an idea of what sort of opportunities might be available to me in the future.
What are your plans after you complete your undergraduate studies? (Congratulations on the new position in Toronto!)
Now that I'm graduating, I will be saying a bittersweet goodbye to Vancouver and hello to Toronto! While I can't divulge too much on the specifics of my new position, I will be continuing to work with the Inuit Art Quarterly/Inuit Art Foundation at their head office in Toronto, where my focus will be on continuing to write for the magazine and working closely with emerging artists just beginning their careers.
ASA Tip: Interested in the Indigenous Undergraduate Research Mentorship Program? Learn more here.