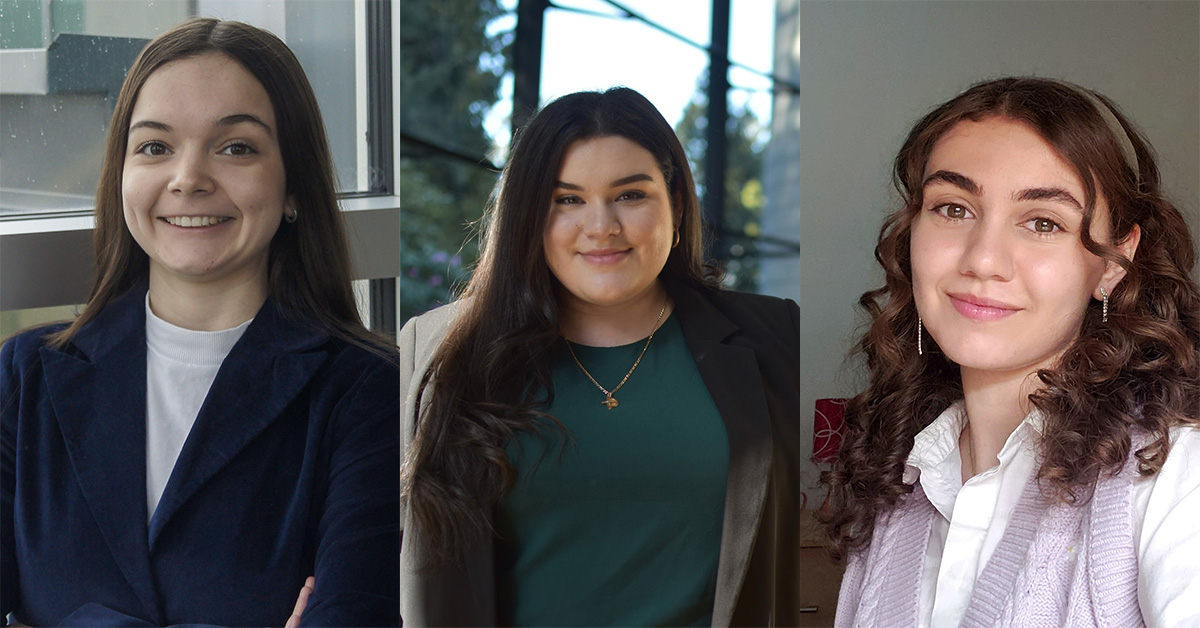 With Winter Session just around the corner, your Arts Undergraduate Society (AUS) is preparing to welcome Arts students back to UBC!
We spoke with AUS members and UBC Arts students Emma, Fatima and Ghazal to highlight what the AUS has in store for this fall, and how members of the Arts undergraduate community can get involved.
---
What is the Arts Undergraduate Society?
Best described as UBC Arts' student government, the Arts Undergraduate Society (AUS) consists of 100+ student leaders working towards a common goal of bettering the social, academic and professional lives of UBC Arts students. The AUS consists of eight portfolios that each play a unique role in bettering the Arts student experience through social events, professional development workshops, academic advocacy, Arts Student grants, and more.
"I started my first year at UBC knowing nobody. The AUS welcomed me into the Arts community without hesitation, connecting me with like-minded individuals and quickly becoming an integral part of my first year experience. I'm proud to be a part of a team that helps to ease the transition into first year, and I encourage all students to seize the opportunity to get involved!"
Emma Martin-Rousselle (she/her)
VP Engagement, second-year Sociology + Master of Management student
Academic: addresses Arts student academic life, including academic support, research opportunities, mental health advocacy & student well-being
Administration: manages day-to-day operations of the AUS, including maintaining the Arts Student Centre (ASC), facilitating the AUS Council and supporting AUS clubs
Engagement: organizes the AUS brand through marketing, merchandise, web development, analytics, and media departments
External: maintains and expands relationships with external organizations, as well as launching philanthropy and professional development initiatives
Finance: responsible for allocation of funds, including distributing AUS grants and guiding the AUS's annual budget
Internal: fosters a proactive working environment for AUS members, overseeing elections/hiring; internal development; human resources; sustainability; & AUS elections
Student Life: designated to create and promote a sense of Arts spirit and community through social events
Presidential: composed of the Equity & Inclusion Department, First Year Committee and Upper Year Committee
All portfolios are run by undergraduate students, including one elected executive and several volunteer positions, hired in summer and fall.
---
Major Upcoming Initiatives
AUS members have been working all summer to plan a variety of events and initiatives, aimed at benefiting all Arts students, both incoming and returning!
KickstART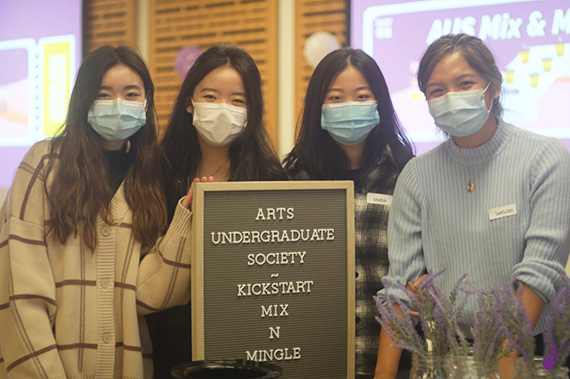 KickstART is the AUS's very own welcome week, hosting events for incoming Arts students. KickstART is an annual tradition, and a great way for newcomers to kick off their Arts experience. This year's festivities will include a back-to-school barbecue, a friendship match-making event, a field day, and a beach-front open mic. Check out the AUS's Facebook event for the most up-to-date information about all KickstART events, and save September 12–15 in your calendars!
---
Purple Card Program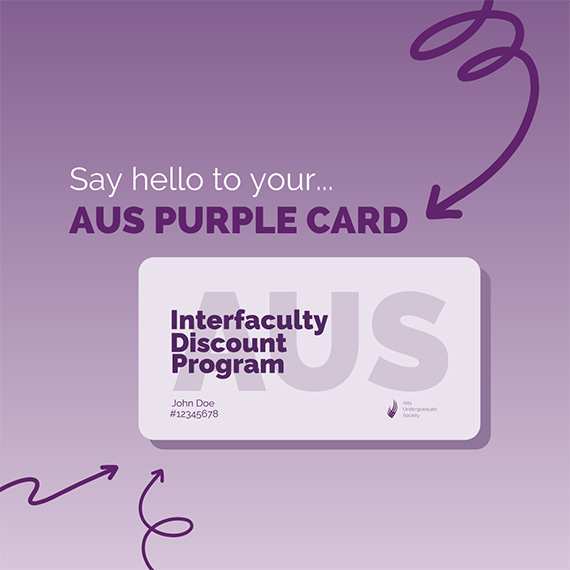 The AUS Purple Card is a discount program that gives Arts students discounts on food and shopping at local businesses. This year, the AUS External portfolio plans to expand the program to provide discounts on experiences, recreation, vacations, and more! Registration for the program will resume in September, as well as opportunities to pick up cards ordered last year.
"The AUS offers many programs that simplify students' transition into the Faculty of Arts. From student discount cards that make eating and shopping more affordable, to grants that cover textbook costs, to networking events, I'm so glad to be part of the AUS and have the opportunity to take advantage of the resources it offers."
Ghazal Rezaei (she/her)
VP External, third-year Political Science major with a minor in International Relations
---
The Arts Student Centre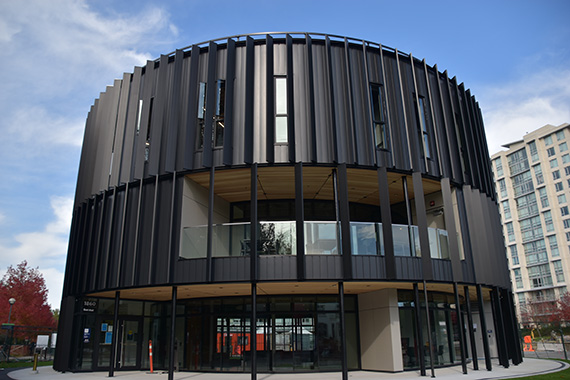 After several years of planning and construction, the Arts Student Centre (ASC) opened its doors to students last fall. Located at the corner of East Mall and Walter Gage Road, the ASC supports the academic, social, personal and professional needs of the diverse Arts student body. Students can visit the ASC for a variety of events, amenities like study spaces and meeting rooms, and new initiatives like the "Greenify the ASC" project and the ASC Food Hub, coming this year. The ASC will also be hosting a welcome event, "This Is Your HAUS," on September 12.
---
Get involved with the AUS
The great thing about the AUS is how easy it is to get involved! To keep up to date with opportunities, follow the AUS on Instagram and Facebook, and check out their website. And, if you're interested in being a part of the team, keep reading for more ways to contribute.
---
AUS Fall Hiring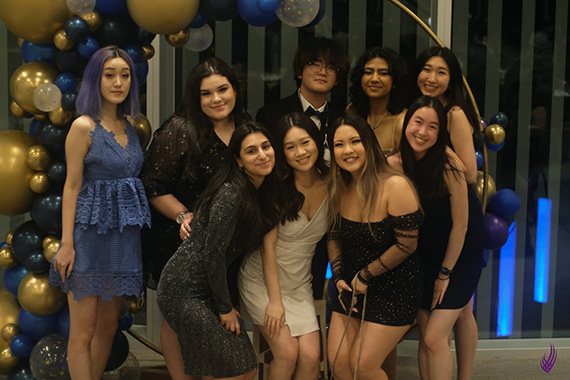 Until September 10, AUS Fall Hiring is open for applications! The AUS is hiring for a variety of volunteer positions during this period, from every AUS portfolio and for a variety of skill sets and experience levels. Interested? Check out the AUS's Facebook event for the most up to date information on which positions are available and how you can apply.
"Joining the AUS during my second year has been one of the best decisions I have made at UBC. I have met some of my closest friends who are equally as passionate about enriching the experiences of students. I am extremely humbled and honoured to be your AUS President and cannot wait to meet everyone who applies to join our team or attends our events this year!"
Fatima Rua (she/her)
AUS President, fourth-year Honours Political Science major with a minor in Law and Society
---
AUS Fall By-Elections
Interested in being elected as a student leader? The AUS is also holding its Fall By-Elections September 20 – October 10. These elected positions include AMS Representatives, who represent Arts students' interests at AMS Council; and Year Representatives, who oversee the First Year Committee and the newly created Upper Year Committee, respectively. Follow the AUS Elections Facebook page to be the first to know when elections open for nominations later this fall.
---
We hope this post has given you some insight on ways to connect with your Arts community. The Arts Undergraduate Society is dedicated to providing an enriching student experience and is ready to welcome you when you arrive at UBC!