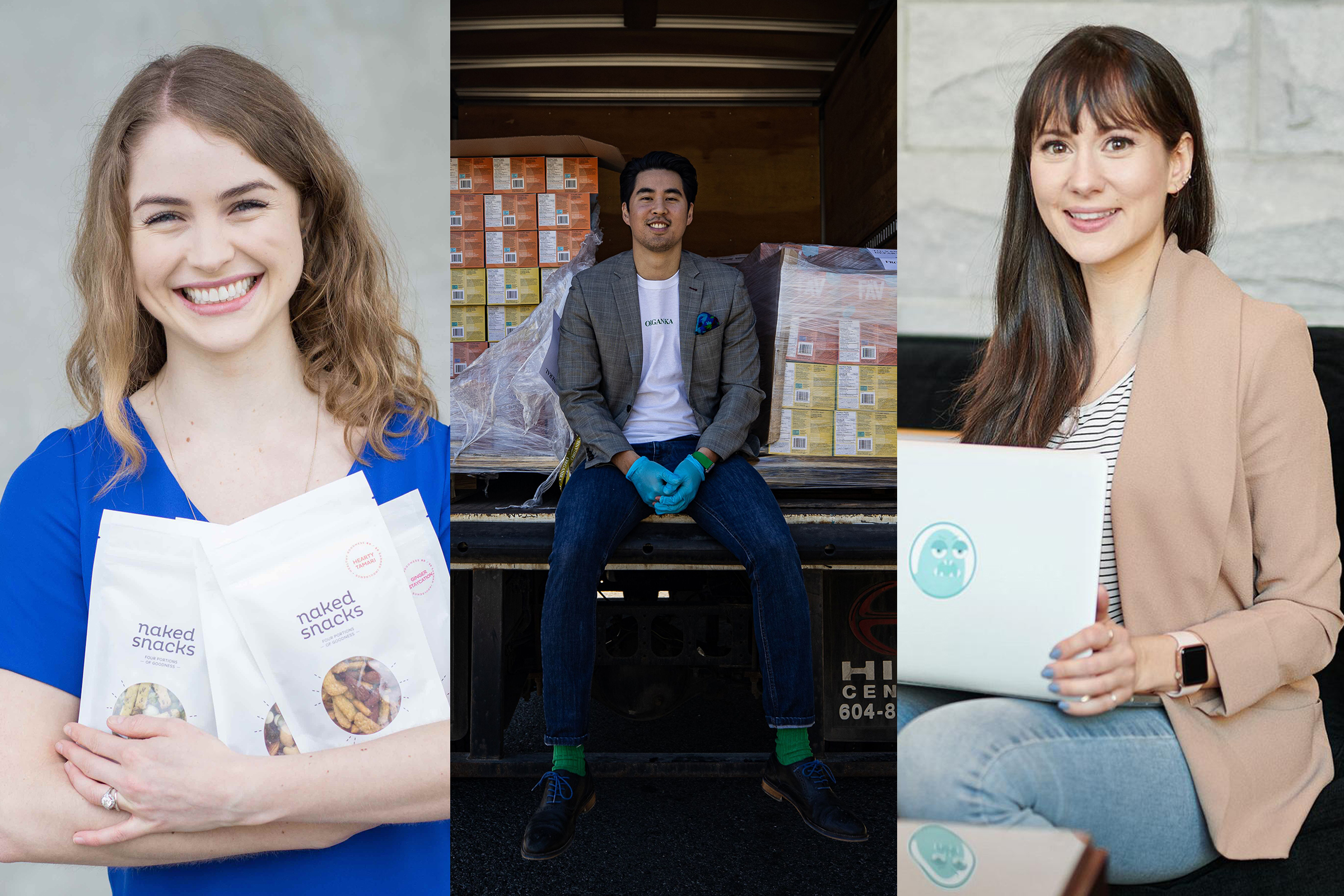 Three Arts alumni joined this year's BC Business 30 Under 30 list. We spoke with each of them about how they got their start, the skills they picked up at UBC, and their advice for students who want to be future entrepreneurs or innovators.
---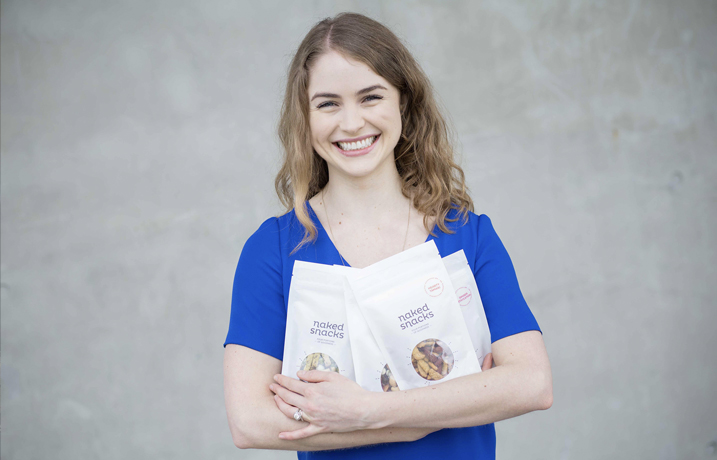 Ryley Humphry – The Scrappy Family Startup
Ryley Humphry (BA'14 – Sociology) calls herself an "entrepreneur by marriage." Years ago, when her then-boyfriend Neil Thomson asked her advice on founding a new healthy snack company, she recalls thinking, "we're just dating — do whatever you want."
She laughs about it now. "I didn't really realize at the time how starting a family business really means that everyone in the family is involved." The day we spoke, her mother was helping pack orders.
After graduation in 2014, Ryley pursued a career in fundraising, with positions at Union Gospel Mission, BC Women's Hospital Foundation and United Way. The same year, Neil, a fellow UBC alum with an MBA from UBC Sauder School of Business, went ahead and founded Naked Snacks.
Ryley and Neil got married in 2016, and in early 2017, she began applying her skills to making the company grow. She turned her attention to promoting Naked Snacks on Instagram and began building the business through partnerships with local influencers, community partners and sponsors. These partners featured their products across Canada, which amounted to essentially free advertising that their small business otherwise couldn't pay for. The result of Ryley and her team's efforts led to an increase in Instagram followers from 3,000 in 2017 to 22,000 today.
"So much of our success and our growth over the years is because of our community."
Ryley also made strides in expanding their products into grocery stores, which she says she accomplished "through sheer harassment." Ryley credits her Arts degree with helping her develop the communication skills that provided the foundation for both her current roles — in addition to being the vice-president of sales for Naked Snacks, she works full-time at Sauder as a fundraiser.
"Looking back, business may have been an obvious choice for me, given where I've ended up in my life," Ryley says. "But funnily enough, I think studying sociology and doing an Arts degree taught me to think critically, read and write — skills that have really helped me in my career."
Although sales to hotels and offices has taken an understandable hit during COVID-19, online sales and sustained business in grocery stores and retail — a credit to Ryley's earlier efforts — have helped them through.
"So much of our success and our growth over the years is because of our community," she says. The business continues to evolve thanks to financing Ryley and Neil were recently able to secure, making them one of the few small businesses hiring during the pandemic. Ryley calls it "a dream" for their "scrappy team of contractors and part-time folks" to have full-time dedicated staff.
For anyone interested in pursuing their own entrepreneurial aspirations, Ryley is clear-eyed about how difficult it is. "It's really 24/7 and you never stop thinking about it," she says.
Ryley's advice to lighten the load is to work with partners who have expertise in different areas and to never forget that the relationships that you build can make all the difference: "When you are involved with a start-up, your network and the people supporting you are so vital to staying open during the tough times, and to your long-term success."
---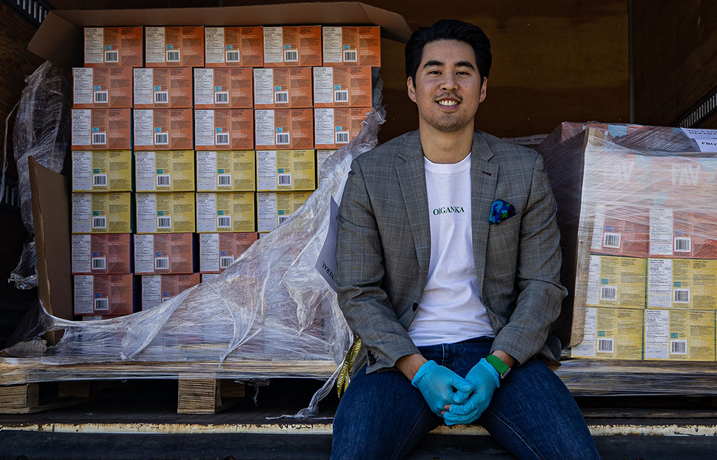 Aaron Chin – The Next Gen CEO
How do you convince the guy downing a double Big Mac at University Village to care about health products? For Aaron Chin (BA'12 – Political Science), this question motivated him to reinvent his family's business, Organika Health Products Inc., where he's now CEO.
Aaron was exposed early on to the benefits of natural health products through the family business. Growing up playing hockey, his dad gave him freshly pressed reishi mushroom capsules while his peers were downing sugary energy drinks. "I always knew the benefits of natural health products," Aaron says. "Seeing the mission from the very beginning of Organika to help as many people as possible […] was incredibly inspiring for me."
"I take a lot of pride in being at a trade show and seeing our booth as one of the most inclusive, diverse teams."
After supplementing his undergrad with a Master in International Business at Grenoble Graduate School of Business, Aaron started as a purchaser at Organika before spending four years in sales. "The biggest challenge in my career has been shedding being labeled as the 'entitled owner's son,'" he says. "For the first three years, I was the first one in the office and the last to leave. It took me these three years to really shake off what people thought and believe I deserved to be in the position that I was."
When Aaron started full time at Organika, he recognized that the company was stagnating — sales were flat despite the industry growing. In order to improve the company performance and innovate, he implemented a series of cultural, product and process changes.
Many of those changes made their products more accessible to customers: selling in more stores, with more diverse products and with more affordable pricing. "Over the past five years at Organika, the organization and the way we operate has undergone a complete 180," he says. Organika now also boasts one of the most diverse workforces in the industry. "I take a lot of pride in being at a trade show and seeing our booth as one of the most inclusive diverse teams," say Aaron.
Following these changes, Organika's top line revenue more than quadrupled and profits increased by 1000 per cent.
For anyone looking to take on a leadership role in business, Aaron cautions that you need to prepare for what can be a bumpy ride. "You have to be prepared to go through the valleys," he says.
Aaron credits his time as an Arts undergrad for helping him find his passion, which he sees as a necessity for any business leader. "If you're not naturally passionate about it, you will be spotted from a mile away."
---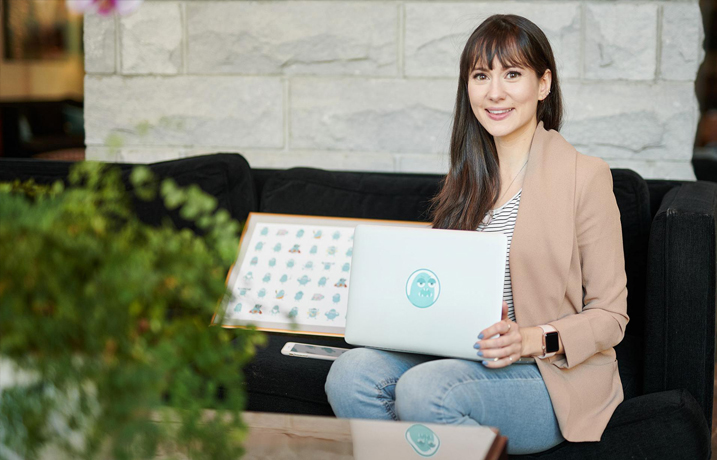 Ania Wysocka – The Grounded Graduate
Ania Wysocka (BA'13) was in her fourth year in UBC's International Relations program when she started experiencing panic attacks. Her immediate impulse was to reach for her phone for help. But the apps she found at the time were either poorly designed or solely focused on meditation. There was nothing available to help her with this immediate need, so she set out to create a solution.
Everything Ania learned about panic attacks and anxiety she poured into Rootd, the app she created in 2017. The app helps users in multiple ways. Among them, there's an actual panic button, called the Rootr, which guides users through two different paths based on cognitive behavioral therapy to help them calm themselves or face their fear head on. The educational side of the app gives lessons on things like diet, exercise, breathing and sleep that will ultimately help with anxiety long term. And there are also tools for journaling, deep breathing and meditating.
"Witnessing how many people open up about their mental health and experiences with anxiety these days has helped me ride the waves of vulnerability."
After creating an app that not only helped her with her own panic attacks and anxiety but helped hundreds of thousands of people like her (over 370,000 downloads to date), Ania found herself facing a new problem: the vulnerability of sharing her story when marketing the app. "I didn't even like to be mentioned in articles," she says. "Talk about Rootd all day, but you don't need to know anything about me."
Early on, she protected herself by putting Ron, the caricature featured in the app, front and centre. "I kind of think of him as the face of the company," she says. So much so that when writers asked for her photo to run alongside stories of Rootd, she often sent screenshots of Ron.
What's made it easier for her over the years is seeing the user reviews. "Witnessing how many people open up about their mental health and experiences with anxiety these days has helped me ride the waves of vulnerability. I participate more fully in the interviews I'm invited to now, photos and all."
Ania thinks the written voice of the app, the voice she created, has helped people resonate with the content. She says the ability to take "a really serious subject and mak[e] it more approachable" she learned through four years writing essays as an Arts student.
Her favourite moment is when users write to her explaining they no longer need the app. Ania calls them 'Rootd graduates'.
Her goal is to get Rootd into the hands of everyone that needs it. When the COVID-19 pandemic hit and frontline and essential workers started writing to ask for premium access to Rootd, she decided to share with anyone who asked for it.
As she navigates two jobs — she's also program director at Alacrity Canada, a company that provides support and entrepreneurial mentorship to startups — Ania says she tries to follow her own advice: "I try to do everything I say in the Rootd app in terms of eating well, and spending some time for myself, running, breathing or doing yoga."
Anyone experiencing anxiety or panic attacks during COVID-19 can have 45 days premium access to Rootd, no strings attached.