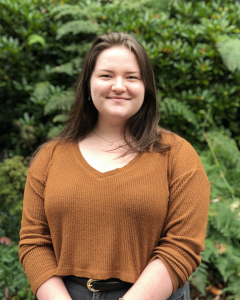 Pronouns: She/her/hers
Hometown: Coquitlam, BC
Past & Present involvement at UBC: I am currently Philanthropy Coordinator with Arts Undergraduate Society. In the past, I've enjoyed living in residence and participating in a number of events on campus, such as the Climate Change protest as well as annual AMS events. I've also worked on campus for all four years of my degree, presently with Arts Advising and previously at the Starbucks in University Marketplace.
When I'm not studying: I'm reading fantasy novels, trying out a new recipe with my roommate, or re-discovering Vancouver coffee shops with my friends after a year and a half of lockdown! 
Tip for my first-year self: Don't be scared to go to your professor's office hours! You can have some of the best conversations during that one on one time, and professors can really help you with coursework or professional opportunities.