Preferred First Name: Lorena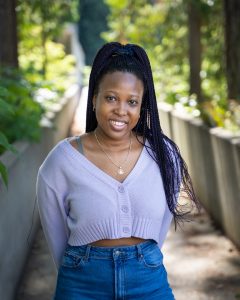 Year standing & Program: Fourth year, Economics Major and African Studies Minor
Pronouns: She/Her/Hers
Hometown: At the moment Burkina Faso, but I am originally from Togo and Burundi.
Past & Present Involvement at UBC: I have been a part of the CAPs program, a Jumpstart Orientation Leader, Arts Peer Academic Coach (APAC), played intramural soccer, and a member in the African Awareness Initiative club, and Latin Dance Club.
When I'm not studying, I am binge-watching TV shows on Netflix, listening to music, and catching up with family and friends.
Tip for my first-year self: Take more advantage of the resources campus has to offer (Professors' office hours, Writing and Math centers, career fairs, and just other student experiences) and start making connections in your first year by talking to different people who can add to your experience at UBC.