Preferred First Name: Love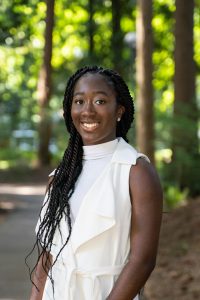 Year standing & Program: Third year, Intended IR major
Pronouns: She/Her/Hers
Hometown: Kinshasa, Democratic Republic of the Congo, but I'm also a product of Cape Town, South Africa and Montreal, Canada.
Past & Present Involvement at UBC: I was in CAP during my first year, I'm part of the Black Student Union (BSU) and I am the President of the African Awareness Initiative (AAI) this upcoming academic year. I LOVE sports so I worked at the UBC Thunderbird fields for a few months.
When I'm not studying, I'm usually watching a tv show, reading, writing or listening to music. I do also enjoy lazily lounging around in the sun and (sometimes) hanging out with my friends.
Tip for my first-year self: I've always considered myself as self-sufficient so but there was so much more I didn't know about university when I first got here. So, to my first-year self I would say: maximize the academic and career resources available to students, but also to keep your eyes and ears open for new opportunities.