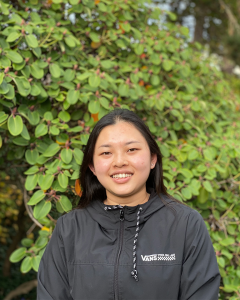 Pronouns: She/her/hers
Hometown: Ipoh, Malaysia
Past & Present Involvement at UBC: I have been a Destination UBCO Orientation Leader, Imagine Day Orientation Leader, Imagine Day Arts Senior Orientation Leader, a member of the Sustainable Development Goals Student Hub (SDG), and the International Relations Students Association (IRSA).
When I'm not studying: I like to go on hikes, work out, explore new places to eat, binge-watch TV shows on Netflix, read, listen to music, and hang out with my friends. Although sometimes I do like to lounge around in my pyjamas all day doing nothing.
Tip for my first-year self: I'd tell my first-year self to take chances and stop holding myself back due to the fear of failure. Failure is inevitable, so take that as a learning opportunity to improve and better yourself.