Meet peer advisor Sabrina Moshenko! Sabrina is Plains Cree and Metis, born and raised on Treaty 4 territory in Saskatchewan. She is a member of the James Smith Cree Nation but grew up in the city of Regina, SK and later Canora, SK.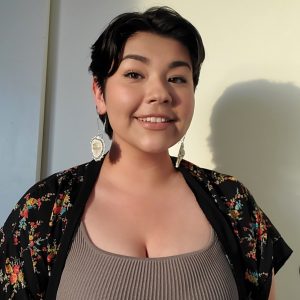 Sabrina is just finishing her second year in Arts with a major in Sociology and minor in First Nations and Indigenous Studies (FNIS). She plans to do her masters in Librarian and Archival Studies after her undergrad.
Sabrina has been working with the AISA team since February on social media and communications but will be taking on the whole Peer Advisor role for the summer term. Sabrina is passionate about working with others and facilitating an online community for all ongoing and incoming Indigenous students at UBC!