Preferred Name: Sarvenaz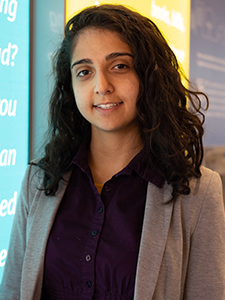 Year Standing and Program: Third-year Psychology Honours & Middle Eastern Studies Minor
Pronouns: She/Her/Hers
Hometown: Tehran, Iran
Past and Present Involvement at UBC: In the previous years of my degree I have worked as a Communications Coordinator for the UBC Mental Health Awareness Club and an active volunteer for the UBC Yoga Club. I was also a Collegia Advisor at Tallwood this previous year to welcome and be a supportive resource to first-year commuter students. I have also been involved with the Infant Studies Lab as a Research Assistant since January 2020. I am also currently the Executive Assistant for the Arts Undergraduate Society President, a TA in the Asian Studies Department, and an Arts Peer Academic Advisor.
I am currently a Research Assistant at the Psychology Infant Studies Lab and a summer Arts Peer Academic Advisor.
"When I am not studying…": I am spending time with friends and family, playing music and singing, or reading a new book.
Tips to my first-year self: I would tell myself to get more involved on campus, especially since I am a commuter student, and put myself out there and make new connections.