New event location: Arts Student Centre, First Floor Lounge
Wondering where an Arts degree can take you? Interested in learning from those who've been in your shoes to find out how to make the best of your time in UBC Arts?
Drop-in to Arts Alumni Talks to meet with a UBC Arts alum for casual – and candid – conversations about their UBC experience, student life and career journeys following graduation.
---
On December 2, meet Arts alum Ajay Puri!
Partnership Strategist, Equity & Inclusion Office, UBC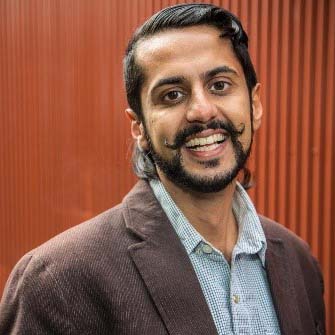 With over 20 years of experience empowering communities, Ajay Puri (BSc'09, MHA'05) has been a passionate advocate to create social change and innovation in the non-profit, academic and government sectors. A featured TEDx speaker, meet Ajay at the next Alumni Talks to ask him more about his passion for social change and how it influenced his career journey.
Alumni bio: Ajay is a movement builder, strategist, and Justice, Equity, Diversity & Inclusion (JEDI) facilitator. He has 20 years experience in empowering communities and creating social change in the non-profit, academic, government and social innovation sectors. He currently is a JEDI Facilitator at the University of British Columbia, and runs his consulting agency Pē′pəl; which seeks to deepen engagement using JEDI principles. Ajay was acknowledged for his work as a featured TEDx speaker and recognized as one of Canada's top five volunteers in CBC's Champions of Change contest. He has spoken to over 200 audiences nationally and internationally on topics dealing with social movements, social innovation, leadership, digital engagement, and healthcare transformation.
---
This is a free event and snacks will be provided. Attendance is limited and will be granted on a first come, first served basis.
Arts Alumni Talks is part of a series of events in The Compass: Arts Students Engagement Hub. Meet and learn from faculty members from a range of departments who will share their expertise and advice with you through informal, authentic conversation. Come chat with us on topics such as the psychology of gaming, how to make the most of your time at UBC, how to bounce back after a low grade, and so much more.