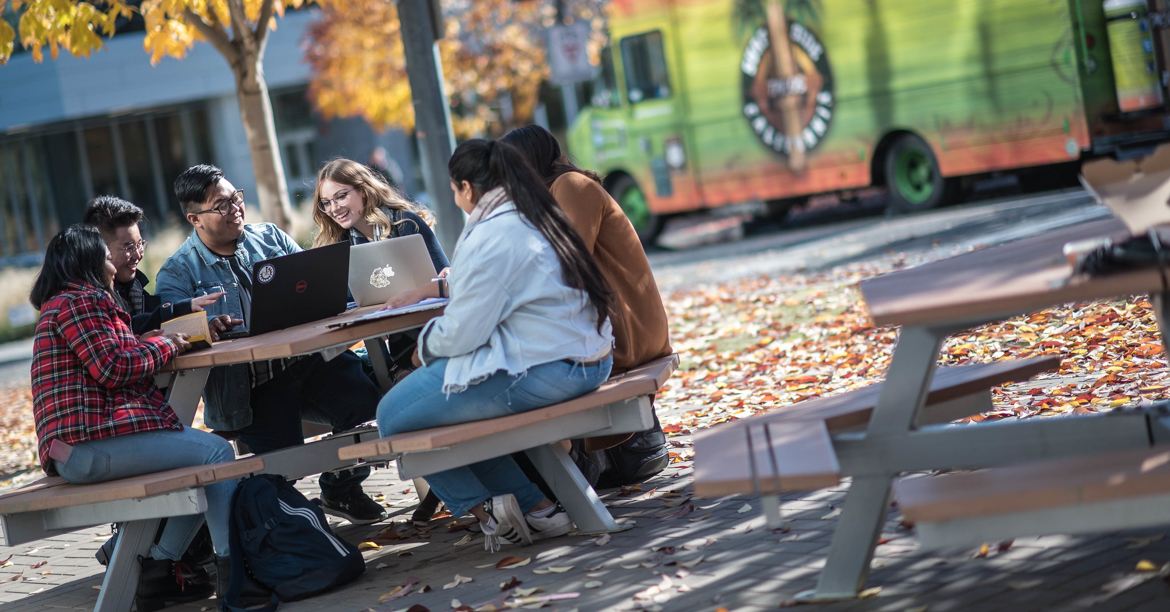 From the Canadian Response to the Global Refugee Crisis to Japanese Pink Cinema and Indigenous Young Adult Literature, explore the fascinating courses Arts students are leading in Winter Term 2, 2020.
If you want to dive deeper into a topic outside of what is currently offered at UBC and meet other students that are curious about those topics, student directed seminars are for you! Unlike many of your other classes at UBC, you will have a role in shaping many aspects of the course! From helping to shape the syllabus and choosing readings to leading class discussions, student directed seminars give you the opportunity to build your own learning experience while learning alongside your peers.
---
Jump to the following seminar topics:
---
Asian Studies
Japanese Pink Cinema: Gender, Sexuality, and Screen Studies (ASIA 490Z 001)
In this seminar, you will use the Japanese genre of Pink Film (pinku eiga) as a medium to study the relationship between transnational cinemas, sexuality, and bodies in commercial media. With special consideration to Japanese women directors and feminist media, you will be asked to consider your own view of "foreign" film, how a film exposing the human body is received by audiences, and how the representation of diverse and challenging sexualities on screen can shift a film's reception.
Coordinator: Shay Scholes
Faculty Sponsor: Dr. Colleen Laird, Department of Asian Studies
---
English and Creative Writing
Social Horror Writing as Resistance (ASTU 400C 001)
When Jordan Peele's Get Out (2017) hit theatres, it sparked a contentious debate over whether or not it was considered horror. In this seminar, you will discuss what is social horror and how it differs from traditional horror, and you will examine how social horror writing can provide a space for marginalized authors to explore identity, empowerment, and resistance.
Coordinator: Terri Anderson
Faculty Sponsor: Dr. Emily Pohl-Weary, Creative Writing Program
---
Narrative Now (ASTU 400D 001)
Driven by inquiry, this seminar confronts an inconvenient truth: Skimming is the new reading— what we need is word craft for fast times. Together, we'll marry science and art by using psychological research to become better writers and seduce readers.
Coordinator: David Kind
Faculty Sponsor: Dr. Brianne Orr-Alvarez, Department of French, Hispanic & Italian Studies
---
Neurodivergent Narratives (ASTU 400E 001)
Neurodiversity is the concept that so-called neurodevelopmental disorders such as autism and ADHD are natural variations of the human brain, as opposed to deviances that should be cured or altered to better fit current societal norms. In this seminar, you will analyze fictional and nonfictional narratives about and primarily by neurodivergent people and explore discrepancies between insider and outsider perspectives of the neurodivergent experience.
Coordinator: Kip Chow
Faculty Sponsor: Dr. Dallas Hunt, Department of English Language and Literatures
---
Introduction to Critical Animal Studies (ASTU 400F 001)
In this introductory seminar, you will explore how the systems of oppression which marginalize humans are intertwined with those that harm animals. Looking at scholarly works with an unapologetic emphasis on nonhuman animal liberation from human exploitation, you will have the opportunity to discuss topics with Critical Animal Studies that interest you most.
Coordinator: Leah Thompson
Faculty Sponsor: Dr. Jodey Castricano, English and Cultural Studies
---
Fandom and Fanworks in the Age of Internet (ASTU 400G 001)
What is a fanwork? Are fanworks queer art? Is creating a fanwork a political act? Ask these questions and more as you analyze current internet fan culture in the context of gender studies, critical theory, queer theory, sociology, and other critical discourses.
Coordinator: Olivia Brocklehurst
Faculty Sponsor: Dr. Rick Gooding, Department of English Language and Literatures
---
First Nations and Indigenous Studies
Myth and Wonderworks In Indigenous Young Adult Literature (ASTU 400Z 001)
In this course, you will explore both the imposition of colonial values and the reclamation of Indigeneity in youth fiction. Reading novels, short stories, poems, and comic books by Indigenous authors in Canada, you will discuss topics of Indigenous sovereignty, children's literature, colonialism and decolonization, and histories.
Coordinator: Grace Guy
Faculty Sponsor: Dr. David Gaertner, First Nations and Indigenous Studies
---
History
Bridging the Divide: The History of the Continental-Analytic Split (HIST 390D 201)
Study philosophers such as Carnap, Cassirer, and Heidegger and examine the role of the National Socialist seizure of power in 1933 as you discuss the origins of the continental-analytic split—arguably one of the most important divides in the history of philosophy.
Coordinators: Marcel Shelton, Vlada Asadulaeva
Faculty Sponsor: Dr. Alan Richardson, Department of Philosophy
---
Geography
Exploring the Intersections of Climate Justice (ASTU 400B 001)
To fight climate change in an equitable way, we need expertise and lived experiences from all kinds of people. In this seminar, you will study how climate change interacts with structural inequities of race, class, locale, and gender to construct unique understandings of climate justice.
Coordinators: Em Mittertreiner, Rachel Cheang
Faculty Sponsor: Dr. Jessica Dempsey, Department of Geography
---
Philosophy
Philosophical Inquiry in the Islamic World (PHIL 487 001)
Throughout this discussion-based seminar, you will delve into some of the most prominent medieval and modern Islamic philosophers, including the likes of Ibn Sina (Latinized: Avicenna), al-Ghazali, and Ibn Rushd (Averroes). It is through the eyes of these and other scholars that you will explore the multifaceted relationship between Islam and philosophical reasoning, while establishing a basic understanding of the philosophical tradition within the Islamic world.
Coordinator: Jackson Duckworth
Faculty Sponsor: Dr. Sylvia Berryman, Department of Philosophy
---
Political Science
Canadian Response to the Global Refugee Crisis (POLI 308Z 002)
Did you know that, as a fee-paying student at UBC, you are already part of the Canadian response to the global refugee crisis? In this course, analyze the Canadian approach to providing asylum for those who are forcibly displaced.
Coordinators: Credo Casmil, Saya Soma
Faculty Sponsor: Dr. Jenny Peterson, Department of Political Science
---
Communist and Post-Communist Politics: Russian and Post Soviet Politics (POLI 325 002)
How can we explain the rise of Putin and the resurrection of authoritarianism? What are the guiding ideologies of Russian foreign policy? In this seminar, examine the legacy of Soviet communism and explore current trends in regional conflicts and economic integration to better understand Russia's present and future role in the global community.
Coordinator: Emmett Mark
Faculty Sponsor: Dr. Lisa Sundstrom, Department of Political Science
---
Experiencing Ambedkar (POLI 341C 001)
Dr. Babasaheb Bhimrao Ambedkar is most well-known for his critical role in writing India's constitution,but how much is known about him as a thinker and writer? In this seminar, delve deeply into Ambedkar's intellectual contributions and living legacy, and help create an environment where caste and casteism can be critically explored head-on.
Coordinator: Riya Samuel
Faculty Sponsor: Dr. Sunera Thobani, Department of Asian Studies and Institute of Gender, Race, Sexuality and Social Justice
---
Sociology
Cultural Sociology (SOCI 433D 201)
Go beyond the current notion of culture as the four F's—Food, Festival, Folklore, and Fashion— by analyzing classic and contemporary theorists such as Durkheim, Weber, Bourdieu, Goffman, and others, you and your classmates will work to understand the differences, disparities, and inequalities in contemporary multicultural societies such as Canada, USA, and the UK.
Coordinator: David Cho
Faculty Sponsor: Dr. Catherine Corrigall-Brown, Department of Sociology
---
Sociology of Social Media (SOCI 433D 202)
How are social media platforms and giants, from Facebook to YouTube to TikTok, changing the world? In the past two decades, we have seen an explosive rise of various social media platforms that have immensely impacted society, shaping how aspects of race, gender, class, sexuality, and ability can be conceptualized. In this seminar, you will explore how social media can be understood from a sociological lens, and how it might be applied to your everyday social media use.
Coordinator: Ervin Wong, Kritika Joshi
Faculty Sponsor: Dr. Thomas Kemple, Department of Sociology
---
Sustainability Beyond Buzzwords: Sociopolitical Approaches to Problems in Sustainability (SOCI 433D 203/POLI 328Y 001)
Who can afford sustainability? How does climate change affect international migration and security? How effective is transnational corporate governance at encouraging global sustainable development? In this seminar, you will examine key issues in sustainability and be asked to find solutions via facilitations, policy recommendations, and a real-life data-based policy project on sustainability.
Coordinator: Divija Madhani
Faculty Sponsor: Dr. Emily Huddart Kennedy, Department of Sociology
---
About Student Directed Seminars
The Student Directed Seminars program provides upper year undergraduate students (in 3rd year or later) the opportunity to propose, coordinate, and lead their own 3-credit seminar class with a small group of peers on a topic not currently offered at UBC-Vancouver.