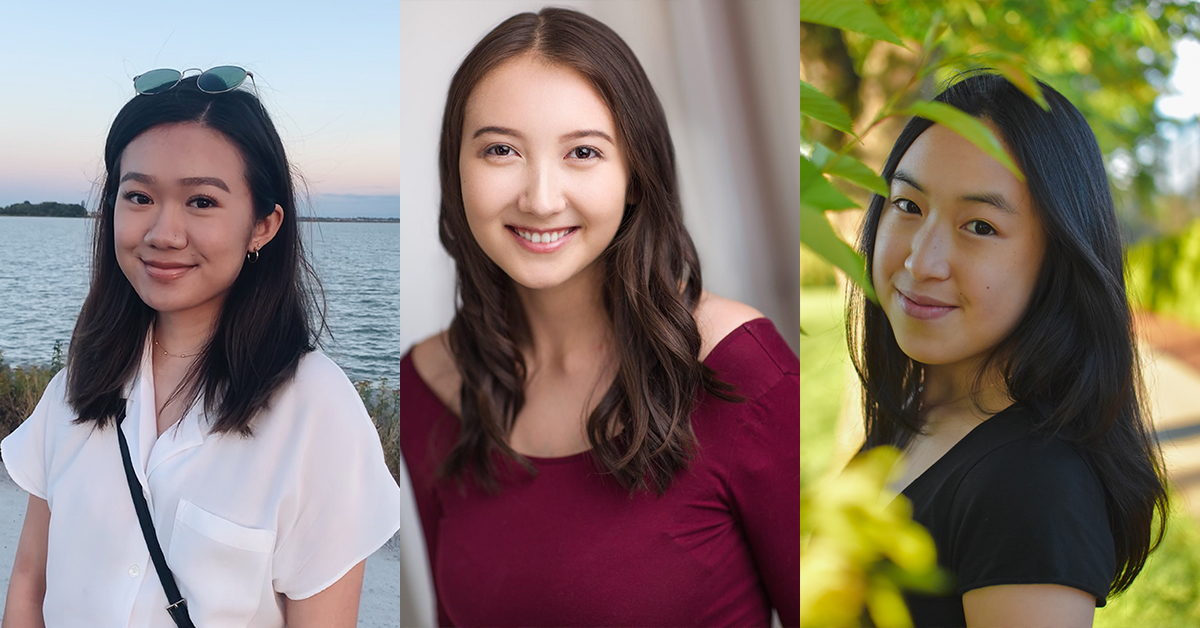 Next week is Arts Week! Organized by the Arts Undergraduate Society, Arts Week features a wide range of events that celebrate everything Arts. From January 25 to 30, show your Arts pride, connect with your Arts peers, and engage with the Arts community.
We talked to AUS members and Arts students Kana, Renee and Viola to learn more about the Arts Undergraduate Society, which Arts Week events they are most excited for, and how students are making an impact in the Faculty of Arts.
---
What is the Arts Undergraduate Society
The mission of the Arts Undergraduate Society (AUS) is to improve the social, academic, and professional lives of students in the Faculty of Arts. They organize tutoring collaborations with the AMS, run professional development workshops, organize large social events like the Great Arts Sendoff for graduating students, and more! Even though they are online this year, the AUS continues to support you through regular programming, events, and services.
"I remember feeling lost in my first year as I was still figuring out what I wanted to study. Attending AUS events and meeting like-minded peers working within the AUS helped me realize what I wanted to pursue. I'm proud to be part of a team that supports Arts students from their first year to their last!"
Renee Chan
AVP Engagement, third-year English Literature major with a minor in Psychology
Executive: composed of the executives and AUS president, students meet weekly to discuss the top-level organization of the AUS, its mission, and goals.
Academic: addresses all aspects of student academic life, including academic support, professional development, and wellness.
Administration: oversees all AUS property, including the Meekison Arts Student Space, the Arts Student Centre, and their day-to-day operations.
Engagement: organizes all branding, marketing, web management, merchandise, and communications for the AUS.
External: manages all external relations of the AUS, including relations with the faculty, UBC, Alumni Affairs, sponsors, and philanthropic organizations.
Finance: 

allocates and distributes all AUS grants, including the Dean's Grant, Club grants, and conference grants

.

Internal: oversees hiring, elections, and internal development of the AUS experience.
Student Life: organizes all social events and opportunities held by the AUS.
Students are either elected or hired throughout the year to fill positions.
---
Major Upcoming Initiatives
The AUS has two major initiatives that they hope will benefit all Arts students at UBC: Arts Week and the Arts Student Centre.
Arts Week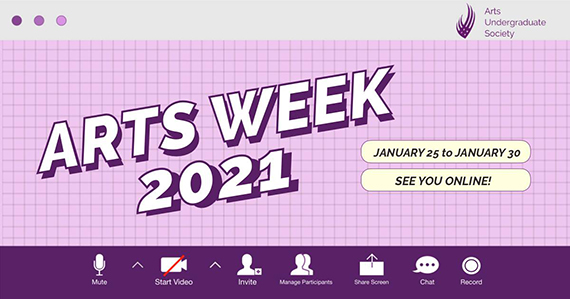 At the beginning of term 2, the AUS host events, does giveaways and celebrates everything "Arts" for an entire week. This year, Arts Week will be from January 25 to 30, completely online, and is entirely free. Here are a few events you shouldn't miss:
Renee's event pick: Convos and Mocktails
January 25, 2020 | 5:00 p.m. PST
Learn to make a fun drink online and make some new friends. A recipe will be sent to attendees in advance of the event.
"I really miss the opportunities to meet people and make new friends on campus! This event is the perfect way to do it all online, while also making a fun drink together." – Renee
---
Kana's event pick: Staying Connected while Disconnected
January 26, 2020 | 6:00 p.m. PST
Talk to professors, alumni, and students about life after graduation.
"I'm really excited about this event as a student in my last semester at UBC. Hearing about the experiences of alumni and professors will help to contextualize my own post-grad journey and explore my options!" – Kana
---
Viola's event pick: Unmasking Discrimination within the Faculty of Arts
January 28, 2020 | 11:00 a.m. and 5:00 p.m. PST
Openly discuss different experiences of discrimination within the academic space and at UBC.
"I look forward to having a safe space to discuss different topics about discrimination, especially as a first-generation Chinese Canadian at UBC. I hope to gain valuable insight from fellow students!" – Viola
---
The Arts Student Centre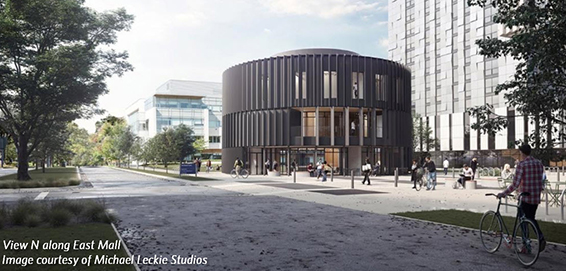 Currently under construction, the Arts Student Centre will improve the academic, social, personal, and professional lives of Arts students at UBC Vancouver. Spread over three floors and approximately 1,000 square meters, the Centre will provide much-needed amenities to support the learning, social, collaboration, and innovation space needs of our diverse student population. You can look forward to dedicated meeting rooms, study spaces, the new AUS office, recreational spaces, and even an art gallery!
"It's so exciting to see this come to life — especially since many other undergraduate societies have their own buildings. It'll be nice to finally have our own as well! Once it's complete, I can't wait to use the study spaces to study for future exams and catch up with friends in the social lounges before class."
Viola Chao
VP Engagement, third-year Psychology major with a minor in English Literature
---
Get involved with the AUS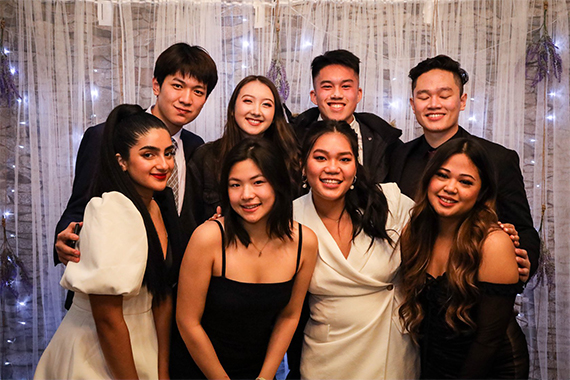 Getting involved with the AUS is easy. Attend their virtual events, follow them on Facebook and Instagram, and stay tuned for their new website launching in February 2021. And, if you love what they do, consider joining the AUS! There are several opportunities throughout the fall, spring, and summer to volunteer. They hold elections for executive positions twice annually.
"In my first year, I was interested in so many things ranging from student government to mental health, and I struggled to pick just one club to get involved with. Then, I discovered the AUS as this central organization that addressed many different aspects of the student experience. I thought it would be the perfect place to explore all of my interests."
Kana Saarni
VP Engagement, fifth-year Political Science major
---
With the majority of classes being online this year, we hope this post has given you some insight on ways to connect with your Arts community. Although we may be physically apart, the Arts Undergraduate Society is still dedicated to providing an enriching student experience and hopes to see you at Arts Week.