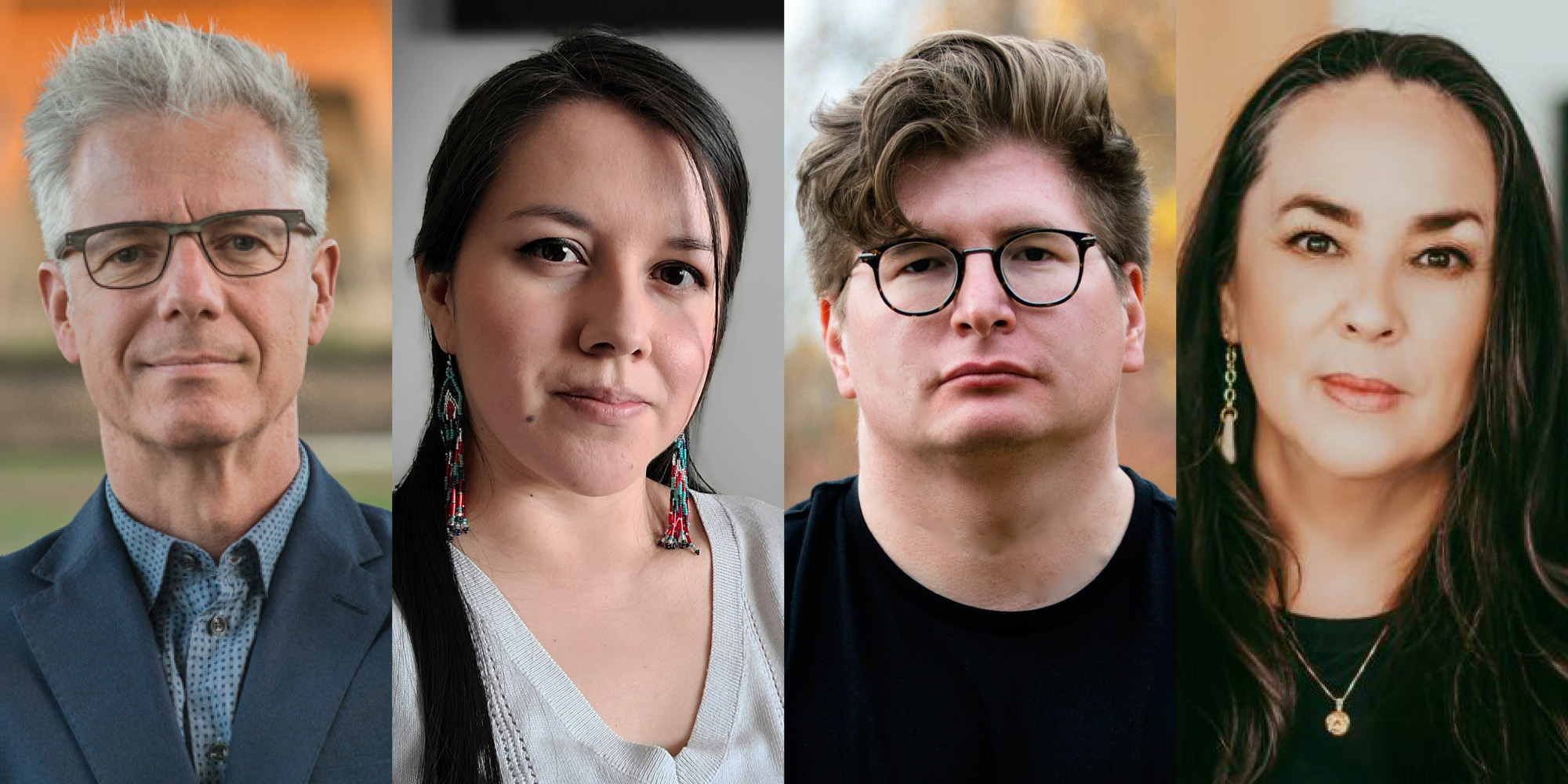 UBC Faculty of Arts is honoured to have numerous Indigenous scholars in our community who create diverse and engaging learning opportunities for our students. With June marking National Indigenous History Month, we honour and celebrate the achievements of our brilliant Indigenous scholars.
We reached out to four Indigenous professors and students to learn more about their research, the change they hope to inspire in the world and their advice for young aspiring scholars.
---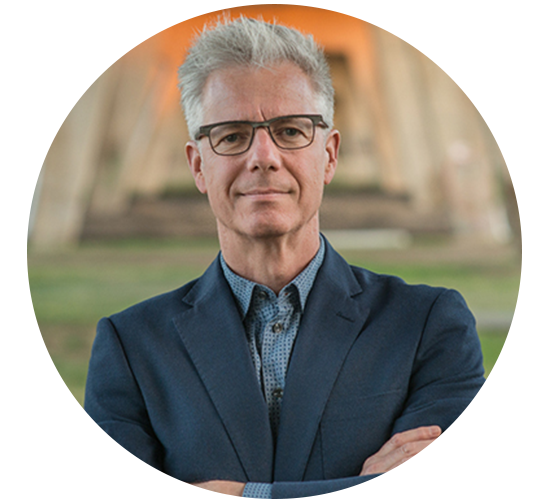 Dr. T. Patrick Carrabré (he/him)
Manitoba Métis Federation
Director of the School of Music
Dr. T. Patrick Carrabré has been active as a composer, administrator, educator, radio host and conductor. He has produced a number of works confronting issues of decolonization, frequently using deconstructionist techniques.
What does it mean to you to be an Indigenous scholar in your field?
As someone who was scooped and adopted out, I grew up without a connection to my Métis heritage. As a result, I am constantly trying to construct my personal identity through creative projects. With each new work I both learn and unlearn on the path to a new way of being.
What are you researching right now that you're excited about?
I have been a contributor to a research-creation project with the Elektra Women's Choir and several Indigenous knowledge keepers and artists. I wanted to make sure that the creative process itself was decolonial in nature, creating a space where I could be part of a group effort that reflects our personal connection to each other, to the land and to traditional knowledge in water teachings.
Why is Indigenous storytelling/worldbuilding/meaning-making so important in 2021?
The creation of new knowledge is precious and Indigenous perspectives are so clearly revealed in our songs, dances, stories and art. The world needs less of the "same old, same old" and more exposure to different ways of knowing and being. I am particularly proud of my composition, Inuit Games, performed by katajjaq singers, Inukshuk Aksalnik and Pauline Pemik, with the Toronto Symphony Orchestra.
---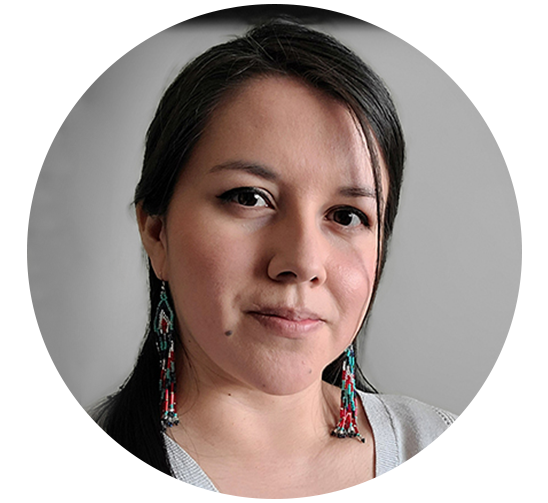 Alexa capqʷícyaʔ Manuel (she/her)
Syilx and St'at'imc from the Upper Nicola Band
PhD Candidate in the Department of English Language and Literatures
Alexa Manuel is currently pursuing her PhD in English Literature at UBC. She is focusing on Syilx Okanagan literary criticism.
What does it mean to you to be an Indigenous scholar in your field?
To me, being an Indigenous scholar is everything – I love what I do. But at the same time, I am Syilx and St'at'imc first and scholar second. My peoples' knowledges must always be protected, so I think it is important to have Indigenous peoples in academia handling those knowledges with the required care and humility.
What advice would you give to Indigenous students looking to work in academia?
Your work will sometimes make you angry. Really angry. But know that your anger is justified and never let anyone tell you otherwise. However, be wary that you don't allow it to turn inwards and consume you – use that rage as needed, and let it go. When you work with Indigenous content, you will come across Indigenous pain and Indigenous trauma, but don't forget that there is also Indigenous resurgence and Indigenous joy and Indigenous beauty. Don't ever forget who you are and why you're here. Never forget that you deserve to be here: studying, researching, existing.
Anishinaabe scholar, Grace Dillon, talks about the concept of biskaabiiyang: the act of "returning to ourselves" by working against colonial structures and recovering ancestral traditions. How does your work engage with biskaabiiyang?
My work, and my way of life, engages with the Syilx problem-solving structure called enowkinwixw, a process by which a variety of perspectives are considered with none given greater importance than the others. In colonial structures, there has always been a hierarchy of importance given to texts, with certain writings by certain people being seen as more valuable than other writings by other people. The literary process I'm developing aims to challenge that structure.
---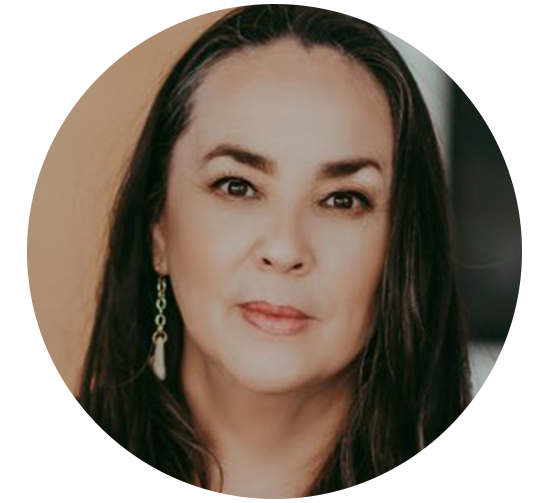 Prof. Dana Claxton
Wood Mountain Lakota First Nation
Head of Department of Art History, Visual Art & Theory
Associate Professor Dana Claxton works in film, video, photography, video installation, and performance art. Dana's practice investigates beauty, the body, the sociopolitical, and the spiritual.
What advice would you give to Indigenous students looking to work in academia?
The academy is a strange and beautiful place with brilliant minds and some closed minds. Carry your Indigenous teachings with you, voice your position, and know that we are learning all the time. Be patient with those who are willing to learn and don't spend too much time on people who don't share your views. You will always be able to find a community at university whether it's with other indigenous people or colleagues.
What are you researching right now that you're excited about?
I am in-development and will direct a feature film I have co-written. It is a coming-of-age story about a young urban Salish fellow in Vancouver in 1976.
Tell us about one of your works.
In 2017, I had an art exhibition called Tatanka Oyate (Buffalo people) at the Mackenzie Art Gallery in Regina, Saskatchewan. It explores "Sioux" Dakota/Lakota/Nakota aesthetics in Saskatchewan. It is a four channel video installation and I worked with communities and artists to bring forth their artistic and cultural work into my own work.
---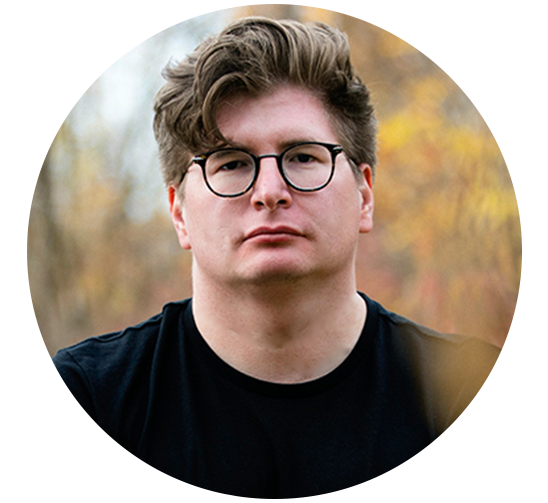 Dr. Dallas Hunt (he/him)
Wapsewsipi (Swan River First Nation), Cree
Assistant Professor in the Department of English Language and Literatures
Dallas Hunt's teaching and research interests include Indigenous literatures, speculative fiction, settler colonial studies, and environmental justice. His children's book, Awâsis and the World-Famous Bannock, was published through Highwater Press in 2018.
What advice would you give to Indigenous students looking to work in academia?
My advice would be to find a mentor or a group of like-minded (Indigenous, if possible) colleagues that will support you in your work, especially since institutions have a long, conflicted history with/toward/against Indigenous peoples.
Tell us about one of your publications.
I recently had a book of poetry come out entitled CREELAND. As of right now, I'm working on a manuscript about settler replacement narratives in popular science fiction and how Indigenous futurities combat these narratives.
Why is Indigenous storytelling/worldbuilding/meaning-making so important in 2021?
It's commonly said that we're facing unprecedented times, and to an extent that's true, but Indigenous communities have faced the problems we're now facing for millenia. We've encountered pandemics before, we've witnessed our environments radically change, we've been separated from our kin (both human and non-human). In short, we have stories to tell, so I think people should listen. Who knows, we might also have something to say about the future.
---
UBC Vancouver is located on the traditional, ancestral, and unceded territory of the xʷməθkʷəy̓ əm (Musqueam) people. We have deepening and formalized relationships with the Musqueam Nation through our Memorandum of Affiliation.
UBC Faculty of Arts has a complex network of relationships with, and responsibilities towards Indigenous peoples locally and globally. We are committed to listening and working with them to foster sustainable systemic change.
---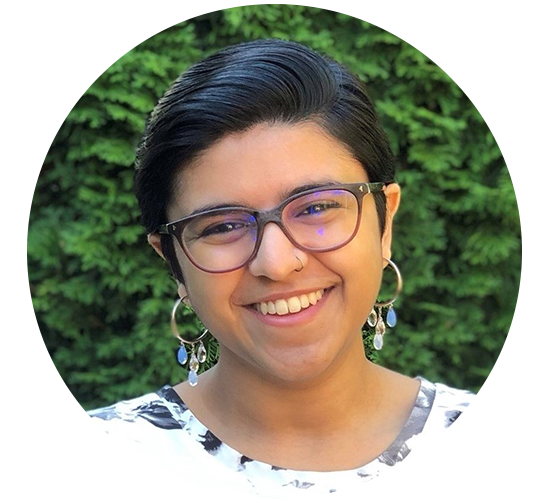 Shivangi Sikri is the Marketing & Communications Assistant at the UBC Department of Theatre & Film. She graduated from UBC with a Bachelor of Arts in English Literature and is passionate about writing, research and social justice.