Melissa West Morrison is in the final term for her degree program and will be graduating this May. She is from the Kwakwaka'wakw, from the Namgis First Nation in Alert Bay, and Chinese. This past summer, Melissa participated in the Internships in the Indigenous Health Research and Education Garden at UBC Farm. Keep reading on to hear about her experiences at the UBC Farm and Indigenous Garden.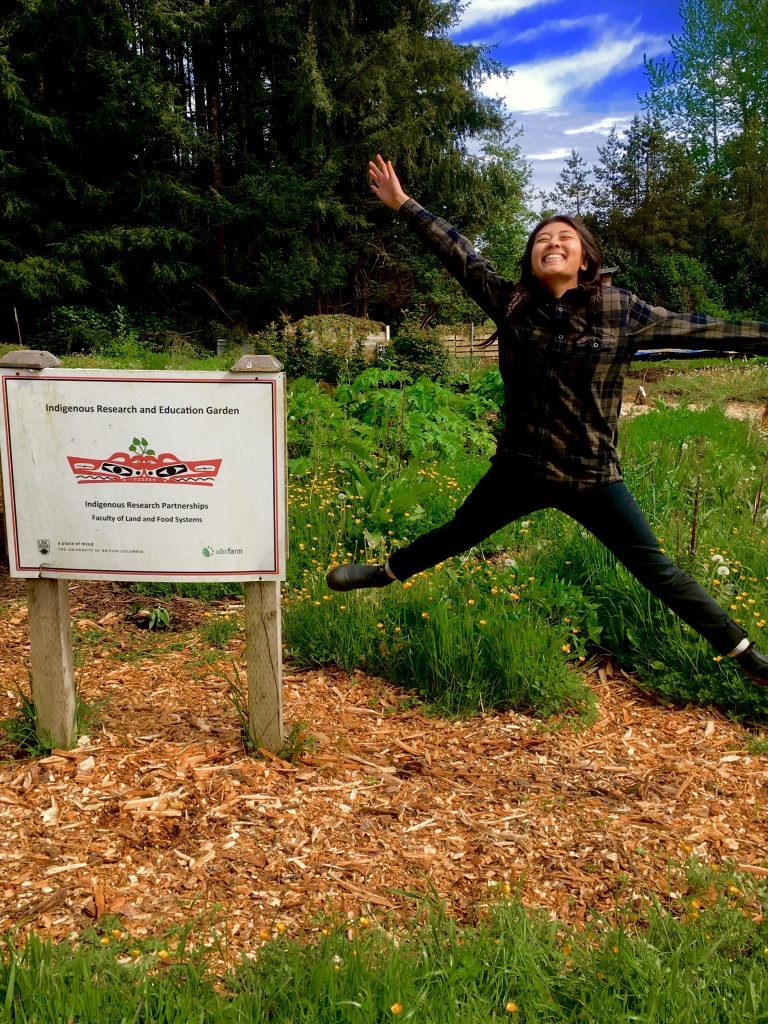 Hi Melissa! Could you tell me a bit about what you're studying and your favourite thing about your program/department?
I'm majoring in First Nations and Indigenous Studies (FNIS) with a minor in Law and Society (LASO). Currently, I am completing my FNIS practicum at the Vancouver Art Gallery. I am doing an archival project about the Gallery's First Nations and Inuit art exhibitions from the 20th century.
I have really valued the openness that many of my instructors have given me as I explore, discover, and navigate my place and voice in academia. I feel that the courses that have been the most impactful were the one's where the instructor allowed me to incorporate my passions of poetry, filmmaking, and fashion-design, as a way to help find and facilitate my academic voice.
Specifically, I have really enjoyed being in the FNIS and LASO programs. I have been constantly self-reflecting and in a continuous process of learning and unlearning as I peel back a little more of the colonial wallpaper in the ivory tower that I find myself in. The level of support that I have had to be able to be to unpack topics and lived realities that I hold close to my heart has been an important life journey of mine and a journey that I will continue to embark on past my time in academia.
Could you talk about yourself and your mixed roots?
I've got one foot in cedar and another in bamboo. On my dad's side, I am Kwakwaka'wakw from the Namgis First Nation in Alert Bay, BC. I come from the West family. On my mother's side, I am Chinese and come from the Lowe family. Our relations trace back to Canton as well as the village of Yuet Ming, now known as Doan Nam Li, in Kwong Hoi, Toi Shan, Kwong-tung, China.
Unpacking and learning about my mixed roots has actually been a big part of my undergraduate degree experience. A dear community member, friend and mentor of mine, Beau Dick, who was UBC's AHVA artist in residence and passed away last March, was a big pillar of strength for me and was who I often went to on campus when I needed support.
Beau helped me to build some of my first conscious bridges back into learning and embracing all of who I am and where I come from. He opened my mind that my gift to walk multiple worlds, with one foot in cedar and another in bamboo, may be my role in life; to facilitate conversations and opportunities for both communities I am from and to come together, learn more about each other and maybe even create spaces for bridges of solidarities to form. Exploring my mixed roots identity is also at the heart of my artistic manifestations.
You had a great experience working at the UBC Farm Indigenous Garden this past summer, could you talk about what your position there was and how you got it?
This past summer, I feel really blessed to have been given the opportunity to be one of the four student interns at the Xʷc̓ic̓əsəm Garden.
During my time at the Garden, I was the lead intern working with the Medicine Collective. I was really fortunate to be able to learn from Indigenous Elders and Knowledge-Keepers sharing traditional teachings and supporting workshops to reconnect and restore our relationships to lands and peoples that live on Turtle Island. This past summer, I helped to support the Medicine Collective on four community workshops that included making a Tea Mix, a Pain and Skin Salve, a Hormone and Pain Cream and a Tobacco Mix.
Alongside the other three student interns at the garden, I also helped to lead work parties and tours where communities from all walks of life came together to help breathe life and nurture the worlds within worlds that are living in Xʷc̓ic̓əsəm.
For my directed studies project, I conducted research, gathering community member's experiences at the garden for future funding grants and future development of garden programming. Apart of my directed studies project, I also led an arts-based workshop where community members of the garden came together to share their woodwork and artistic gifts to make and paint wooden signs with the ultimate intention that the signs would help make it easier for fellow community members to navigate through their time in Xʷc̓ic̓əsəm. The signs are just gorgeous and really bring out the love that the community members of Xʷc̓ic̓əsəm have for the place that is created within the space of the UBC Farm.
The Xʷc̓ic̓əsəm: Health Research and Education Garden is an amazing space at the UBC Farm, what are the goals and ambitions of the garden and how do you see them progressing since/during your time there?
I am an un-invited guest to this new and ancient place. The name Xʷc̓ic̓əsəm was gifted by Xʷməθkʷəy̓əm (Musqueam) Elder Larry Grant in 2016 as part of a naming and pole-raising ceremony at the garden. I have been told Xʷc̓ic̓əsəm means "a place of growing" in the hən̓q̓əmin̓əm̓ language.
When I first arrived at the garden, I remember that Eduardo Jovel, Director of Indigenous Research Partnerships, told me to spend some time just being in the garden. He told me, "in time, you will experience the garden on various dimensions: mental, physical, emotional, spiritual" and now what I would like to add is relational. If you look on the Xʷc̓ic̓əsəm website, the intention of the garden reads, "It aims to serve educational and research needs related to Indigenous food sovereignty while increasing participants' knowledge and access to both traditional and non-traditional plants." It adds, "the xʷc̓ic̓əsəm garden is guided by the principle that 'food is medicine', and thus that a holistic understanding of health and healing includes the food that people eat". To me, these words are not just a metaphor.
The goals and ambitions of the garden are therefore a specific and rooted love. It is relational and deeply personal. I spent my time at Xʷc̓ic̓əsəm exploring how questions of self-determination as nations are linked to individual and bodily self-determinations practiced through food sovereignty.
At this time, I would also like to take a moment and raise my hands up with so much love and respect to Wilson Mendes, who is the current garden coordinator at Xʷc̓ic̓əsəm. He was my day-to-day supervisor and has become a good friend. I really valued his constant support, encouragement and guidance during my learning at the garden. His love and respect for our plant relations can really be seen through the time and constant enthusiasm he has in caring for the garden.
So where do I see the garden going? Well, with each new season of rooting, growing and blossoming that takes place within Xʷc̓ic̓əsəm and getting more and more relations out onto the land, I think more and more relations will be activated to turn inwards and nurture the garden that lies within themselves. In order for all of creation to fully thrive, we must first begin to realize that we are all interconnected and interdependent on the success of one another.
Your degree is coming to an end soon! Do you have any future plans for after graduation?
I'm really excited for the new journey ahead of me. This has been one long but important ride. I've grown a lot of grit along the way.
My intentions after graduation is to continue the life long journey of trying catch the flow of my ancestors. I'm hoping to self-publish a collection of my poetry that explores topics of love, identity and what it means to find (be) longing through (dis) placement and how one can have body sovereignty through all this. I'm also in the process of growing the seeds of some of my fashion designs and I am hoping when I graduate I can develop these seeds into a sustainable business.
ASA Tip: Apply for an internship at the UBC Farm! http://lfs-indigenous.sites.olt.ubc.ca/place-based-learning/internships/