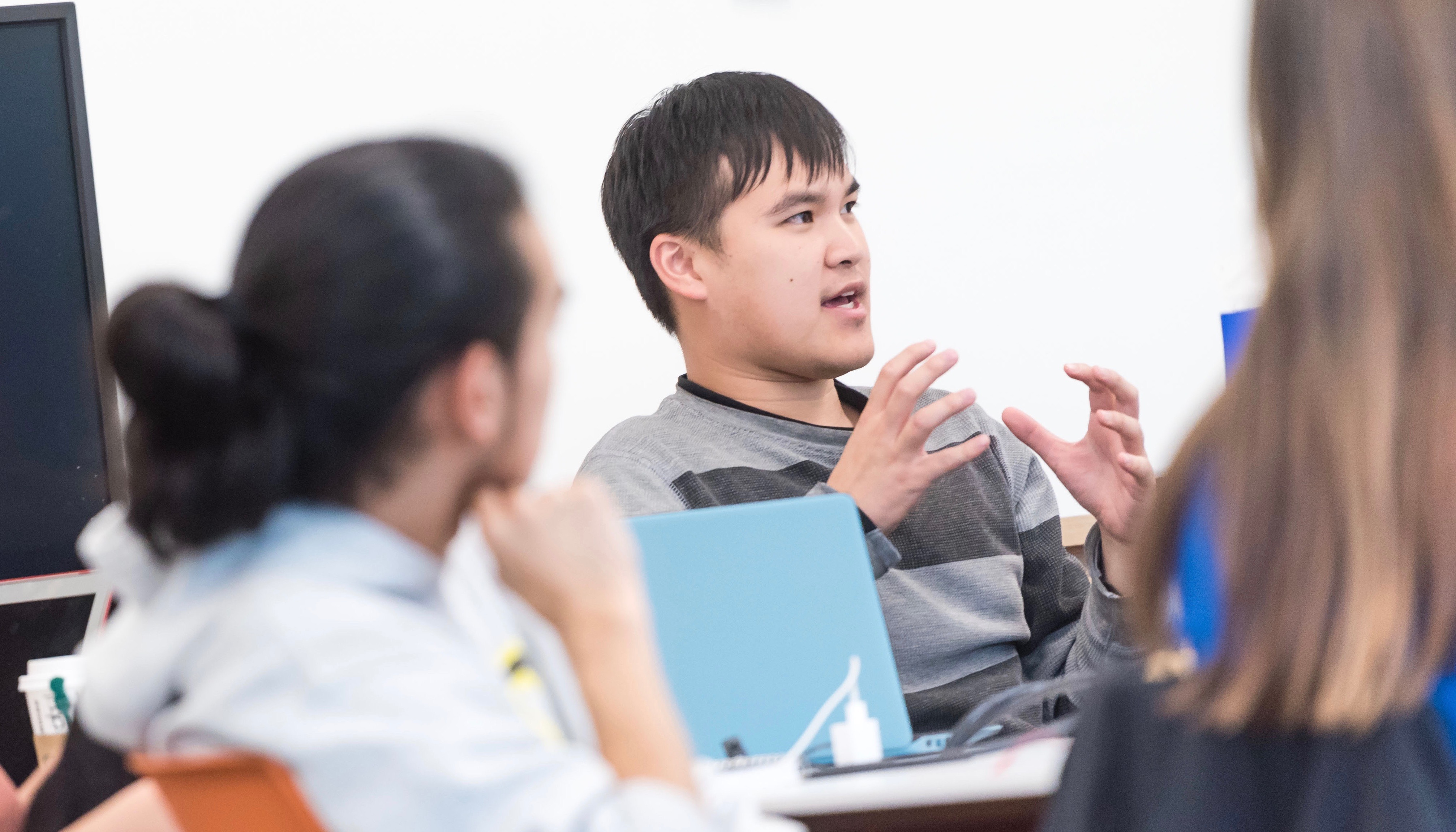 An interdisciplinary course looking at the power of language is on offer again this year, after a first-run featuring UBC President Santa Ono, and final projects that included podcasts, road sign translation apps, and policy interventions.
Cross-listed in six faculties, Living Language: Science and Society introduces students to the building blocks of language, encourages them to examine how language has informed their field of study, and to apply what they learn outside the classroom, including in the workforce.
Offered for the second time this September, the inaugural course in 2018 featured two co-instructors from Psychology and Anthropology, Janet Werker and Mark Turin, several guest lecturers, including Ono, and 28 students from six faculties.
In Professor Ono's guest lecture, he talked about his own relationship with language and how he changes his approach to communication depending on the audience. "I was delighted to participate as a guest lecturer in the inaugural offering of Living Language: Science and Society," says Ono. "It is immensely important for all of us to recognize the inherent power of language; it can be a dangerous tool, but it can also enrich our dialogue with each other across fields and disciplines, fostering openness and collaboration."
The undergraduate course was born from conversations between Werker, co-director of UBC Language Sciences, and Marietta Hurst, Language Sciences founding donor, UBC alumna, and guest lecturer. Werker said the course lived up to their hopes of ensuring students understood the importance of language in everything they did, and applying it to their own specialty areas. "It was one of the most engaging, intellectually challenging, satisfying experiences that I've had because the students were so engaged."
Guest lecturer and Down Syndrome Research Foundation speech-language pathologist, Riley Rosebush, spoke to students about developmental disabilities and communication impairment. The class then worked in pairs to use different augmentative communication systems, including a binder of picture symbols representing words, to have a conversation. "I thought it was a great class… I think a lot of people showed a lot of empathetic types of responses when thinking about what life would be like if you were suddenly more limited in how you could communicate with people."
Community-engaged student projects
Fifth-year accounting student Yi-Fang Liu said the guest lecturers helped her see or learn about different aspects of society. The content on language acquisition made Liu consider how she would approach language learning with her own children in the future. "By far, this course is one of my favourite electives that I've taken, just because of how multidisciplinary and how supportive the environment is."
Liu's final project involved a proposal for an app, integrated with Google Maps, which would translate road signs for tourists. With further technical knowledge about app building under her belt, Liu intends to pitch the idea to Google.
Fourth-year public health and political science student Lauren Wiebe said she now factors the role of language into her everyday life and experiences, including how it affects interaction or those around her. "I think that could be a really useful tool moving forward, in public health, politics, or in my future studies."
Inspired by her own experiences in the healthcare system, Wiebe wrote a policy letter to the Royal College of Physicians and Surgeons of Canada for her final project, suggesting ongoing training for physicians focusing on accessible language, including teaching doctors the importance of not using medical jargon, abbreviations, or Latin terms when speaking with patients.
A focus on interdisciplinarity
Co-instructor Turin said he felt energized and challenged when teaching the course. "At universities, we tend to focus on our specializations. When teaching Living Language, I had to think differently. I was taken to new places by the students and my co-instructor, by the guest lecturers and the diversity of the materials we engaged with."
Second-year education student Peter Lai said this interdisciplinarity was something he appreciated, and was evident in his final project, a podcast with three other students about endangered languages. "A lot of times we tend to be focused on our faculty's way of thinking… but then when we get to the workforce, we realize not everyone may have graduated from Education or Science or Commerce or Arts."
For future iterations of the course, Liu and Lai highlighted the desire for more discussion time in class, something the co-instructors plan to incorporate this year. As well, Hurst has said she hopes the course will be offered in the community. This is important, Turin said, because not everyone is able to attend university. "There's a real appetite for this course in the wider community, and as we move forward, we need to consider how we can deliver it in creative ways."
Living Language: Science and Society will be offered for the second time in September 2019 and is cross-listed in six faculties as APSC 402, ASTU 402, FRST 402, LFS 402, LLED 402, and PHAR 402. Please consult with your faculty or departmental advisor to choose the appropriate registration option for you.
---
To learn more, visit languagesciences.ubc.ca/course or email living.language@ubc.ca