This month, don't miss exciting musical and theatre performances, a Wikipedia Edit-a-Thon, and a rare opportunity to see the Museum of Anthropology on a behind-the-scenes tour!
---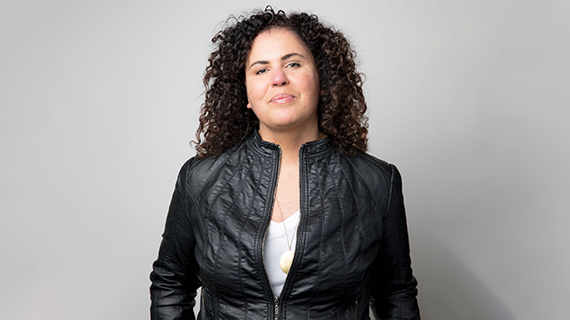 The Phil Lind Initiative: (Un)civil Discourse Presents Safiya Noble
Thursday, March 2 | 6:00pm – 7:30pm | Frederic Wood Theatre and live-streamed
Tickets: Free; RSVP required
The (Un)civil Discourse series explores some of the major factors fueling the rancour and divisiveness in American politics and asks: how can citizens and leaders find common ground across a range of political issues that divide them?
This series continues on March 2 with Safiya Noble — MacArthur Genius, acclaimed writer, and scholar specializing in algorithmic discrimination. Her work is both sociological and interdisciplinary, marking the ways that digital media impacts and intersects with issues of race, gender, culture, and technology.
---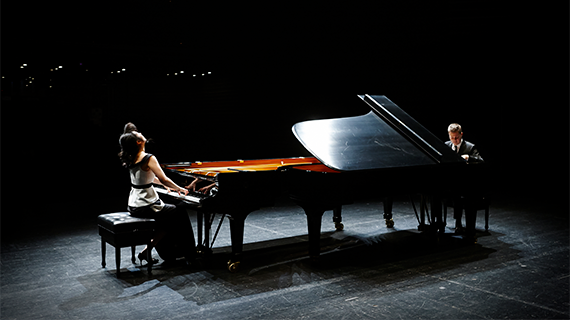 Anderson & Roe Piano Duo
Saturday, March 4 | 8:00pm | Chan Shun Concert Hall
Tickets: $25-$101 (Students get 50% off)
Known for their adrenalized performances, original compositions and innovative music videos, Greg Anderson and Elizabeth Joy Roe are revolutionizing the piano duo experience for the 21st century in their vision to make classical music a relevant and powerful force in society. Join them for the Chan Centre 25th Anniversary Celebration!
---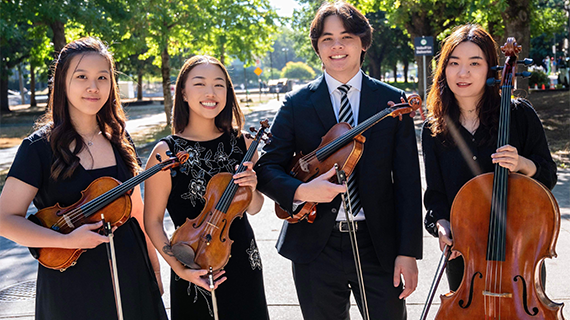 Evolution of the String Quartet: Haydn to Disney
Sunday, March 5 | 3:00pm | Chan Shun Concert Hall
Tickets: Free for UBC Students; $10-$20
In this hour-long concert, the Somerset String Quartet will outline 300 years of chamber music. This performance by the UBC School of Music's resident student string quartet will showcase the works that left their imprint on history. Also, from 2:00 – 2:45 PM, attendees can join the string quartet in the Chan Centre lobby for a hands-on demonstration of their instruments.
---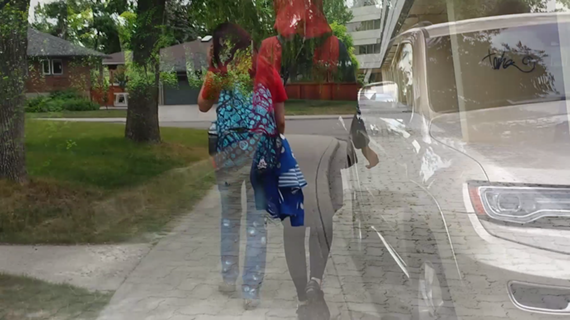 Exhibition: Longing for What Might Be
Tuesday, March 7 – Friday, March 17  | 12:00-4:00pm | Hatch Art Gallery
Admission is free
This group art exhibition is based on collaborative creative correspondence to the current women-led uprising happening in Iran. During the ten days of the event, students, artists and scholars will discuss and negotiate the way in which they comprehend the Women, Life, Freedom slogan as a possible pathway for the liberation of Iranian women.
---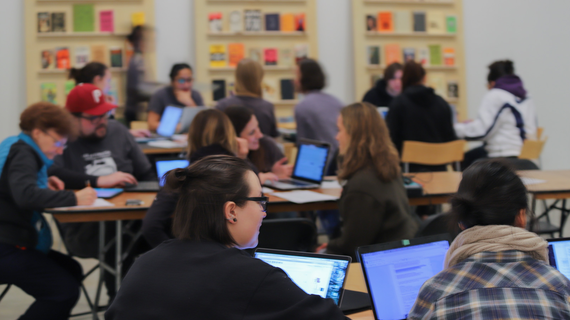 Art + Feminism Wikipedia Edit-a-Thon
Wednesday, March 8 | 11:00am | Belkin Art Gallery
Tickets: Free; RSVP required
Each spring, art communities around the world converge to help correct Wikipedia's gender biases and improve the content of under-represented persons on the tenth-most-visited site on the Internet. This year, the focus is on Iranian women artists based in Vancouver and the Lower Mainland. All genders and expressions can join, and guidance will be provided for making edits.
---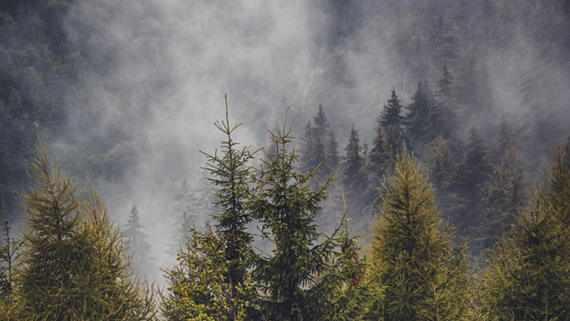 Speaker Series Spring 2023: Engaging Transylvania
Wednesday, March 8 | Monday, March 13 | Tuesday, March 28 | Room 997, Buchanan Tower and live-streamed
Tickets: Free; RSVP required
Engaging Transylvania is a speaker series hosted by the Centre for European Studies, dedicated to the cultural and political imaginaries of Transylvania. Sessions include:
Creolizing the Modern: Transylvania Across Empires | March 8 | 5:00 PM

Between Exoticism and Colonialism: Historicising Transylvania in Bram Stoker's Dracula | March 13 | 1:00 PM

Untypical for the Transylvanian Lady? Gender and Nationalism in Modern Science | March 28 | 1:00 PM
---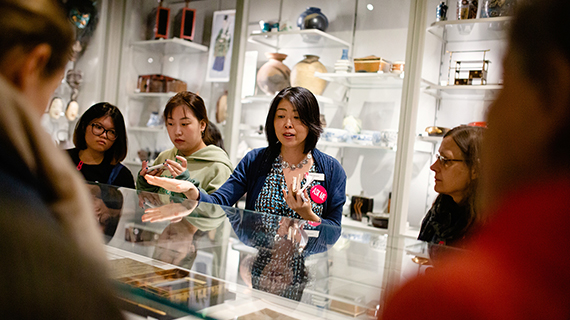 Museum of Anthropology Unmasked: Behind-the-Scenes Tours
Thursday, March 9 (7:00pm) or Saturday, March 11 (11:00am) | Museum of Anthropology
Tickets: $12-$20
Join the Museum of Anthropology for a rare opportunity to visit during its temporary closure. These special, guided tours provide an intimate look at the Museum's behind-the-scenes work and allow visitors to engage in meaningful discussion with staff and invited guests. Capacity is limited, so don't miss out!
---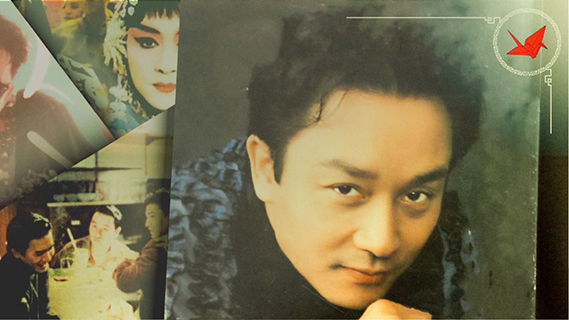 Exhibition: Leslie Cheung 張國榮: Hong Kong Icon
Ongoing; ends Thursday, April 6 | Asian Centre foyer & Asian Library
Admission is free
Co-presented by UBC Asian Library and the Department of Asian Studies, Leslie Cheung 張國榮: Hong Kong Icon commemorates the 20th anniversary of the passing of the legendary actor, singer and performer, Leslie Cheung Kwok-wing. In addition to books and scholarly journals, the exhibition features a collection of original Asian-language film posters from some of Cheung's most popular and critically acclaimed films.
---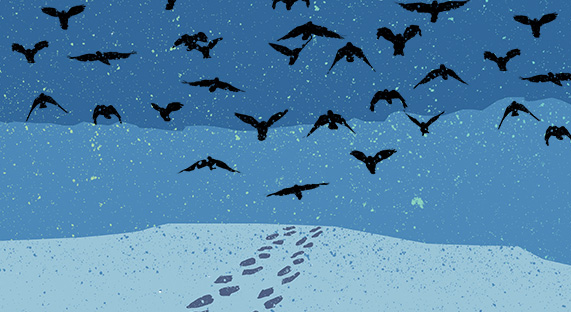 The Birds
Sunday, March 16 – Saturday, March 25 | 7:30pm | Dorothy Somerset Studio
Tickets: $11.50-$24.50
Two humans seeking freedom and a better way of life travel to the lands of the birds in this irreverent adaptation of Aristophanes' classic comedy. While one has little regard for the land's occupants and sets about constructing their own utopian "paradise", the other begins to listen and respond to the birds with openness and curiosity. Unravelling typical notions of form and the colonial narrative, The Birds reflects on pressing contemporary issues of colonialism and reconciliation. Directed by MFA Director Michelle Olson.
---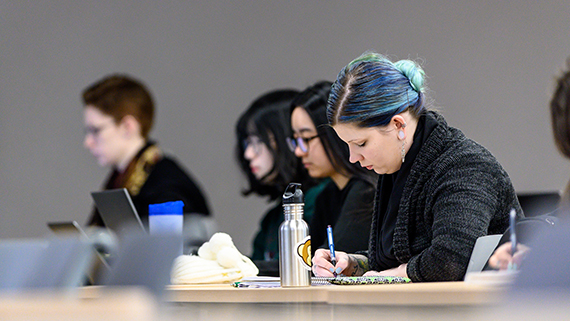 Wellbeing Workshop: Perfectionism – What Is It, and How Might It Be Holding You Back?
Wednesday, March 29 | 12:00pm | Arts Student Centre
Admission is free
This session will discuss how perfectionistic thinking and a fear of failure could be holding you back from success and balance in your life. It will look at what is required to leave perfectionistic habits and thinking behind and work towards healthy striving instead.