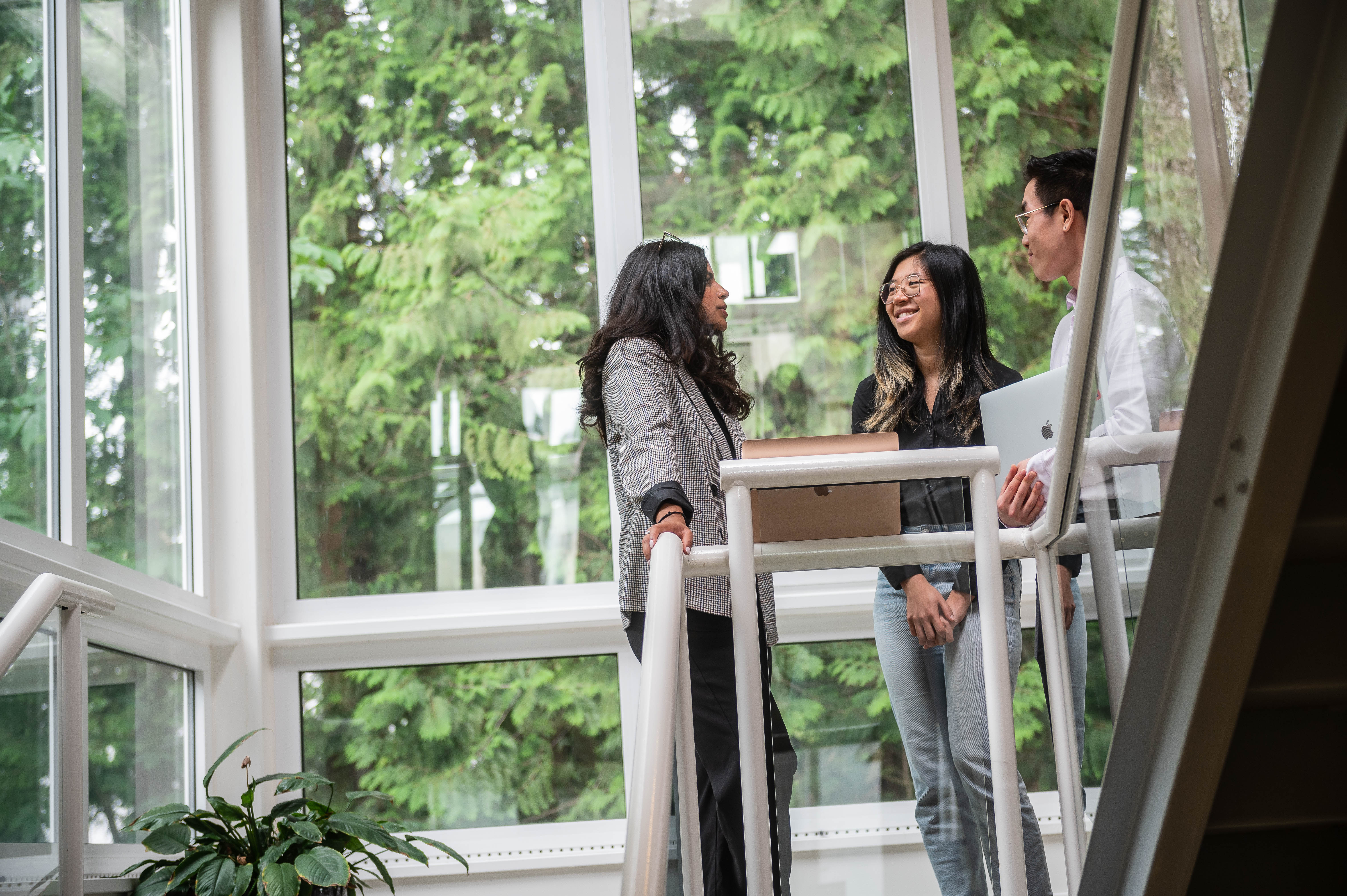 In May 2021, the Faculty of Arts surveyed Arts alumni who graduated 10–15 years ago. We asked them about the lasting impact of their degree, where they are now, and what paths they've taken after graduation. The result is a 30-page report full of insights, discoveries and reflections that will help the Faculty of Arts plan for the future. Here are some of the biggest takeaways for current students and recent grads.
This story is part of a two-part series reflecting on the results of The 10+ Year Out Faculty of Arts Alumni Survey: Report. To learn more about the research, methodology, and what faculty and staff can do to act on it, read a Q&A with Laura Moss, Associate Dean, Students, who led the survey team.
---
1. You are more prepared for your career than you may realize
If the thought of life after graduation makes you anxious, the good news is that almost two-thirds of Arts alumni surveyed said their current job is at least somewhat related to their Arts undergraduate degree, and over a third said they draw on the academic knowledge gained in their classes for their work "a great deal" or "a lot." Given the wide range of occupations Arts alumni work in, this is a remarkable percentage.
While we're looking at ways to bump these numbers even higher – such as offering more small cohort experiences, which we'll talk about later – take confidence in knowing you are more prepared than you might think for life after graduation.
"… an Arts Degree prepares you by giving you a solid foundation in thinking critically, learning how to prioritize and manage multiple deadlines, how to be adaptable, and how to communicate clearly and effectively. You'd think these are universal skills. I have learned in the work field, they are not."
Arts Alumni
Geography Major, BA'06
---
2. Most Arts grads love their jobs and are well paid to do them
When we asked Arts alumni how they felt about their careers to date, 80-85% said their work is meaningful, allows them to use their capabilities to the fullest, and gives them opportunities to learn and grow.
Arts alumni in our survey report a mean income of $95,000 and a median income of $85,000.​​ That said, we did find a gender wage gap, with graduates who self identify as men reporting 15% higher salaries than those who self-identify as women.
---
3. Getting involved will help you feel more connected and earn higher pay
It pays (literally) to get involved. Alumni in our survey who participated in university programs and events beyond the classroom felt a greater sense of belonging and a stronger connection to the university community.
Being part of any small cohort experience or experiential learning – such as varsity teams, music ensembles, theatre productions, Honours programs, student government, Arts Co-op, field research, and international exchanges – has significant positive effects on the participants. Alumni who participated in co-curricular activities outside the classroom also reported higher incomes overall.
---
4. You can do almost anything with an Arts degree
If you want to know what kind of career your Arts degree sets you up for, the list is extensive. Arts alumni are working in education, business & finance, academia, social and government services, arts & culture, law, natural resources and environment, sports, technology, and healthcare, to name a few. Your degree gives you flexibility, adaptability, and community-mindedness.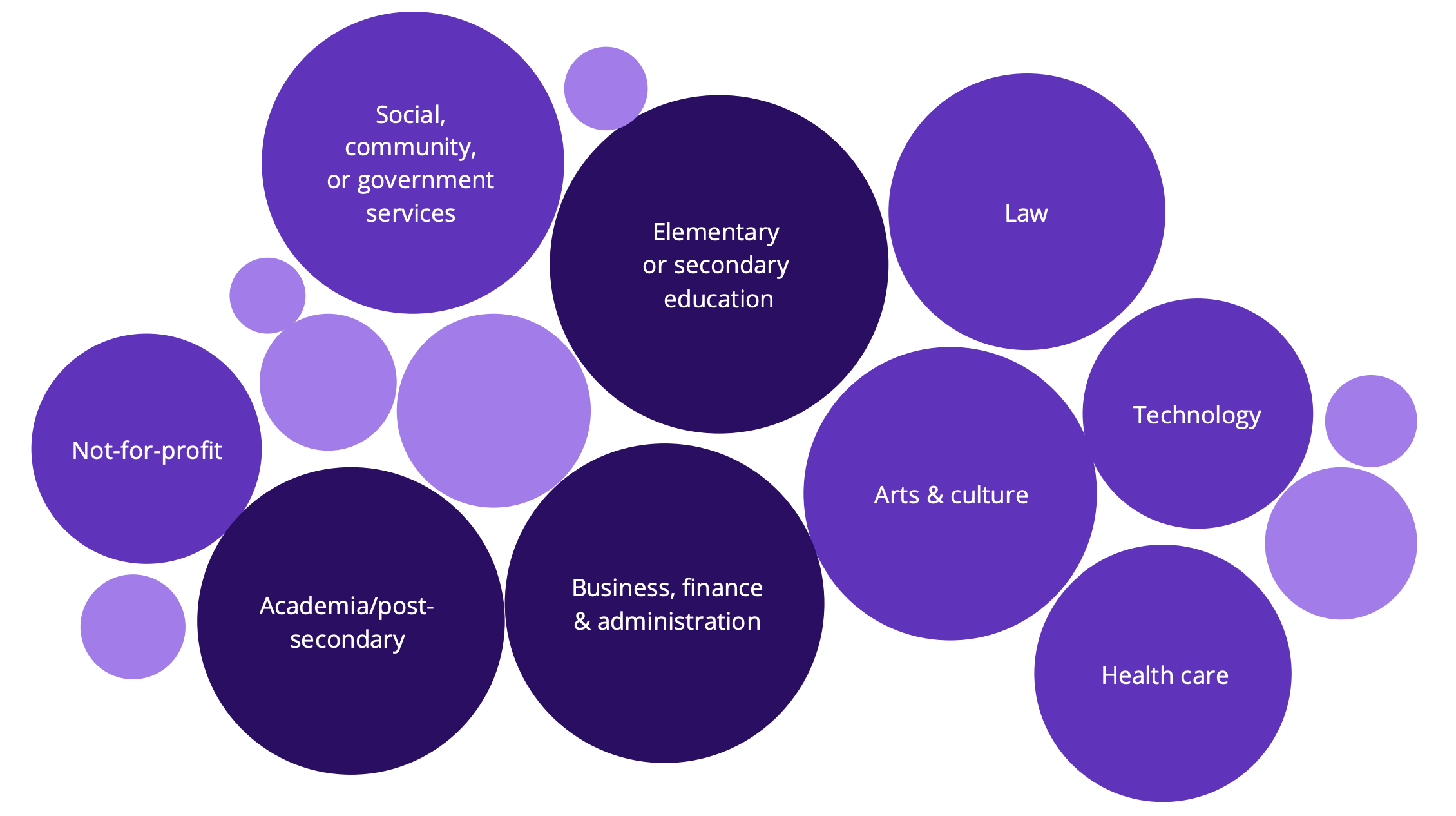 "It's OK if you don't know what degree you want to pursue right away. Sometimes you need to try out a few courses before you know what you want."
Arts Alumni
Sociology Major, BA'11
---
5. Your education is about so much more than your career
The survey closed with some open-ended questions for our alumni: a decade later, what would they tell current or future students?
"An Arts degree is about thinking and how you think. Pick a program that stimulates how you think. You can apply those skills to many occupations."
Arts Alumni
Canadian Studies Major, BA'08
"ENJOY your studies. Don't just attend classes and read class materials for the sake of doing so. Engage your peers and professors. Speak your thoughts out loud."
Arts Alumni
Psychology Major, BA'07
""…approach"
Content/Name goes here
Content/Affiliation goes here
education not as a customer, but as a curious person growing into [your] place in the world." name="Arts Alumni" affiliation="Anthropology Major, BA'06"]
Alumni said that they loved the opportunity to explore their interests and ideas, connect with students and professors from different locations and cultures, and expand their own worldviews. During an undergraduate degree is the time to explore your values, gain knowledge from multiple perspectives, question orthodoxies, and define who you are.
As one alum put it, the world needs more Bachelor of Arts graduates.
"…the ability to analyze the world around you is a rare skill and absolutely essential in our complex world."
Arts Alumni
Fine Arts Major, BA'06
---
See all the insights, analysis, and reflections from our alumni in the full survey report survey.