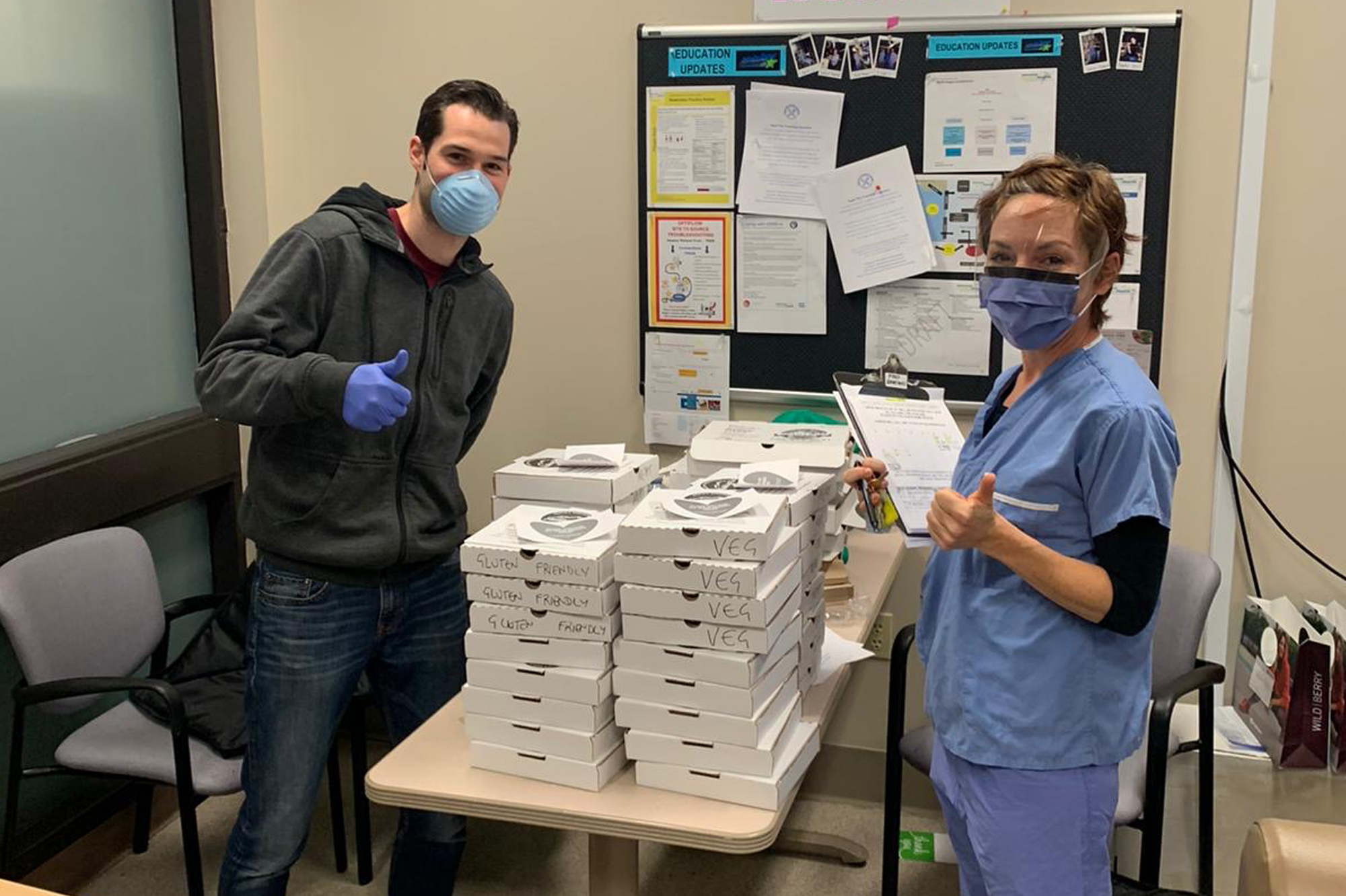 COVID-19 has transformed our lives, our jobs and our communities, hitting vulnerable populations the hardest. We spoke to three UBC Arts alumni about how their work has evolved and how they are working to support others during this challenging time.
---
Feeding the frontlines

When COVID-19 shut down the restaurant industry, Christoph Barrow (BA'09 – Interdisciplinary Studies) and his partners in the restaurant business (including campus staples Pacific Poke and Biercraft) came up with an innovative plan to address two pressing needs: supporting local restaurants and keeping frontline health workers fed. 
With support from community donations via a GoFundMe campaign, "Feed the Frontline" was launched. One hundred per cent of the funds are used to purchase meals from participating restaurants, which Barrow and his team then deliver to hospitals and care homes around Vancouver. Since its launch in late March, they've managed to raise almost $100,000.
Barrow says the project was born out of respect and appreciation for frontline health care workers. "They're risking their lives daily to protect the rest of us," says Barrow. "We want to give back to them with daily meals that are both nutrient-rich but also delicious from our favourite local restaurants that are struggling to keep their own business running during this unprecedented time in history."
Barrow says he's seen health care workers pay it forward, donating their meals to local charities and food banks, knowing that there are many people without work right now.
"It's the most rewarding project that I've done. It's been amazing," says Barrow. "There's a renewed sense of community that wasn't in our fabric before."
---

Compassion and sympathy from six feet apart 
How do you support women fleeing violence and abuse during a time of physical distancing?
As a communications and development coordinator for the Dixon Transition Society, Jianna Faner (BA'18 English) supports services and programming that help women and children impacted by violence.
"When COVID-19 hit, our reflex reaction was to stop fundraising," says Faner. At a time when so many people had lost their jobs, Faner says it felt strange to be asking for donations. But she soon realized that the need for support services was greater than ever. "What this pandemic looks like is more women are stuck at home with abusers, and that can exacerbate the risk of domestic violence." One hotline for vulnerable women in Vancouver saw a 300-percent increase in the first weeks of the crisis.
Faner says one of the biggest challenges has been to try and maintain a sense of community during a time when people are being asked to self-isolate.  "Isolation is a big part of why domestic violence is a problem to begin with," she says. But Faner says they're working on ways of conveying compassion and sympathy from six feet apart, such as moving counselling sessions online, creating "take and make" activities for families and providing prepared food and groceries for women who are self-isolating.
After the initial pause, Faner and her team have started fundraising again. "What I'm experiencing right now is a surprising and heartwarming willingness to give back," she says. "Even in a time when people aren't interacting in person, people are more community-minded now. That gives me hope."
---

Reporting on COVID-19's impact on local populations 
As a journalist for The Tyee, Christopher Cheung (BA'14 English; MA'16 Journalism) reports on urban issues, shedding light on housing, diversity and modern life in Vancouver.
Since COVID-19, he's shifted his focus towards how the pandemic is impacting some of Vancouver's most vulnerable residents, including residents of the Downtown Eastside, front-line service workers and Chinatown's Seniors. "We already had so many crises that were around before this: we have a housing crisis, we have an opioid crisis," says Cheung. "I really wanted to write about people who were dealing with two or more of these crises at the same time."
Some of his recent articles profiled community members using shared washrooms in SROs; the street population who rely on restaurants and community centres for services and shelter; and underpaid and overworked cleaners.
In addition to covering the Downtown Eastside, he's reported on businesses hit hard during the pandemic, like this loving tribute to his former employer, the Vancouver Courier, which recently stopped publication. At a time when community media is in upheaval, he's hopeful about The Tyee's trajectory, which is supported largely by reader donations rather than traditional print advertising. "It's really nice to see people believe in journalism, but also believing that journalism should be for everyone," he says.