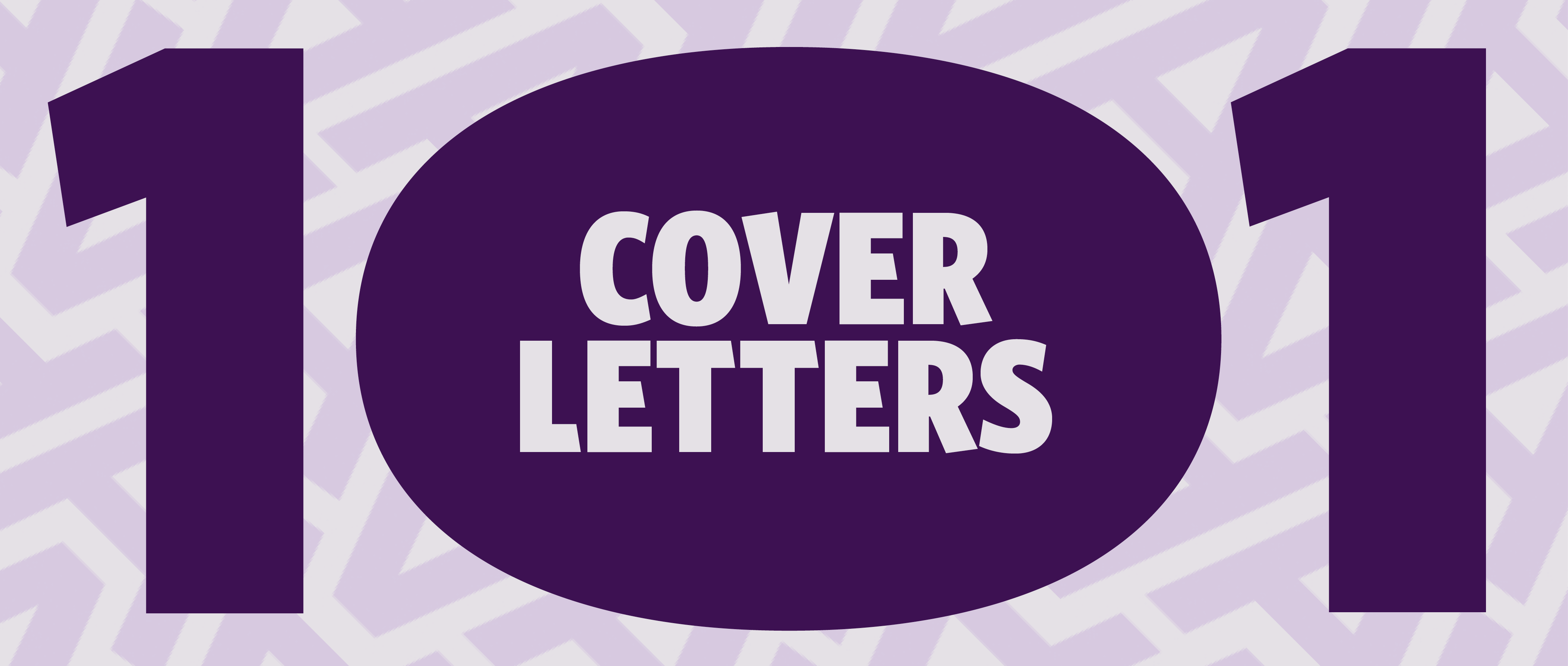 By Juliana de Souza at the Centre for Student Involvement and Careers
Effective cover letters show off your personality and draw connections between your experience and the qualifications employers are looking for in a job description. Learn how to frame your academic experience to potential employers and turn your cover letter into an unstoppable tool for landing job interviews.
---
Mind the details
Take care of the basics. Your cover letter should have the same header and use the same font as your resume, and be free from typos and grammatical mistakes. Remember that your cover letter and resume are your marketing tools: Make them look sharp and attractive to employers' eyes.

Tip
info
Proofread carefully! For many employers, a typo will land your cover letter in the reject pile.
---
Customize each cover letter
Unless the job posting explicitly tells you not to, always submit a cover letter with your resume and customize it for each position you apply for. In addition to showing off your personality, cover letters are an important way to demonstrate your enthusiasm for the role and your knowledge of the employer you are applying to. Generic cover letters rarely land interviews.
---
Focus on the first paragraph
Employers are busy, and initially, may only read your first paragraph. Think of the first paragraph as the "hook" to convince them to continue reading the rest of your letter.
To make it easy for them, follow the inverted pyramid metaphor used by journalists. In a news article, who, what when, where, why, and how, are answered in the first paragraph. By following this method, employers will quickly see who you are and what you can offer.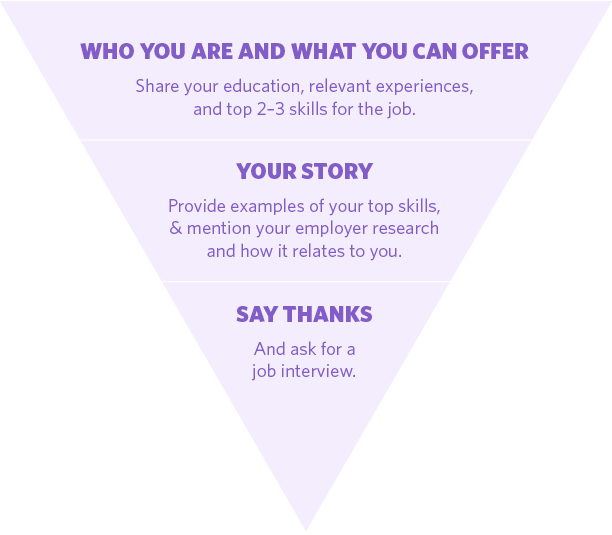 ---
Provide examples
Examples are a powerful way to convince employers you have the skills they need. Look at the skills listed in the job description, and think about one or two examples of how your experience reflects those skills. If you say you have excellent communication skills, share a story that provides evidence of this skill. Aim to include these examples in your second and/or third paragraphs to illustrate the main skills you want to highlight.
Be strategic about choosing your examples, as they need to relate to the job and organization you are applying to. Use the STARR format (Situation, Task, Action, Result, and Relevance) to tell your story effectively.

Tip
info
Re-work accomplishment statements from your resume into complete sentences for your cover letter.
---
Lead with your strengths
Emphasize your relevant experiences, whether they come from work, volunteering, or academics:
"I have 2 years of customer service experience working in the entertainment and retail industries. While my History degree is equipping me with critical thinking and writing skills, my previous jobs taught me how to work in fast-paced environments where decisions need to be made quickly considering the customers' needs and the company's policies. As a Communications Assistant with your company, I'll combine my ability to analyze information, learned through my years as a university student, with my proven skills to act quickly when assisting with your internal and external communication."
If you haven't worked before, you can write about volunteer experiences or extra-curricular activities:
"As a third-year English student at the University of British Columbia, I am an executive member of the English Student Association (ESA). Recently, the ESA organized a virtual panel of English alumni to talk with current students about their experiences going to university. My role at this event was to promote the panel to UBC students. I used social media, including Twitter, Facebook, and Instagram, to reach out to students and used analytics to guide my marketing strategies. As a result, there was a 50% increase in the students' participation compared to similar events offered in the past."
Classroom projects are also valid when showcasing your skills to employers:
"As a fourth-year psychology student at the University of British Columbia, I found that I am at my best when working on group projects. For instance, when my group was assigned to write a research paper on the use of technology by toddlers, I took the lead to keep my group organized. I developed Excel spreadsheets that listed each member's responsibilities, milestones, and deadlines. Additionally, I scheduled weekly Zoom check-in meetings to share ideas and adjust our project's schedule. My team members appreciated my organizational and leadership skills that kept us on track and helped us to achieve an A grade for the project."
Remember that employers hire for skills and, as long as you can make connections between your previous experiences and the employer's needs, you will have a robust cover letter that can land you a job interview.
---
Research employers
Research each employer before writing your cover letter, and use this information to tell them what makes you a good candidate for the role. Don't just present things you've read about the employer, though – tell the story of why you are particularly interested in their organization to demonstrate that you are not applying at random! Tell the story of how your experience (of any kind – paid, unpaid, life role, etc.) can be an asset to them. For example:
"Your company's commitment to unparalleled customer service really resonates with me. In my previous job as a barista, my mission was to provide the best customer experience possible. I made each customer feel welcome as they entered the coffee shop. For repeat customers, I developed a system to help learn their names and memorize their favourite drinks. I would bring this passion and commitment to customer service to a role in your organization."
---
Cover letters in 7 quick steps
Customize your cover letter for each job you apply to. A generic cover letter won't get you an interview!
Include today's date and the hiring manager's contact information. If it's not listed on the job posting, you may be able to find the information on LinkedIn. Avoid "Dear Sir/Madam" on your application and only add titles such as Mr., Mrs., or Ms. if you know how the employer would like to be addressed. Otherwise, go with their first and last name.
Your first paragraph should grab the employer's attention. Talk about your education, years of work/volunteer experience, and mention your two to three most relevant skills for the job.
Tell a story! Examples are powerful.
Save your cover letter and resume as a PDF. If you are submitting by email, send it as a single PDF document with your cover letter on the first page followed by your resume. Of course, if a particular employer provides specific guidelines for submitting your application that differ from this recommendation, follow that employer's guidelines when applying to their posting.
Your cover letter shouldn't exceed one page. Three to five paragraphs are enough.
Edit, edit, edit! Ask someone to review your cover letter for typos and grammatical mistakes. If you don't have a second set of eyes to review, try software like Grammarly or change the font to trick your brain into thinking you are reading something new.
---
Building your career can happen throughout the academic year. Employers and alumni events are happening across campus and provide incredible avenues to network and discover new opportunities.
---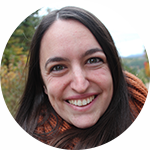 Have questions or want to have a career conversation? Sign up for an appointment with Arts Career Strategist Carli Fink through CareersOnline or email her at carli.fink@ubc.ca.