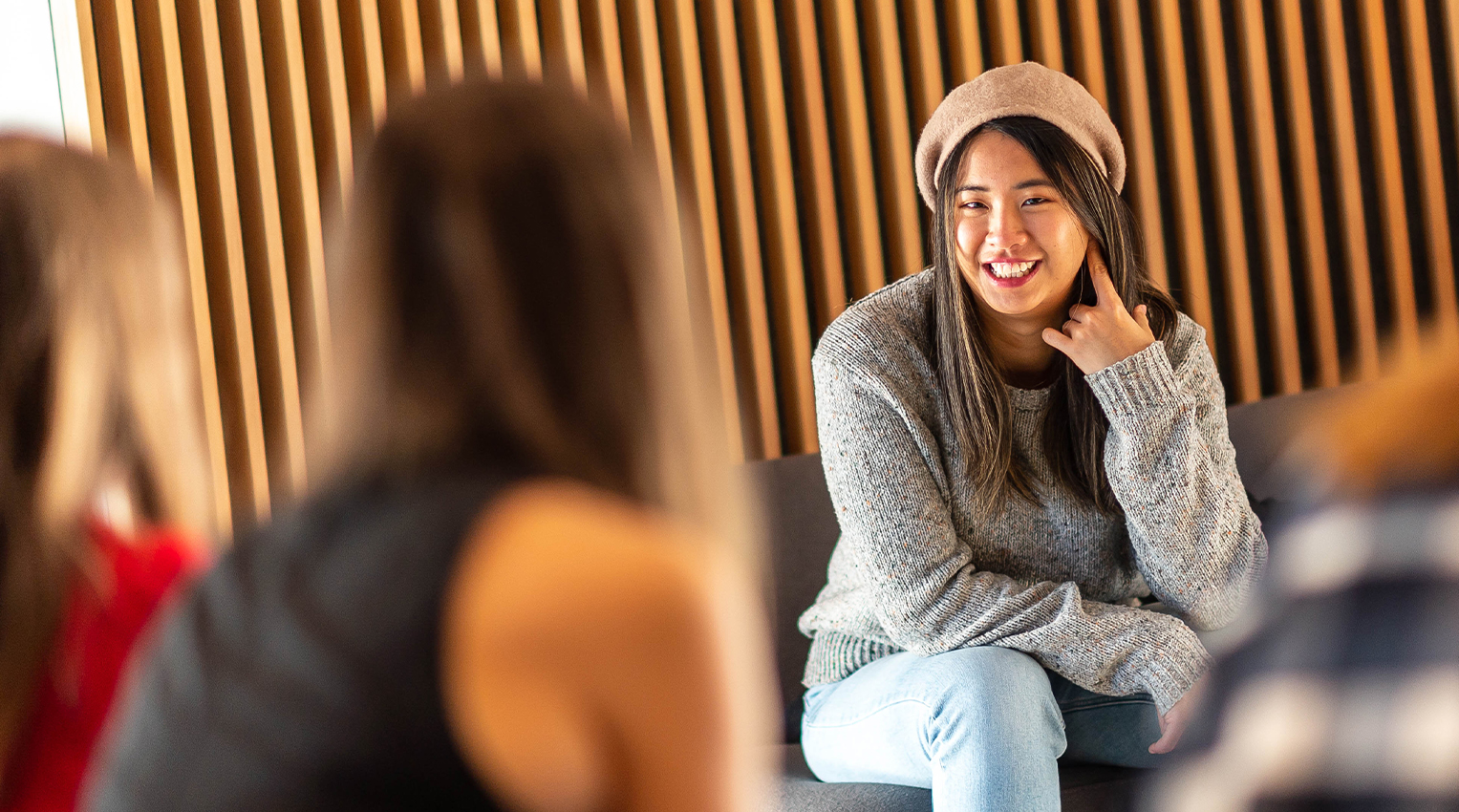 Are you thinking about taking a language course? If you're deciding between a university offering versus a free automated online course, Dr. Qian Wang, Director of the Chinese Language Program and Associate Professor in Chinese Linguistics, explains what makes a university language course unique, how it benefits your Arts degree, and why it adds value to your journey of self-discovery.
With the increase in popularity of free online language courses on YouTube or Duolingo, what are the extra benefits students receive when they take a university language course? As Dr. Qian explains, university courses foster connection and community, and help participants develop intercultural awareness and an understanding of place and power.
---
Fostering connection and community
Even if online and university language courses aren't mutually exclusive, a close-knit cohort of 15-30 students per university class leaves room for more opportunities to interact. What's common for language courses are their extra-curricular and cocurricular activities that include reading and writing clubs, speech contests, celebrations and other festivities. "In German classes, they have a sing-a-long where your professor will play the guitar and students sing," Wang shares. "You don't have to feel like you're taking a hardcore academic subject. After teaching all of my language courses, I feel more connected."
Looking past words and grammar, taking a university language course is an opportunity for linguistic and cultural exploration. With the diverse language backgrounds and motivations of language course participants, students form new connections through the journey of learning a new language. "To be able to learn a new language and understand the way the language functions in the new society contributes to your understanding of social and behavioural systems," says Wang. She explains that she feels her students with various experiences and goals lead the classes into a wide range of interesting intersections. "For example, my student who has a French background or Japanese background shares different knowledge or understanding of the use of family names and it helps everybody else, including myself, to learn."
"You have your own language and you're learning a new one to strengthen intercultural awareness in professional and personal contexts."
As the Director of the Chinese Language Program, Wang says that she has started educating students about the Chinese education system, family system, and how people interact with each other in their native language. Wang hopes that the UBC community widens their perspective towards international students and immigrants by considering the social systems of where they're from. "You have to bring that different perspective or understanding into your teaching and learning before you can appreciate this," Wang explains.
Understanding place and power
Focusing particularly on the land we're on—the traditional, ancestral, and unceded territory of xʷməθkʷəy̓əm (Musqueam)—Wang acknowledges how the shared knowledge of language and identity are connected to language: "You are helping yourself go into unknown territories and places to understand power or give power back to people who are entitled to these powers."
Wang received the 2021 Dean's Award for Indigenizing the curricula of Chinese and Japanese language programs, and continues to incorporate Indigenous facts and conversations across all year levels. Using their target language, like Chinese or Japanese languages, the professors start by discussing the difficulties faced by Indigenous people in the education system to broader Indigenous issues. "Students organically bring up the topic of 'pipeline' in Chinese. Imagine how difficult it is to discuss this in a new language. But, I think that students feel they are empowered because it is almost in a neutral lens that they're exploring something new."
Learning language through guided exploration
"Online language courses or platforms usually focus on [language knowledge] individual sounds or exercise, and is more on the receiving end of the language skill training," says Wang. By expanding the spectrum of both language knowledge and skills, Wang centers the focus of university language courses around three key areas: intercultural understanding, interdisciplinary ways of knowing, and language proficiency. Through a university language course, students have direct access to experts who can customize their experience based on the individual's learning style and language background.
"We are not here to look for correct. We're here to look for best answers, and the best answers can be defined differently for different people. Don't underestimate your guessing power and allow that inaccuracy and flexibility in language learning and in your life in general."
For example, in the program's Literature courses, Wang shares that professors help students by explaining specific terms and their expectations—whether that's proposals for papers or defining plagiarism—in the student's native language. As a result, the Chinese Language Program has been able to remove a language barrier, which allowed their students to move comfortably and explore other courses with ease. With a smile, Wang adds "Instead of imagining that the scope is work or exams, you're imagining you're learning it to discover sounds or the meaning. Explore your journey and how you're able to use the words to communicate in a way that you're not able to before."
Three ways to make the most of your language course
From endangered languages like hən̓q̓əmin̓əm̓ and Kwak'wala to courses like American Sign Language, the Faculty of Arts offers a wide range of programs. Across all proficiency levels, Wang suggests three ways you can maximize your language learning.
1. Set a goal beyond language proficiency: Wang explains that although proficiency is important, students need to find a purpose that allows them to adapt—not assimilate. "We're trying to convince students to use a list of words they learned and use them to express themselves. It's a foundation for lifelong learning for long-term proficiency."
2. Exercise the power of guessing: When you enter a new class, the standard approach of learning a topic is by memorizing terms and structure with the goal of "filling in the blanks" with a specific answer. For language learning, there are different and appropriate ways of reaching your goal. "Think about the appropriate way of saying what you want to in a new language based on your native language or background. From there, your professor may offer their suggestions for improvement."
3. Bridge your language learning with other courses: Think about the connection between your language course and other degree requirements like humanities or creative arts. "The understanding or analysis of text or a visual piece are based on your knowledge of the language, and your worldviews that originate from the language," says Wang. "It's possible to study Spanish literature by only reading the translated pieces in English, but if you want to major in that, the least you could do is take 3-6 credits of Spanish language to understand the language before you dive into literature."
"University language courses are a real way to connect with your life. You're living the university life as a human being, as a real person. Language learning benefits a person's day-to-day life."