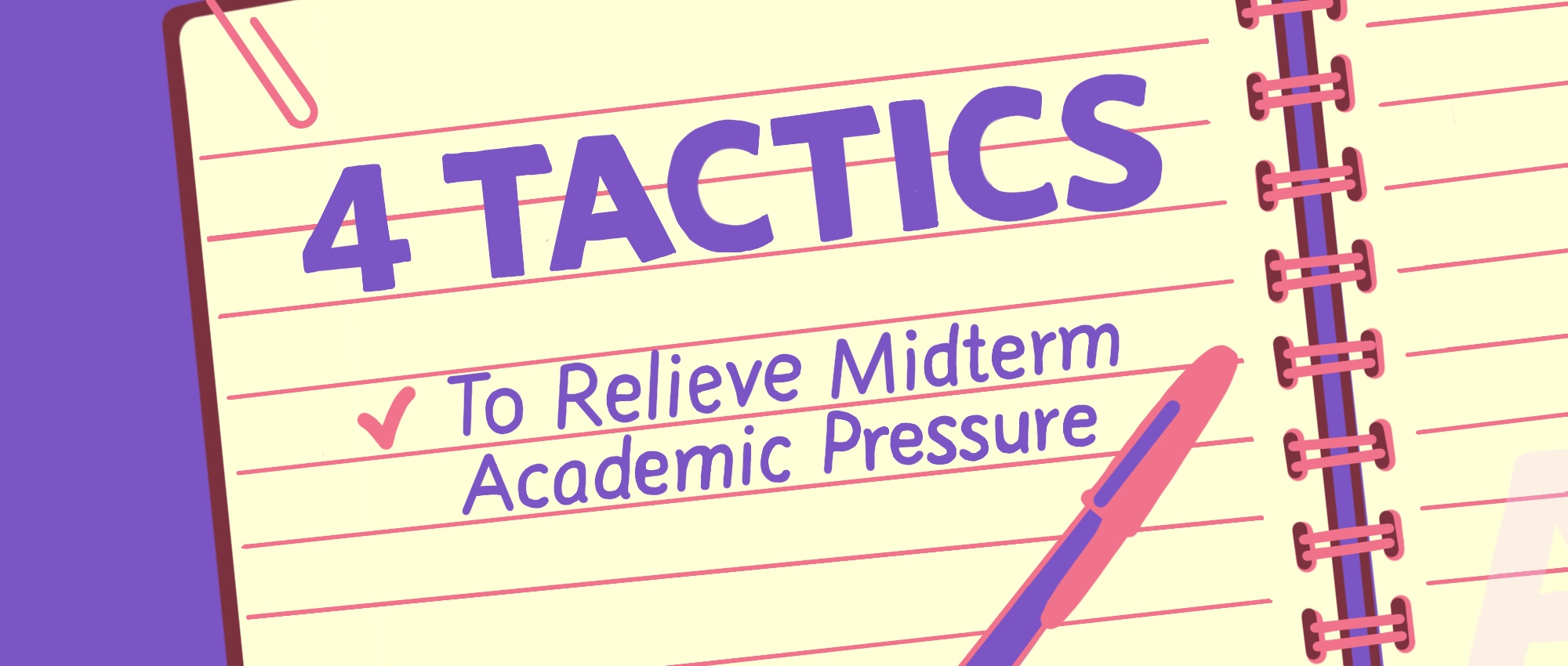 It's normal to feel pressure from courses and midterm exams this time of year as assignment deadlines, studying, exams, and responsibilities outside of school start to build up. Take a deep breath, and let's walk through four tactics to help you identify your challenges and find support to relieve the pressure.
---
1. Take time to reflect
What challenges are you facing? Maybe you had set goals for yourself in early September and are afraid you won't meet them, such as achieving a certain grade in one of your classes or on your first midterm exam.
Look back at what you have completed so far. Have your actions supported your goals, or are they leading you further away from them? If you have not met your goals yet, don't panic! There is time to make adjustments and learn from your experiences.
Assess how realistic your goal is
Are you new to university or UBC? Allow yourself time to transition. It takes time to get accustomed to a new learning environment. If your goal is grade-related, do you have tangible strategies in mind to help reach your goal? If your goal demands perfection, perhaps reevaluate and leave some wiggle room for error and growth.
Consider challenges and barriers
What is getting in your way? Are they things you have control over, like time management skills, study habits, attendance, and class participation? Or are they external factors you don't have control over, like illness or family concerns?
---
2. Take action
Once you've identified your challenges and barriers, take action where you have control.
Reduce your commitments
If you are overwhelmed by responsibilities, consider reducing your commitments to make your schedule more manageable. That might mean cutting back extracurricular involvement, working less hours at your part-time job, or reducing your course load by withdrawing from a course before the deadline.
Get help
If your health has been impacted, do you have the appropriate support or resources in place? UBC Health and Wellbeing is a great place to start
---
3. Know your academic support options
If you think your challenges are academic, there are a host of helpful resources to help you move forward. Try to identify what your challenges are to find the right support.
Difficulty understanding class material
Attend office hours and reach out to your instructors and TAs. Your instructors are the experts on course material, so make use of their knowledge!
For additional academic support, try tutoring! The AMS offers free group tutoring for a variety of first- and second-year courses, as well as paid private tutoring.
Study strategies
If you are searching for new study strategies, having difficulty with time management or breaking down an academic task, like writing your first research paper, consider connecting with an Arts Peer Coach.
Academic support
Visit the Chapman Learning Commons for student toolkits, resource guides, video tutorials and other learning aids.
Writing
We all know Arts students have to write a lot! Get support from the Centre for Writing and Scholarly Communication. They offer one-on-one consultations with peers, online writing communities, and writing workshops to assist with academic, creative, professional and technical writing for undergraduates, graduates and postdoctoral fellows.
---
4. Find academic solutions
Now that you've reflected and taken action, have you found there are some things you cannot remedy?  If so, there are academic solutions that can help if you've missed coursework or fallen behind in a course.
Academic Concession
If unanticipated events or circumstances impact your ability to keep up your coursework, or you miss an assignment or exam due to illness, you can seek out academic concession.
Academic concession is a process in which your instructor and/or Arts Advising works with you to figure out an official way to handle your missed coursework that works best for you and your academic transcript, while adhering to UBC policy and retaining the academic integrity of the course.
To find out if you are eligible for academic concession, read the step-by-step guide on the Faculty of Arts academic concession page. You'll need to know the details of the coursework you missed and be able to articulate your reasons for missing it. Depending on what your instructor states in the course syllabus, you may seek academic concession through your instructor directly or with Arts Academic Advising.
Understand withdrawals
If you are feeling overwhelmed with personal responsibilities, have been ill, or are sure you cannot pass a course you're enrolled in, consider withdrawing to reduce your course load. This could be a good option if you have realized that you are unable to keep up with your course material, cannot continue in a course, or are too far behind to catch up.
If you withdraw from a course after the add/drop deadline, you will get a "W" on your academic transcript and the withdrawal will not impact your average.
After the withdrawal deadline, you cannot withdraw from a course unless you apply and qualify for academic concession. If you remain registered in the course past the withdrawal deadline, and do not qualify for academic concession, you are committed to completing the course.
---
You've got this!
Now you know some tactics and concrete steps you can take to help manage your academic expectations this term. Remember, you are your greatest resource, so always take time to reflect on what you did to get through your challenges and reach out for help when you need it. Often, we forget that we have experienced some sort of setback or adversity in the past and can learn from the actions we took during those experiences. Self-reflection is a powerful tool, and the Faculty of Arts has resources to support you through this!
---
Still have questions about goal setting, accessing resources, or understanding academic concession and the withdrawal period? Make thoughtful decisions throughout your degree with the help of an Arts Academic Advisor.