Discover the potential of your Arts degree while receiving support with program planning, degree requirements, or other course-related questions with Arts Academic Advising.
---
How academic advisors can help
In-person support
Online support
---
Advising workshops
Join Arts Academic Advisors in a small group setting to gain insights on everything from charting your degree to choosing a meaningful major.
---
Contact Arts Academic Advising
Visit in-person
Drop-in hours
1 – 4 p.m., Monday – Thursday
Join the virtual line before you drop in
The virtual line opens 15 minutes before drop-in hours and closes once drop-ins have reached capacity.
Text "UBC" to 604 229 4098 and select queue 2 to receive your approximate wait time
Receive a text when you're next in line
Check in at the front counter
Office hours
9 a.m. – 4:30 p.m., Monday – Friday.
Office closures
Weekends and statutory holidays.
Wednesdays, 9 a.m. – 10:30 a.m.
Wednesday, February 19.
Friday, February 21, 12 p.m. – 4:30 p.m.
Location
Buchanan D111, 1866 Main Mall, Vancouver, BC
Email
Phone
Phone: 604 822 4028 | Fax: 604 822 4923
Facebook
Arts Peer Advisors monitor the Arts Facebook page on weekdays to answer your advising-related questions. Please do not post personal information.
---
Department and program advisors
All Arts students have access to Arts Academic Advising. In addition:
Department and program advising directory
---
Other UBC contacts
Contact your Enrolment Services Advisor (ESA) if you have questions about transcripts, student loans, and financial support.
Contact UBC Admissions if you have questions about post-secondary or high school transfer credit.
Visit the UBC Undergraduate Programs and Admissions website if you are thinking about becoming an Arts student.
---
About Arts Academic Advising
Mission
Working with faculty, academic programs, and campus partners, we guide Arts students as they create their academic pathway — with reflection, intention, and enriched learning experiences — from the faculty's diverse offerings.
Vision
We strive to be a catalyst for service innovation, furthering purposeful, developmental, and transformative learning for students as they explore the significance and potential of their Arts degree.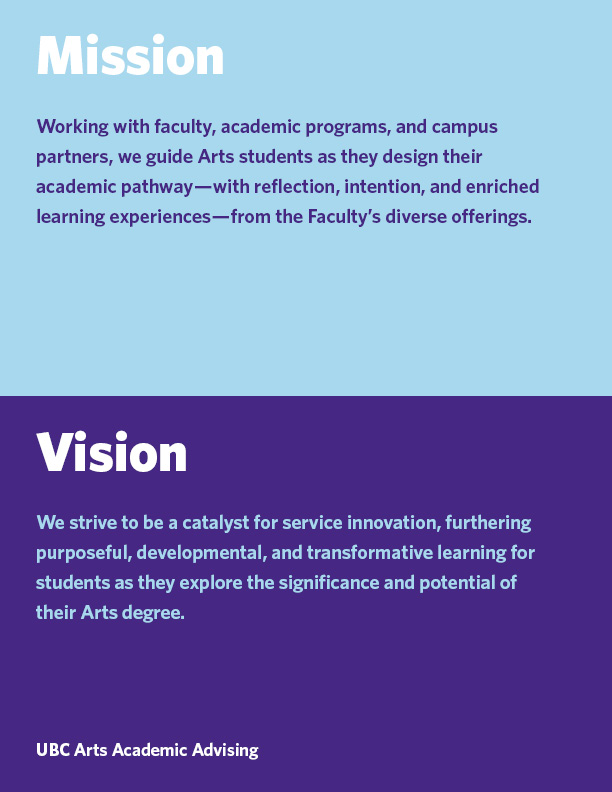 Learning
We commit to life-long learning: a transformative process through which we encourage curiosity, refine our praxis, and grow as educators and learners.
Collaboration
We build respectful, proactive and strategic relationships internally and across UBC's campus community in order to craft successful shared outcomes for all stakeholders.
Empathy
We respectfully acknowledge and value the beliefs, feelings and perspectives of others and believe in their ability to learn, grow and take agency.
Equity
We work intentionally and creatively to learn about and address historical and current systemic issues in fairness and opportunity.
Integrity
We engage in practices that are reliable, principled, and accountable in order to ensure that our work is accurate, relevant and responsive to the dynamic landscape at UBC.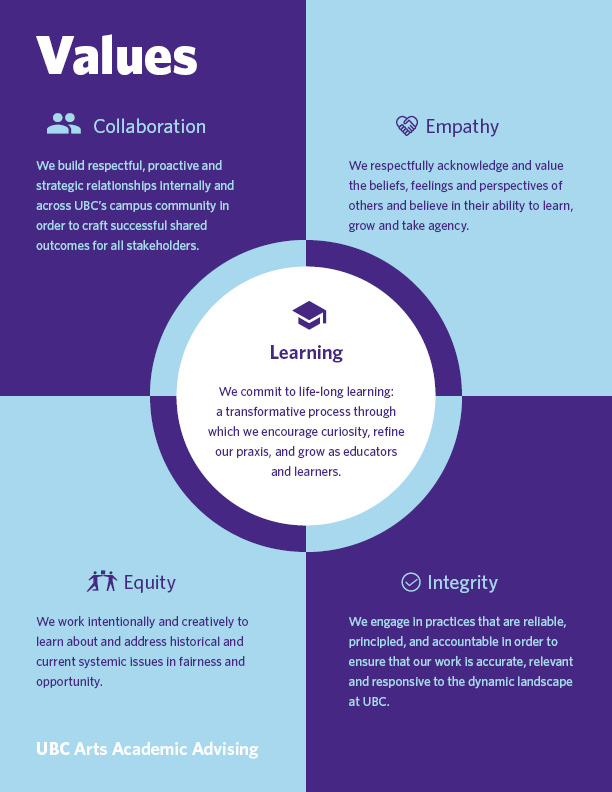 ---