Before contacting Arts Advising, and for the most efficient service, we encourage you to access our self-serve online advising requests page.

With winter registration approaching and our office working remotely, we are experiencing a high volume of inquiries, so our response time will be delayed.
---
 UBC resources
Advising resources
How advisors can help
---
Contact Arts Academic Advising
We encourage you to use our self-serve online advising services or contact us through our online form. Please do not use the contact form to request an appointment with an advisor. Use the form to ask questions and we will either answer them or work with you to set up a short appointment.
Quick questions sessions – chat online
Arts Advising will host two online Zoom chat sessions each day to answer quick questions. Please be prepared with concise and clear questions as your interaction will be limited to 5-10 minutes.
Offered June 1 – July 17, Monday to Friday
9:30 – 11 a.m. and 1:30 – 3 p.m. PDT. The chat room may close early if it reaches capacity.
Office hours (online only)
9 a.m. – 4:30 p.m., Monday – Friday.
Location 
Buchanan D111, 1866 Main Mall, Vancouver, BC
*The office is not open to students or staff to adhere to physical distancing.
Phone
Voicemail 604 827 6887
Facebook
Arts Peer Advisors monitor the Arts Facebook page on weekdays to answer your advising-related questions. Please do not post personal information.
---
Advising workshops
A great way to get direct support from advisors is to attend an online advising workshop.
---
Department and program advisors
All Arts students have access to Arts Academic Advising. In addition:
Department and program advising directory
---
About Arts Academic Advising
Mission
Working with faculty, academic programs, and campus partners, we guide Arts students as they create their academic pathway — with reflection, intention, and enriched learning experiences — from the faculty's diverse offerings.
Vision
We strive to be a catalyst for service innovation, furthering purposeful, developmental, and transformative learning for students as they explore the significance and potential of their Arts degree.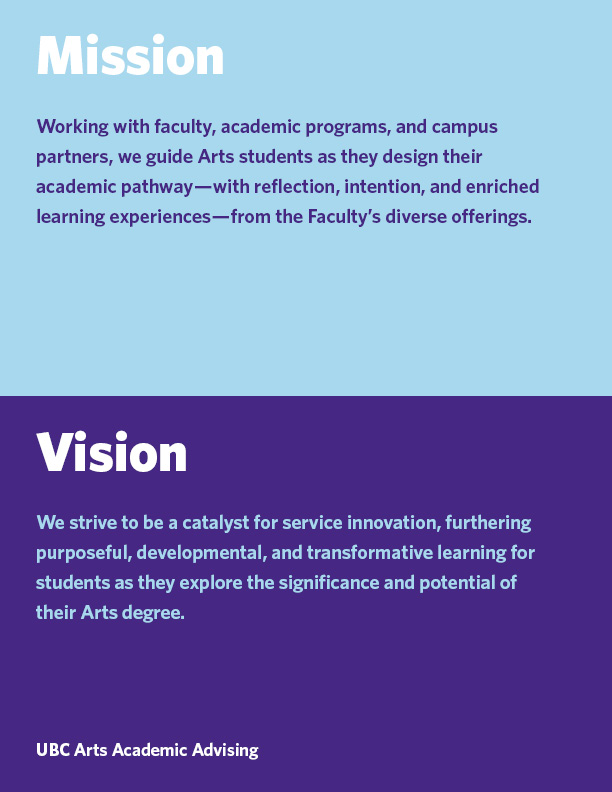 Learning
We commit to life-long learning: a transformative process through which we encourage curiosity, refine our praxis, and grow as educators and learners.
Collaboration
We build respectful, proactive and strategic relationships internally and across UBC's campus community in order to craft successful shared outcomes for all stakeholders.
Empathy
We respectfully acknowledge and value the beliefs, feelings and perspectives of others and believe in their ability to learn, grow and take agency.
Equity
We work intentionally and creatively to learn about and address historical and current systemic issues in fairness and opportunity.
Integrity
We engage in practices that are reliable, principled, and accountable in order to ensure that our work is accurate, relevant and responsive to the dynamic landscape at UBC.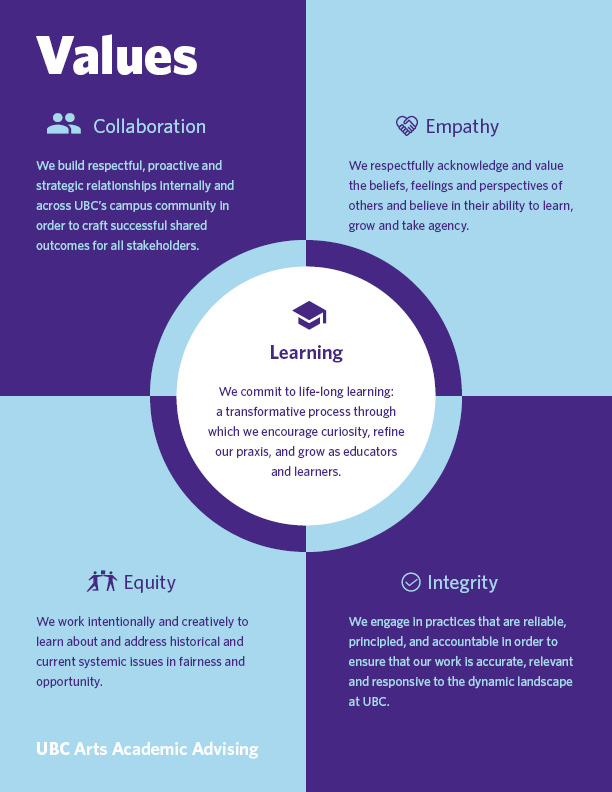 ---