By Brenda Gonzalez Cordova, Arts Peer Academic Advisor
If you're a first-year student entering UBC Arts, start by choosing a first-year study option.
I am an international student, so the road to UBC was more complicated for me than some others. Dealing with immigration documents, finding housing, and my nervousness of leaving home already had me overwhelmed – not to mention the stress and excitement browsing courses brought. Every subject and course sparked my curiosity and I had no idea how I was going to choose only 10 courses.
It wasn't until I received an email from Arts informing me of different first-year options that I felt some direction. When I learned that CAP (the Coordinated Arts Program) follows a cohort model where I'd get the chance to build a tight knit community with peers and faculty throughout the year, I thought to myself – "this is the stability I need."
---
What are first-year study options?
You start your academic journey in the Bachelor of Arts by choosing a first-year study option. You can choose from three options:
CAP (Coordinated Arts Program)
Arts One
Custom timetable
Both Arts One and the Coordinated Arts Program (CAP) can help ease your transition into university because they offer smaller online communities of instructors and peers, set you up to cover some degree requirements, and bundle courses into an easy, one-click registration. For those wanting more flexibility, you may prefer a custom timetable, where you build your own course schedule from scratch.
---
The benefits of CAP
Since I chose CAP for my first-year study option, I'll share my experience with you, including the benefits of the program and how to register for it.
CAP offers coordinated assignments within a standard timetable worth 18 credits for the entire Winter Session (2 terms, Sept-April). This means that you can register in 12 more credits of electives outside the program. The electives allow you to enhance your CAP experience by including courses that complement the topics covered within CAP.
In my first year, I was looking for courses that would not only match my interests, but also allow me to make close, supportive connections with students and instructors. In this way, CAP's cohort model was the perfect option for me. I knew that my workload would be balanced through the coordinated assignment schedule and that I would perform well at university if I was given the opportunity to engage with topics in small group discussions.
---
Choosing a CAP stream
Another reason CAP stood out to me as my preferred first-year program was because it lets you choose a "stream" or academic theme. There are five CAP streams to choose from:
Individual and society
Law and society
Global citizens
Media studies
Political science, philosophy and economics (PPE)
My main interests laid in disciplines that explore the distribution of power, the causes of inequalities, and the development of a social contract, so I chose the PPE stream. Because I still had 12 credits left to enrol in electives, along with three more years of university, I knew I would have ample time to take other courses that piqued my curiosity (spoiler alert: I'm now in my 4th year and I did take all those other courses).
For those of you trying to decide which stream to take, I have some words of wisdom:
Reflect on which stream topic interests you the most and through which disciplines would you like to explore that topic.
Look at upper-level courses that interest you to see which lower level courses you need to satisfy prerequisites.
Think of how the different courses in a stream complement each other and reflect on the different paths you could take for your future studies.
---
Registering for CAP
CAP registration is similar to regular course registration, but, instead of going to "Browse > Courses" in the Student Service Centre (SSC), you select "Browse > Standard timetables." Choose "BA" and "Standard timetables – Year 1". Once there, you can select the CAP stream to register in. Keep in mind that each CAP stream has limited seats, just as courses do.
Peer advisor tip: You can visit Art's Advising "first-year planning tool" for registration tips and advice about what to do if a course is full.
---
Online learning and CAP
UBC announced that BA programs for 2020 Winter Term 1 will be online. If you are used to in-person experiences in high school and are worried about transitioning to online learning, both Arts One and CAP may be more ideal programs for you, as they offer smaller learning communities and coordinated assignments help to balance your schedule. As a 4th year looking back, I would certainly choose CAP again.
---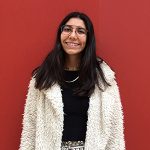 Brenda Gonzalez Cordova is a 4th year student majoring in Economics and minoring in Philosophy. She is also an Arts Peer Advisor.
Learn more about Brenda and her past and present involvement at UBC.