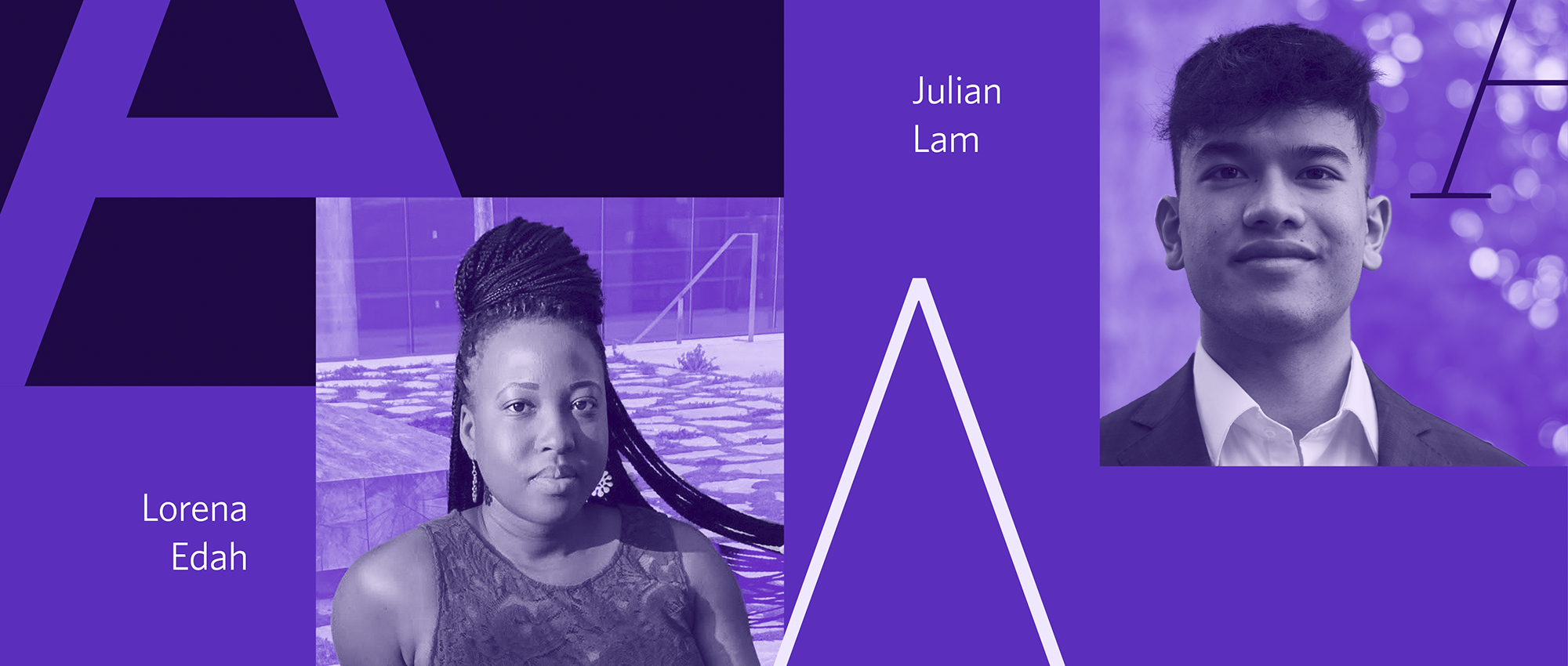 Lorena Edah and Julian Lam have each received the 2022 Outstanding Leader in the Faculty of Arts award for their considerable dedication and achievement within the Faculty of Arts.
---
Lorena was a Residence Orientation Leader, where she mentored first-year students and supported in their transition into university, a student researcher at the Museum of Anthropology, and also kickstarted the Peer Chats program as an Arts Peer Academic Coach and an Arts Peer Advisor, providing programming to support her peers with their academics through workshops and events.
What student leadership opportunity had the most impact on you during your time at UBC?
It is hard to pick one particular student leadership opportunity that impacted me the most, but if I had to choose, it would most definitely be my position through the Work Learn program as an Arts Peer Advisor. The Peer Advisor position was my first professional work experience, and in a very encouraging environment, I was able to learn immensely about appropriate office practices and develop greater self-confidence and leadership skills. Moreover, on a personal level, this position really taught me to value heterogeneity in the human experience as my role entailed working with countless students from various backgrounds in order to assist with their academic related questions.
What advice would you give to incoming UBC Arts students?
I cannot emphasize enough the importance of your experience beyond the classroom at UBC. I suggest volunteering, gaining professional experience through the Arts Co-op Program or Work Learn, participating in campus events, or joining an AMS club. It's the experiences outside the classroom that truly enrich your experience at UBC and make you feel part of the UBC community.
​​What did you learn about yourself at UBC?
Almost half of my degree occurred during a global pandemic and I can confidently say that I experienced the most growth of my university career during this period as I sought to immerse myself in educational experiences and external activities that really revealed my strength and resilience. Simultaneously working part-time, taking on volunteering positions, and trying to excel academically during a pandemic was no easy feat. But looking back, it was extremely rewarding as I discovered a strength and resilience in me that I did not know I possessed. Oftentimes being pushed into the deep end of independence at university can be a trying time, but I firmly believe that adversity breeds success and my experiences have been an indication of that.
What message do you have for your graduating peers?
Tuum est. I hope UBC has been a place where each and every one of us was able to learn and be proactive in accomplishing our personal, academic, and professional goals. As we part ways equipped with priceless knowledge, I would like to congratulate the class of 2022 on achieving this milestone and wish you all good luck for what's coming next.
Related:
Learn about Lorena's work on the "Decolonizing MOA's African collections" project 
---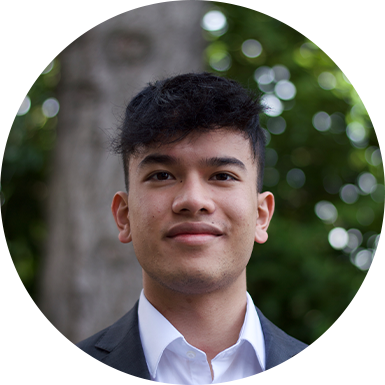 Julian Lam, International Relations
Julian was the Vice President and President of the International Relations Student Association (IRSA), spearheaded the creation of the IRSA Podcast, and founded and co-chaired the first Canadian Undergraduate Policy Competition which brought together over 120 participants and workshop policy solutions for the climate crisis. He's also the editor in chief of the Journal of International Affairs.
What student leadership opportunity had the most impact on you during your time at UBC?
Serving as president of the International Relations Student Association has revealed to me the importance of creating safe spaces for student dialogue and exchange. It has helped develop my empathy significantly as I learned about the lived experiences of international students, and often, the fear certain individuals experience in voicing their opinion within their respective countries. I have also learned a lot about overcoming adversity due to the COVID-19 pandemic—actively working with my executive members to develop virtual solutions for student engagement and to foster a sense of community despite the online format.
What advice would you give to incoming UBC Arts students?
Though waiting to declare a major might be daunting, joining different student associations and connecting with senior students can be great ways to learn about whether a major is suitable for you outside the classroom setting. These students can also give great advice about career opportunities from different majors, research projects, and courses for various interest areas. They can also be great mentors—I know a couple that have provided indispensable advice that has guided me in both my academic and leadership activities.
​​What did you learn about yourself at UBC?
I learned a lot about humility, taking a step back and letting others thrive where their strengths lie in both academic and extracurricular activities. This involves empowering others as leaders and finding ways to cultivate diversity in your team. By completing dozens of projects and club activities, my time at UBC has enabled me to be more reflective of my style as a leader, and ultimately, how I must embody a sense of humility to succeed in any group activity.
What message do you have for your graduating peers?
Though you are becoming an alumni of UBC, it is incredibly important to take the time to cultivate the next generation of young leaders. Offering to help with initiatives your club is running in the future or offering to serve as a mentor are great ways to give back to a community that profoundly shaped who you are today.