As a student at UBC, it's important to build a community that can help you thrive on campus.
---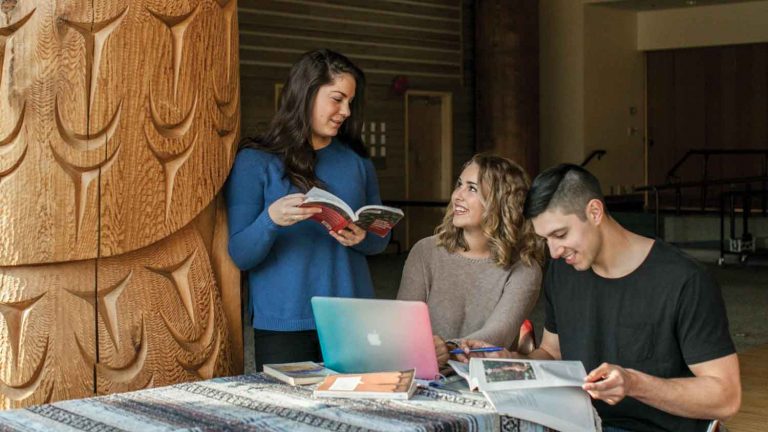 Indigenous student spaces on campus
AISA Lounge
The AISA Lounge is a social-study space located in Buchanan D140. The Arts Indigenous Student Advising team works in this area, and is happy to chat with you about any degree planning questions you might have. Students are also welcome to pop in to relax between classes.
First Nations Longhouse
The Longhouse organizes student services, programming, and communications. Services include writing and math tutors, academic advising, accredited counsellors, student health nurse, and financial advising. The Longhouse is open to all self-identifying Indigenous students on campus (Metis, First Nations, and Inuit).
Longhouse lunches

The Longhouse hosts a free student lunch each Wednesday from 12 – 2 p.m.
Indigenous Collegium
Indigenous Collegium is located in the Longhouse. It is a home away from home for Indigenous students. This facility is open after hours, has a kitchen, and will offer peer support services.
Indigenous Lounge at the AMS Nest
Located on the second floor of the AMS Nest (room 2131), the lounge is a password-protected Indigenous space for students to decompress, deconstruct, and decolonize. There are board games, a small kitchenette, couches, TV, and study area. Visit their Facebook page for password information.
---
Indigenous student groups
Indigenous Leadership Collective
The Indigenous Leadership Collective (ILC) is a student group based in the Faculty of Arts and is supported by the Arts Indigenous Student Advising team. ILC values friendship and fosters connections so student peers can celebrate one another, develop leadership skills and hold one another up throughout their studies.
Members of the ILC meet regularly online to check in with each other and socialize, discuss current issues, study together, and chat about ideas for community events.
Sabrina Moshenko is the current AISA student peer and main facilitator for the Indigenous Leadership Collective. She is Plains Cree and Métis born and raised on Treaty 4 territory in Saskatchewan. Sabrina is entering her 3rd year in the Faculty of Arts studying Sociology with a minor in First Nations and Indigenous Studies. She has been working with AISA since the winter of 2021, but has been an active member and peer to the Indigenous community at large since coming to UBC in 2019.
There are no fees associated with being an ILC member and no mandatory requirements for upholding your membership status. Members are only expected to participate in events, meetings, and activities when they can.
If you're interested in being an ILC member, email the AISA student peer at arts.indigenous@ubc.ca or join our Facebook group.
Indigenous Committee
The Indigenous Committee is committed to inserting Indigenous ways of knowing and being into the UBC Alma Matter Society (AMS) as well as the larger UBC institution by hosting events, providing support to Indigenous clubs, and advocating for Indigenous rights on campus. All Indigenous students who pay fees to the AMS can join the committee.
Indigenous Studies Students' Association
The Indigenous Studies Students' Association (ISSA) is a student run collective partnered with the Institute for Critical Indigenous Studies that aims to foster community, dialogue, and engagement between Indigenous and non-Indigenous students within the First Nations and Indigenous Studies and First Nations and Endangered Languages program.

CiTR's Indigenous Collective
Unceded Airwaves is a weekly radio program produced by CiTR's Indigenous Collective. "We are committed to centring Indigenous voices and offering alternative narratives that empower Indigenous people and their stories." CiTR radio station is located on the bottom level of the Nest. Email volunteer@citr.ca to get involved.
---
Indigenous resources on campus
First Nations Longhouse
The Longhouse is home to the First Nations House of Learning and is the go-to place for Indigenous students to access Aboriginal programs and services, socialize, study, and host events.
Xwi7xwa Library
The X̱wi7x̱wa Library is your centre for academic and community Indigenous scholarship on the Vancouver campus. Discover the library's collections and services that reflect Aboriginal approaches to teaching, learning, and research.
*The Xwi7xwa Library will be closed to the public until Fall 2022. For details and information about accessing the Xwi7xwa Library's collections and services, click here.
CTLT Indigenous Initiatives
Indigenous Initiatives at the Centre for Teaching, Learning and Technology (CTLT) develops and offers programming, resources, and consultations focused on Indigenous engagement in curriculum, pedagogy, classroom climate and professional development as well as the research project "What I Learned in Class Today: Aboriginal Issues in the Classroom."
xʷc̓ic̓əsəm: Indigenous Health Research and Education Garden
Located at the UBC Farm, the xʷc̓ic̓əsəm Garden supports land-based teaching, research, and community engagement on food security and traditional plant knowledge.
Indian Residential School History and Dialogue Centre
This new centre will provide former students and survivors, the University community, and the public access to residential school records and information in an interactive environment that supports engagement with the history and legacy of Indian residential schools.
The Truth & Reconciliation Commission (TRC) is a part of the Indian Residential Schools Settlement Agreement that aims to inform all Canadians about the history of Indian Residential Schools and what happened at them. The TRC documents the true experiences of the survivors, families, communities and people affected by the Residential School experience.